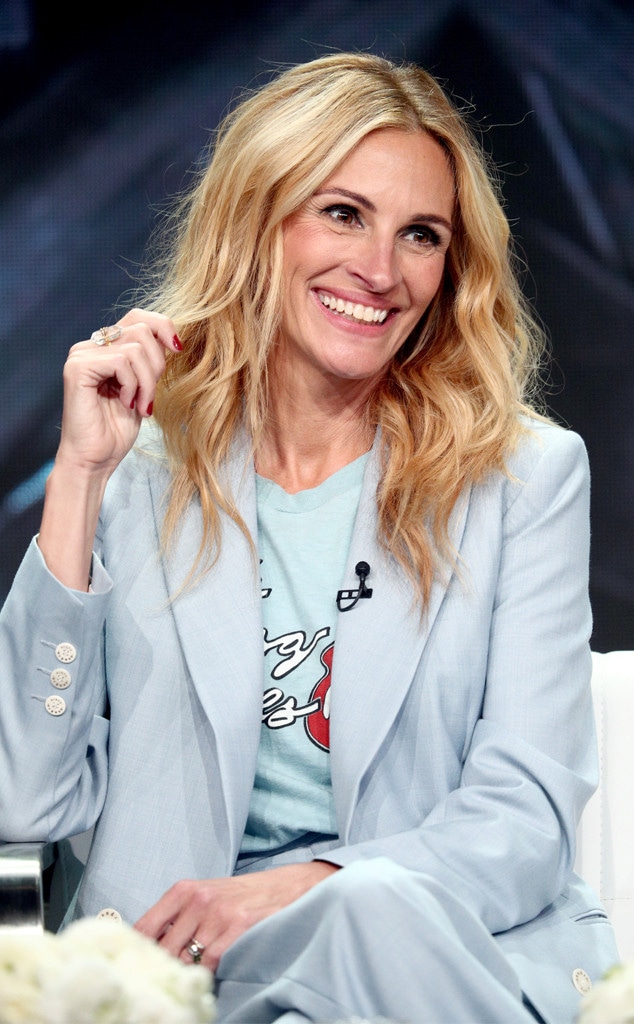 Frederick M. Brown/Getty Images
Though we could swear that Pretty Woman just came out on VHS, like, last week, apparently it's a little older than that. 
The R-rated rom-com actually hit theaters in 1990, ushering Julia Roberts' beaming visage into the national consciousness and giving rise to the phenomenon that is "Julia Roberts."
Fast-tracked to the top of the A-list and nominated for an Oscar (which, incidentally, was already her second nomination), Roberts' star—while occasionally in hiding over the years behind the clouds of fickle box offices and her own desire to have a personal life—has yet to dim. 
So few names still carry the wattage that Roberts' does, evoking the same level of reverence for decades and rebounding from any perceived misstep without missing a beat. And she's still such an exciting presence whenever she chooses to show up onscreen that it's hard to believe that moviegoers have been watching this woman for 30 whole years.
But don't let all this longevity make you feel anything less than fabulous. It certainly doesn't bother Roberts, who recently immersed herself in two of her juiciest roles in years and earned a Golden Globe nomination for her efforts—her ninth overall, but her first in a TV category.
"I think that's made-up bulls--t that at a certain age, the bell is going to ring and you are done, go on back home," Roberts, who turned 51 in October, told the U.K.'s i News last fall. "It's silly and I don't think anybody buys into that. I don't think I am special. I've always been fortunate that I have always found the work I am looking for. I mean, 30 years is a long time and I am grateful and satisfied."
"But honestly, I don't know what freakout we're all supposed to have, turning 50. For myself, last year, I was quite proud and happy."
She also put it succinctly in the December 2017 issue of InStyle, talking about folks obsessing over her 50th birthday: "Really, people? Are we still in that space? Did anyone go over this with George Clooney or Brad [Pitt] before their 50th birthdays?"
And at 51, she got to have her cake, twice. Since November she's been on Amazon in Homecoming, her first time doing one of those streaming series that's all the rage these days.
"I don't even know what it really requires," she told InStyle about signing up for the Sam Esmail-created series, which was adapted from a hit podcast. "I just know how to watch a TV show. I don't know how to make one."
She figured it out, playing Heidi Bergman, a caseworker at the Homecoming Transitional Support Center, a facility in Florida that helps returning military service members readjust to civilian life. And yet she's also Heidi, waitress living at home with her mom, who doesn't remember what she did at Homecoming. Naturally, she's compelled to reckon with what prompted the switch.
The show is nominated for a Golden Globe for Best TV Drama and Roberts and co-star Stephen James are nominated for lead acting.
"It's layered, it's crazy and it's mind-bending," Roberts said excitedly at the Toronto International Film Festival last September. "How Sam made it work and made sense of it, and made it so stylish and just incredible...I'm just happy to be one of the elements to it."
"It's incredible, she's like none other," James said at TIFF about Roberts. "She's one of the most important prolific actresses of our generation, and what's more impressive than just her as an actress is her as a human being, so I'm very blessed and grateful to have done this with her."
Danny Moloshok/Invision/AP/REX/Shutterstock
"I've always wanted to work with Julia," Sissy Spacek, who plays her mom, added. "She and the rest of the cast do all the heavy lifting."
Homecoming also reunited Roberts with her My Best Friend's Wedding and August Osage County co-star Dermot Mulroney, who said that he couldn't be happier to be working with her again.
But none of this is news—she's been queen of the set, on practically every set, since she first got started.
December saw the release of the big-screen drama Ben Is Back, for which Roberts earned some of her best acting reviews in years for her role as a mother whose drug addict son reappears in her life.
USA Today fittingly called Roberts "the gift that keeps on giving."
Evan Agostini/Invision/AP
As one of Hollywood's most enduring stars (and beauties, incidentally, having covered People's "Most Beautiful" issue a record five times), Roberts has seen plenty of trends, technologies and people come and go in the business, and in her life. 
The Georgia native first hit the big screen in 1988 with supporting roles in the girls-in-a-band drama Satisfaction  and the cult-classic Mystic Pizza, before shredding hearts as the doomed Shelby in Steel Magnolias in 1989.
That earned Roberts her first Oscar nomination, for Best Supporting Actress, and she won the Golden Globe. 
And then came Pretty Woman, with its leggy 22-year-old star (but not on the movie poster; that was a body double) radiating charm from every pore.
She won her second straight Golden Globe and was never far from a big screen for the next 10 years, her epic run of mostly well-received (if you don't clunk sometimes, you're not taking risks) dramas, comedies, thrillers and a wee bit o' horror leading up to an inevitable Oscar win—and general awards season sweep—for Erin Brockovich in 2001. Along the way she became the first female actor to earn $25 million for one film.
Also along the way, she decided to marry Kiefer Sutherland, memorably didn't marry him, then dated Jason Patric but really did marry Lyle Lovett, though for less than two years. There is no way she wasn't slightly poking fun at herself by playing the titular runner in 1999's Runaway Bride. She also dated Benjamin Bratt, then finally settled down after falling for cameraman Danny Moder on the set of the action caper The Mexican. They tied the knot at her ranch in Taos, N.M., in 2002.
Compared to the multiple-films-a-year schedule she maintained for over a decade, she conscientiously started to spread the work out more once she and Moder welcomed twins Phinnaeus (Finn, these days) and Hazel, in 2004, and then son Henry in 2007.
The family of five settled down in Malibu in a spacious, toy-strewn spread and one parent is always home when the other has to leave town to work. During school vacations and holidays, Roberts is known to have the kids on set with her. With two teenagers and an 11-year-old in the house, there's seemingly always a soccer game to go to (she tells E! she's a "jubilant" screamer on the sidelines) or other kid-centric errand to run.
"There's no way to describe it without sounding sappy or ridiculous because everything in my mind ends with an exclamation point," Roberts told InStyle in 2017. "And the thing is, we have these three human beings who are just a complete reflection of the affection we have for each other."
After 16 years and counting, she and Moder have been the subject of their share of split rumors, and by this point there's almost nothing to do but laugh. (She's got people to do more if need be.) "What I like is when they write, 'The $150 Million Divorce,' and then a week later a different tabloid says, 'The $275 Million Divorce,'" she shared with longtime pal Oprah Winfrey for the November 2018 issue of Harper's Bazaar. "I'm like, 'Well, somebody got a paycheck in the last week. This is getting good.'"
Roberts loves to cook—naturally she brought homemade banana and pumpkin bread (plus healthy tangerines) when it was her weekend to bring snacks to soccer—and doles out homemade cookies at Christmas. She plays Mahjong weekly with her girlfriends in L.A., and she was one of the first big stars to make knitting into a cool hobby again, so she loves her simple pleasures (as well as dark dramas like The Handmaids Tale and Big Little Lies). And, she finally joined Instagram last June, but has kept her page a Finn-Hazel-and-Henry-free zone so far.
Her latest movie son has made some appearances, though.
While getting ready to play Lucas Hedges' mother in Ben Is Back, which was directed by Lucas' father, Peter Hedges, she had the young actor over for Thanksgiving to really immerse themselves in a family vibe.
"I felt she was very generous," Hedges told Newsweek in December. "I experienced her as a mother and the thing I keep coming back to is, what makes her such a great actress, is how rooted she is in her role as a mother in her own life."
Hedges couldn't be more right about that.
Remembering her 50th birthday surprise from her family, Roberts told E! News last fall, "I could not have predicted waking up on my birthday, in this beautiful place, with my husband, we were having the best time—and a few hours into my birthday I kind of thought, 'huh, how funny, I'm not going to see my kids on my birthday. That feels strange.'"
Frank Micelotta/Invision/AP/Shutterstock
But they continued to have a great day and ended up going to a little surf shop they frequent in San Francisco. Roberts went to use the bathroom, and all the while she'd been getting text updates from the kids' soccer games she was missing.
When she came out, Moder asked if she liked the massive surfboard he was holding up. And when he moved it aside, as if he was asking her if she was ready to see her fixer-upper, their kids were standing right there.
"I was so shocked," she said. At the end of the day, Roberts said, "what it meant is that I'm married to the right person, who fully and completely understands me."
Sounds as though Julia Roberts may be even more revered at home than she is in Hollywood.
(This story was originally published Oct. 28, 2018, at 3 a.m. PT)