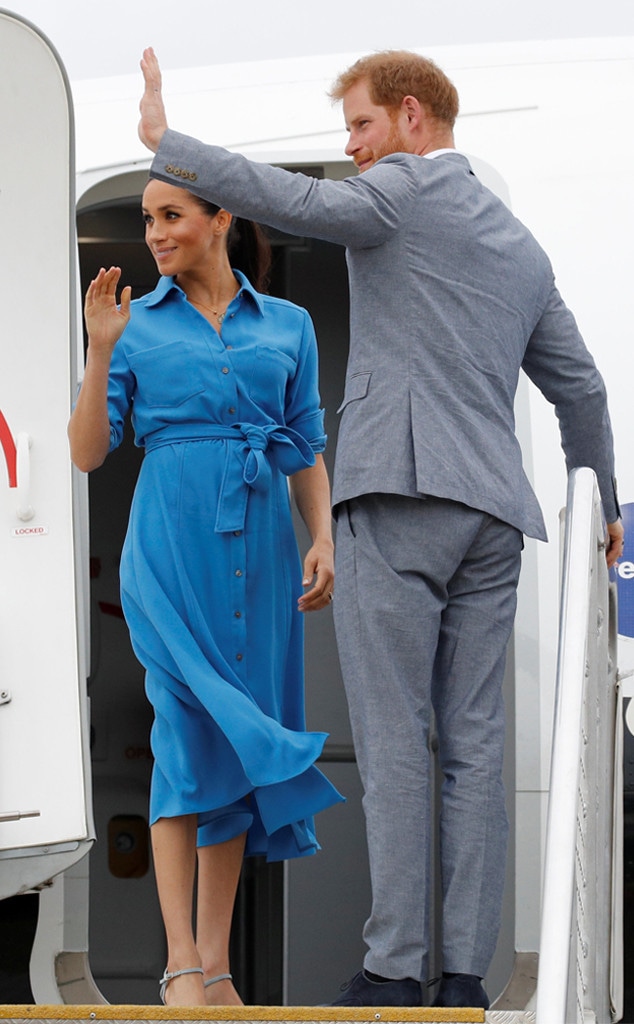 Phil Noble/PA Wire
Prince Harry and Meghan Markle's plane was forced to abort landing in Sydney on Friday.
According to the Evening Standard, the royal couple had been traveling from Tonga to Australia when their flight captain, Nigel Rosser, was forced to pull up the Qantas aircraft just before their scheduled landing. Rosser told the news outlet he had to make a "missed approach" because there was another plane on the runway.
"There was an aircraft on the runway a little slow to roll... so the decision was taken to abort the landing," a message from the flight deck stated, per Sky News.
According to Sky News royal producer Valerie Hamill, the passengers and crew "circled around and were on the ground within 10 minutes." She claimed the incident was "not scary" and that there wasn't any question of everyone's safety.
The duo certainly had an eventful trip. Earlier in the day, the Duke and Duchess of Sussex stopped by the Royal Palace in Tonga for a brief visit with King Tupou VI and Queen Nanasipau'u. Meghan wore a blue "Cary" dress by Veronica Beard for the occasion and accessorized her look with Adina Reyter gold curve earrings. Harry also looked dapper in a gray suit and tie.
The two had attended a reception and dinner with King Tupou VI and Queen Nanasipau'u earlier in their visit. Meghan wore a stunning white Theia dress for the occasion. They also met with Princess Angelika and Prince Ata, King Tupou VI's son and daughter, at the Fa'onelua Centre, where they attended an exhibition about Tongan youth projects and crafts. Other stops throughout the trip included a visit to Tupou College, where they enjoyed a bit of a laugh as the Tupou College boys' choir performed a song meant to ward off mosquitoes.
The visit was part of the couple's first royal tour as a married couple. After spending a bit more time in Australia, they will head off to New Zealand, where they will finish the tour.