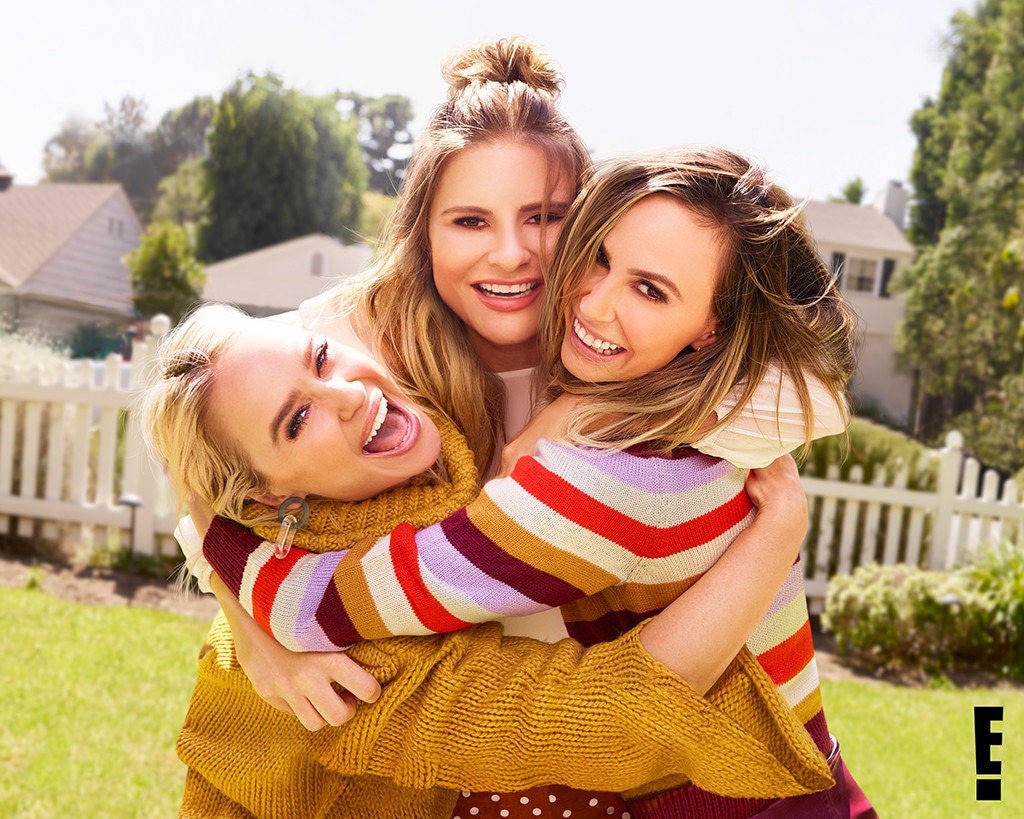 E!
LADYGANG fans unite!
The ladies of LADYGANG AKA Keltie Knight, Jac Vanek and Becca Tobin are gearing up to take over our TV screens, after continually sounding off on our airwaves courtesy of their podcast LADYGANG over the past few years and we are so ready for them.
Now, the women are not only getting their own E! show, but they are finalists for the upcoming 2018 E! People's Choice Awards for Pop Podcast of 2018. Sounds, like these woman are just as fierce as they advertise and they are definitely a force to be reckoned with.
Ahead of LADYGANG's premiere this month, E! News caught up with the three brilliantly outspoken celebs and asked them the burning questions we've been wanting to know about. The biggest question we have for the squad is, what would they do if they did in fact take home the PCAs trophy for their category?
Spoiler alert: they have big, hilarious plans.
"I'd go streaking across the stage," Tobin told E! News during our exclusive interview on Monday. 
"We'll wear trench coats just in case to be like an easy off," Vanek added, clearly going along with her podcast partner's plan.
On a serious note, Tobin revealed that despite her Glee past she hasn't won an award yet. "No I mean, it would be so thrilling. I've only ever been nominated for a Teen Choice award and I'm really still pissed I never got that surfboard so, this would mean everything," the Glee alum noted before Vanek piped in and revealed she's never won anything either.
"My thing is, I'm so outside the entertainment world, that never in my wildest dreams did I think I'd be nominated for any of this, so it's all kind of a whirlwind," she explained. "It would be my first award for anything in life."
Knight is definitely on board with her fellow podcast hosts' sentiments, but when it comes down to it she's a little more focused on their possible matching ensembles...at least at the moment.
"We don't even know if we're invited yet, but we have our outfits picked out. We're doing a color theme, like Destiny's Child," Knight said, prompting Vanek to add, "We're wearing baby pink."
"We're possibly gonna bring our own cart of champagne on the red carpet with us and we're gonna like pop bottles while people are taking our photos…'cause they're gonna have other big celebrities that people actually care about there so it's like, we've got to like steal focus," Knight added.
"We're the new Gaga," Tobin concluded and they're not exactly wrong based on the group's color-coordinated style choices and daring on-air conversation topics, which are both things Lady Gaga would appreciate.
As for what makes these three and their podcast standout among the rest of the PCAs Pop Podcast finalists, Tobin says it's because their podcast is "way better."
Vanek added to that statement by getting a little more serious about why their chemistry and conversations on air just work.
"Listen, how our podcast has kind of transformed, is we are so unfiltered, we are so raw, we're talking about everything that is the most embarrassing that every woman kind of experiences so I feel like our viewers really resonate with that and resonate with our authenticity," she noted.
"Also, our podcast is a full show. We produce it like it is a television show as a podcast, so there's like three blocks: an A block, a B block, a C block. People keep coming back 'cause they know what they're gonna get every show. It's not just an hour of girls blabbing," Knight explained. "There's like a purpose, we do a little bit of help, we do a little bit of fun, we do a little bit of self-deprecation."
Tobin revealed that it's also the quality and authenticity of the guests they bring on that help to make their podcast one to listen to on the regular.
"And the interviews aren't people hawking products or talking about their project, it's just them being them. And I think that their fans feel like they're finally a fly on a while during a real conversation that happens in their life," she said. "So it's just a different energy I think that we bring."
One thing's for sure, this trio knows how to bring the energy and keep fans yearning for more, which is why they are definitely a strong contender for Pop Podcast of 2018. 
To see if the ladies take home the prize, make sure to catch the live award show next month.
PS: LADYGANG premieres this Sunday, Oct. 28 at 10:30 p.m. on E!, so don't miss it!
(E! and NBC are both part of the NBCUniversal family).