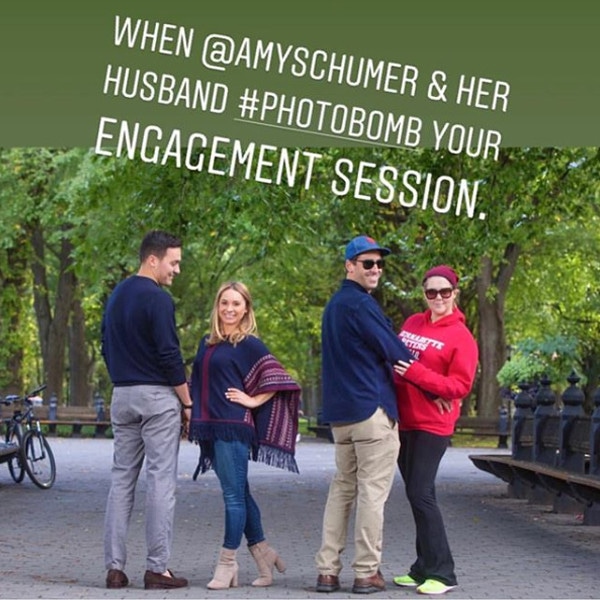 Brett Matthews Photography
Do you take this Hollywood actress to be your engagement photo shoot partner? One couple sure does!
Over the weekend, New Yorkers Jillian Georgio and Greg Hayes traveled to Central Park for a photo shoot in honor of their engagement.
In between photos, Amy Schumer and her husband Chris Fischer decided to approach the bride and groom-to-be with a simple question.
"Someone came up behind us and asked if this was an engagement. We said yes but our backs were turned to her at the time so we had no idea who was asking," Jillian shared with E! News. "Then she asked if we'd mind her and her husband hopping in the photo so we turned around and noticed it was Amy Schumer and her husband Chris. Of course we said yes!"
What came next were a few hilarious moments that have us smiling from ear to ear.
Watch:
Amy Schumer Thinking About Having Kids?
"Sneak peak of the engagement shoot, special shout-out to @amyschumer and her husband Chris for making today so much fun!!" Jillian wrote on Instagram when giving a sneak peek at the photo shoot captured by Brett Matthews Photography.
Back in February, E! News learned that Amy and Chris said "I Do" during an intimate wedding ceremony in Malibu.
Jennifer Lawrence, Jennifer Aniston, Judd Apatow, Aidy Bryant and more stars were able to witness the celebration that later included a honeymoon in Italy.
"It feels f--king good!" Amy shared on the SiriusXM show You Up with Nikki Glaser when discussing life as a bride. "I'm a wife as hell. But it's still like, a novelty. Somebody went to sit next to [Chris] and he's like, 'My wife is sitting here,' and then I got back and he was excited to tell me that he said that. I just have been really overusing it to a degree that's insane. Like, when it's completely uncalled for."
During this past weekend's photo shoot, Amy was able to drop some words of wisdom for the bride and groom-to-be.
"She congratulated us and told us that marriage is awesome and we're going to love it," Jillian shared with us. "From what I've seen, she has an amazing marriage so that was so nice to hear!" 
Buzzfeed was first to report the photobomb. 
—Reporting by Spencer Lubitz