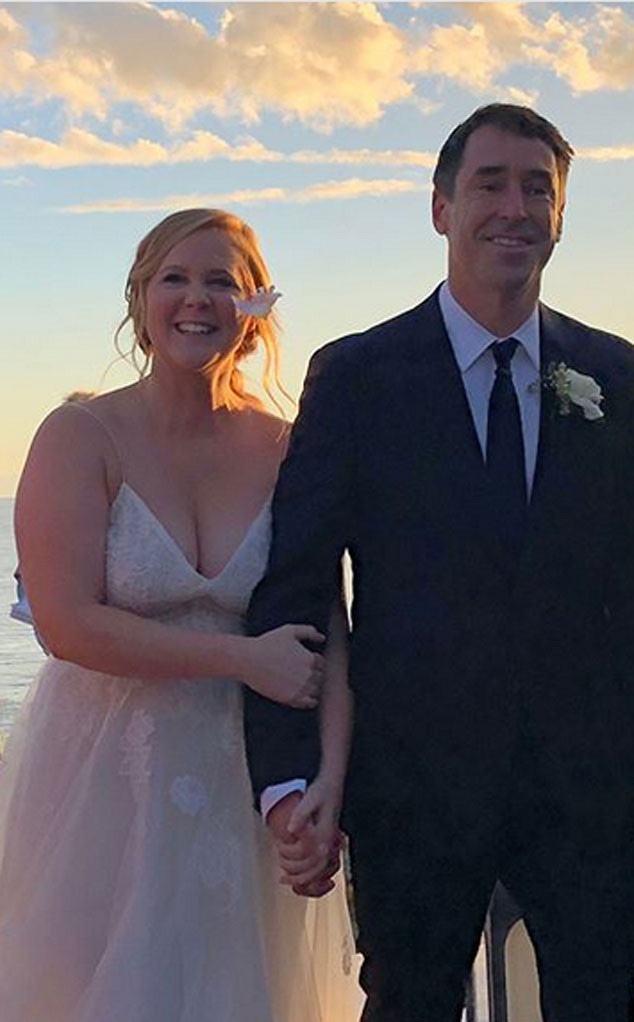 Instagram
Amy Schumer is one happy, married lady!
During a podcast interview with pal Nikki Glaser on her SiriusXM show, You Up with Nikki Glaser, the 36-year-old actress shared details about married life with her new husband, chef Chris Fischer.
"It feels f--king good!" she said of being a Mrs.
The couple, who wed in a private ceremony in Malibu on Feb. 13, are still in the honeymoon phase of wedded bliss.
"I'm a wife as hell. But it's still like, a novelty," Schumer revealed. "Somebody went to sit next to [Chris] and he's like, 'My wife is sitting here,' and then I got back and he was excited to tell me that he said that. I just have been really overusing it to a degree that's insane. Like, when it's completely uncalled for."
And while she may be overjoyed with her new role, Schumer confessed that there are definitely some parts of the single life that she'll certainly miss.
"This show is called You Up, right? I don't ever think I'll get a text like that again," she laughed. "You know what I mean? And that made me really happy, but also really sad."
The comedian, who married her 36-year-old husband after just months dating, revealed the perks of tying-the-knot so soon into their relationship.
"Part of the thing that's good about us getting married so quickly is that we're so in love," she said. "Every girl I know, if they get proposed to they're like, 'Oh now? Now that I can't have kids!"
And in regards to their surprise wedding ceremony, Schumer shared some insight on the couple's vows.
"Mine sucked! I thought mine were good, I wrote mine in like, 20 minutes. I was crying when I wrote them, but his blew me out of the water so hard."
"I remember a joke from yours," Glaser said. "You go, 'You make me laugh , you make me smile, you make me feel loved, you make me food.'"
Schumer added, "In my vows I go, 'But I promise I'll keep going down on you, even though everyone tells me I won't.' And his were like, heckling me too. He was like, 'The other day I lost a tennis match and you called me a f--king loser.' It was all like, awful sh-t."
"All his stories about me that were supposed to be endearing were about me screaming at him," Schumer joked. "I just annoy him all day. I'll be like, 'Do you want to play a game?' and he's like, 'What?' And I'm like, 'Guess how many times I sneezed today?' And like, that'll be the game. And he'll be like, 'Three.' And I'll be like, 'Don't remember!' And he's like, 'I'm spending my life with this worthless monster?'
We love a happy and in-love Amy Schumer!