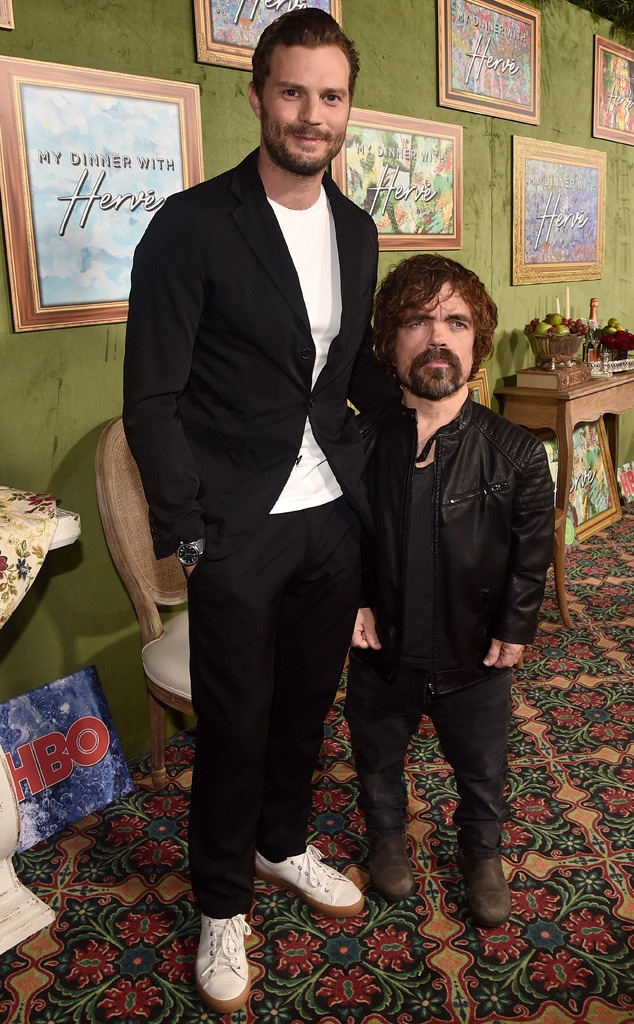 Alberto E. Rodriguez/Getty Images
Talk about Fifty Shades of Awkward...
Game of Thrones star Peter Dinklage and Jamie Dornan, who plays Christian Grey in the steamy S&M-themed Fifty Shades films, star together in the upcoming HBO movie My Dinner with Hervé. During their time on set, Dinklage helped his co-star prepare for some reshoots for Fifty Shades Freed, the final film in the trilogy, by running lines with him...as his onscreen lover Anastasia Steele.
"I read some of the screenplay...in our dressing room. He had to do some reshoots for Fifty Shades and I would help him out, learning lines," Dinklage said on The Late Show With Stephen Colbert on Wednesday. "I would read the Dakota Johnson parts. I was just helping a friend learn lines. I nailed it. I really did."
Both Fifty Shades and Game of Thrones are known for their often explicit sex scenes. Stephen Colbert noted how both franchises have "very obsessive, cultish fans."
Watch:
Dakota Johnson on How "Fifty Shades" Has Evolved Her
"Very different fans," Dinklage said. "I think Game of Thrones fans would take issue with comparing the two, 'cause they're, uh, Game of Thrones fans are very specific, and lovely."
"Fifty Shades fans have issues," he added.