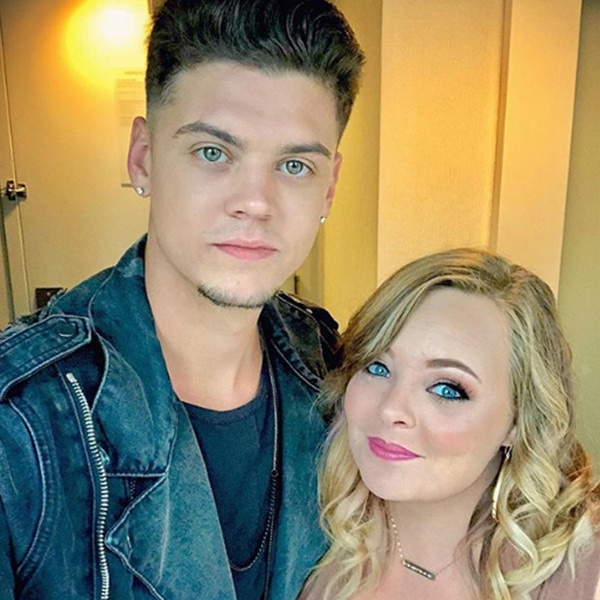 Instagram
The wait is finally over!
One month after Catelynn Lowell and Tyler Baltierra revealed they are expecting baby No. 3, the Teen Mom OG stars are ready to reveal the sex of their child.
"Excited to have Nova announce our SHOCKING GENDER REVEAL," the couple revealed on Instagram.
Okay, you've waited long enough! According to Us Weekly, the pair is expecting a baby girl.
"I was so shocked that it was a girl because I for sure thought it was a boy!" Catelynn shared with the publication. "Tyler knew the sex before I did. When we did our gender reveal, I was so shocked I almost cried because I wanted a boy so badly. I'm super excited it's a girl now. Since our miscarriage, I just am thankful to get another chance, and as long as it's healthy, that's all that matters!"
And for those already wondering about their future plans, the reality stars certainly aren't giving up hope on having a boy. In fact, they are already thinking of expanding their family again.
"We definitely want to have a boy, but if God only wants us to have girls, then that's just what it is," Catelynn shared. "It will be a houseful of ALL girls! Poor Tyler!"
As Teen Mom OG fans know, Tyler and Catelynn are the proud parents to a girl named NovaLee Reign. Their firstborn daughter was placed for adoption in 2009.
Throughout their major family milestones, the couple has been open and honest through MTV's hit reality show. Along the way, they have developed thousands upon thousands of loyal fans.
"I love you both so much! @tylerbaltierramtv thank you for being an amazing daddy to #Novalee," Catelynn previously shared on Instagram. "I can't wait to see you with the next one." 
Teen Mom OG airs Monday nights at 9 p.m. only on MTV.