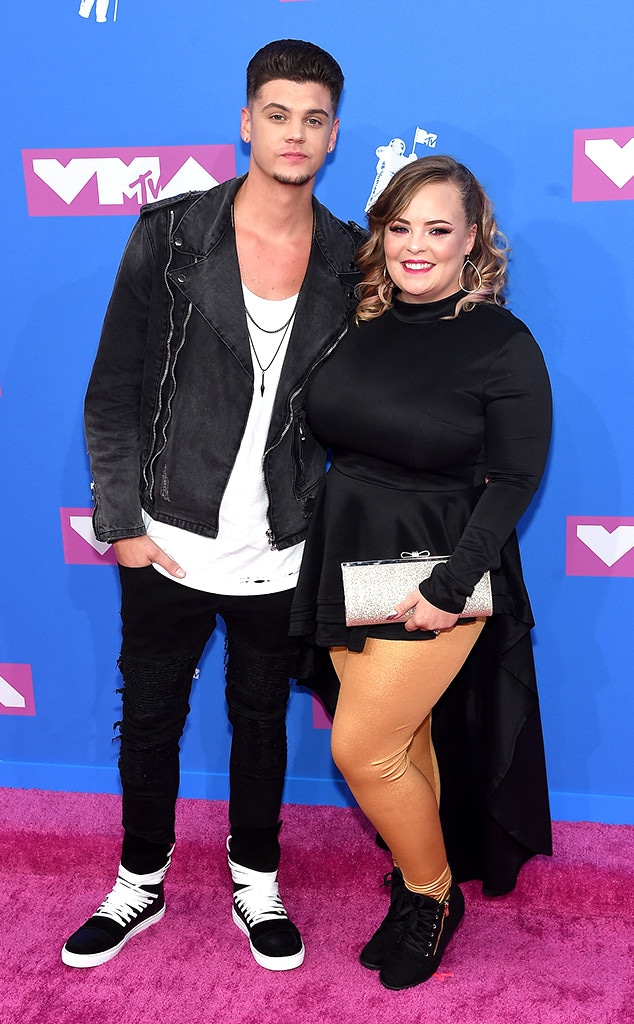 Jamie McCarthy/Getty Images
Catelynn Lowell and Tyler Baltierra have their "rainbow baby" on the way.
The Teen Mom stars are expecting their third child together, the couple confirmed to Us Weekly. The pair, who recently celebrated their third wedding anniversary in August, are also parents to 3-year-old daughter, NovaLee Reign. Their firstborn daughter, 9-year-old Carolyn Elizabeth, was placed for open adoption in 2009. 
"The big news is that we are expecting our rainbow baby," the expectant mama told the magazine. "This baby is our rainbow after the storm. I'm super excited."
The pregnant star previously suffered a miscarriage. "We just sat in the bed and cried and just held each other. I mean, there's nothing you can really do, so it felt very similar to Carly," Tyler said of hearing the news in a February episode. "I mean, Carly's a little different, because we have to—we get to see her every year, but it's a loss, and you feel it. Like, I feel like you process it as a loss. So I guess it's something I didn't really understand before."
Lowell also sought treatment at the end of 2017 after experiencing suicidal thoughts and again at the start of 2018. "Well they say third times a charm... I'm going back to treatment people for 6 weeks to work on my trauma and getting on different meds," Catelynn tweeted in January. "THANK YOU @TylerBaltierra I LOVE YOU SO MUCH!!!!! You are my light!! And nova you are my sunshine #KeepTalkingMH."
While Lowell explained to Us Weekly that they were going to wait to have another child after the miscarriage, fate had other plans. "We were using protection and everything and still got pregnant. This baby just wanted to be here. It was very unexpected."
Congratulations, you two!