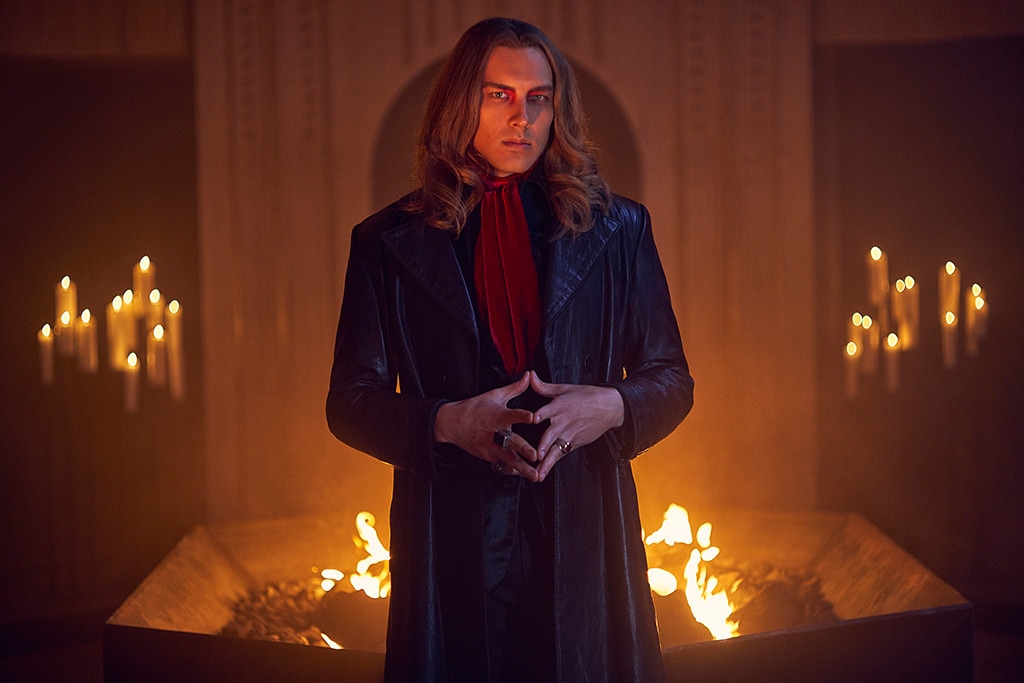 FX
Cody Fern was in tears. He was in Ryan Murphy's office, where had just told the Emmy-winning writer-director-producer that he was going to have a role in final season of House of Cards. That's when Murphy made him an offer.
"He said, 'Well, will you come back and do American Horror Story?' And I instantly burst into tears, which was really embarrassing in Ryan's office, just because—Every time that I've worked, I've always had the feeling that, 'Well, that was it. I'm never going to work again. I really f—ked that one up'—'screwed that one up'—sorry. So, just like actor's anxiety, I suppose," Fern told E! News.
He said he pulled himself together and accepted the offer to appear in American Horror Story: Apocalypse without knowing the role. But Murphy wanted him to mull it over.
"I was like, 'No, I'm doing it.' He said, 'No, go and think about it.' That night I sent him and email saying, 'Whatever. I'm not thinking about it, I'm saying yes.' So, that's how the conversation went. He said in that meeting, 'You really need to work with strong, incredible women. I want you to work with [Sarah Paulson] and [Kathy Bates].' To me, that was some sort of bizarro dream, you know? That's all I knew, that I'd be working with some very strong women and the cast of Horror Story. I didn't know who had been cast yet besides Sarah and Kathy and that I would be wearing a very long wig and being very Dorian Gray-esque. That was it," Fern said.
Viewers—and Fern—now know he's playing Michael Langdon, the son of Vivien (Connie Britton) and Tate (Evan Peters) from American Horror Story: Murder House. The same son Billie Dean Howard (Paulson) saw as the Antichrist. But, Fern didn't know who he was playing until two days before he shot his first scene with Paulson. Fern, after working with Diane Lane and Robin Wright on House of Cards, was now mixing it up Paulson, Bates and eventually Jessica Lange. He said he's "absolutely" been impacted by this stretch of formidable scene partners.
"It's funny, because if you had asked me who the most influential actors had been in my life, they're all actually women. It's just happened that way. I'm far more drawn to performances by strong women than I am to men. I just think that women make better actors, I just do. I think it's undeniable. That was already exciting to me, and I've been following Sarah's career for many years before Horror Story. I so loved her in 12 Years a Slave, it was very serendipitous. What I can say, categorically, is that working with Sarah Paulson and Kathy Bates will have been the most formative experience for me, as an actor, for the rest of my life," Fern said.
The actor, who also appeared in Murphy's The Assassination of Gianni Versace: American Crime Story, cited "the specificity of their work, the fierceness of their work, the risks that they take, how they protect their work on set," as having a lasting impact on himself. During the first scene he shot for AHS: Apocalypse, Fern's character interrogated one of Paulson's three characters this season. It was an emotionally-tense scene, and Fern said Paulson looked out for him, making sure the two could see each other despite the difficult camera angles. He saw the care she took, how she protected not just herself, but everyone else on set.
"We had this creative synergy immediately. We were both asking very similar questions, trying to get to the heart of the scene in the same way. I was in such awe of her. Here's the thing: Secretly, [Laughs.] but, now not so, I was shaking like a leaf when I came into that scene just because it didn't seem real. This is like a dream. I was about to act in a scene with Sarah Paulson, who I now call her a dear friend, and I was so nervous. She instantly put me at ease. We were instantly playing, we were instantly in the world," Fern said.
Like his costar Billy Porter told E! News, Fern said it's been a "masterclass every single day."
"That extends beyond, obviously, Sarah and Kathy. I'm not even going to begin to try and talk about the power of Jessica Lange, Adina Porter, the comic delivery of somebody like Leslie Grossman, how Evan Peters is able to just throw himself wildly into the unknown and produce these eclectic, layered characters," he said. "It's been out of this world, extraordinary, and it will forever have changed the course of my life."
American Horror Story: Apocalypse airs Wednesdays, 10 p.m. on FX.