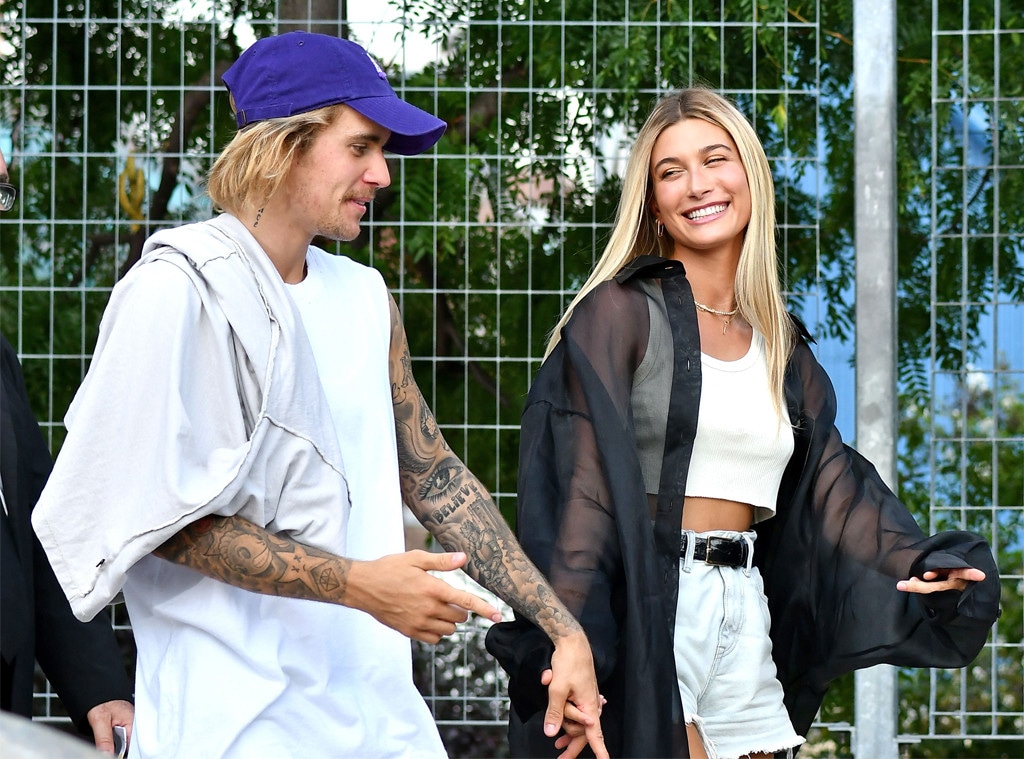 Rodin Banica/WWD/REX/Shutterstock
On Sept. 13, Justin Bieber and Hailey Baldwin went to the marriage license bureau at a New York City courthouse and...
Either just signed some papers or signed some papers and got married.
Almost a whole month has gone by and the hard-to-miss couple have stayed quiet as confusion reigns over whether the longtime friends who just got engaged in July are, in fact, husband and wife.
"I understand where the speculation is coming from, but I'm not married yet!" Hailey tweeted on Sept. 14. That tweet, however, is long gone.
E! News learned that they did take part in a marriage ceremony Sept. 13 at the courthouse, and a source told us that they were planning on "doing a separate ceremony out of the country with a few family members soon as well." TMZ has also reported that they're legally married, and seemingly without a prenuptial agreement. People, which was first with the news, had sources saying they "went ahead and did it"—and the magazine remains all in, referring to Baldwin as Bieber's "wife" in an article Wednesday. 
An interesting honeymoon phase, to say the least.
The general consensus is that they made it official in the eyes of the law, and though they reportedly had a preacher present, they're waiting for the in-front-of-family-and-friends-and-God portion of the proceedings to just admit it already. It would make sense that they'd like to have a more religious ceremony, as faith is central to both their lives, and that they'd want to share the moment on a grander scale with their loved ones.
Another source told E! News, "Justin and Hailey told friends and family they were going to get paperwork and inquire about a marriage license but decided to tie the knot right at the courthouse [on Sept. 13]. No one knew about their plan. They thought it would be better that way so no one would try and talk them out of it. They wanted it to be a special moment just between the two of them."
Indeed, it appears that no one close to them was the wiser.
"My sister was 24 when she got married, and my parents also got married when they were young, too. I see no reason to wait," Hailey told The Cut in an interview published hours before she went to the courthouse. "When you know it's right, it's right."
Meanwhile, what a hoot the bride's family is.
"They just went off and got married. They went ahead and did it without listening to anyone," uncle Alec Baldwin told Access Hollywood at the Emmys a few days later.
"I had 200 people at my wedding," Billy Baldwin told TMZ when a paparazzo caught up with him upon arrival at LAX on Oct. 2. "I guess they'll throw some sort of party—you've got to take care of both families, take care of friends. You've also got to take care of the business side, you know." (Coincidentally, that ended up being the same day TMZ reported the newlyweds had not taken care of business—though they could still have a postnuptial agreement drawn up.)
But when the party happens, Billy added, "I want to auction off, like raffle on the Internet, like 'Be Billy Baldwin's date to the Bieber-Baldwin [wedding].' How much could I raise for a kickass charity if we sold it for like 20 bucks a raffle ticket? I'd make $20 million worldwide, with all their fans."
Dave Allocca/Startraksphoto.com
On a more serious note, or as serious as you can get while being hounded at baggage claim, the third-eldest Baldwin brother said it was nice to finally have had the opportunity recently to hang out with Bieber for a few hours and have a real conversation.
"He's a very, very cool guy, super talented, and he's got a huge heart," Hailey's uncle said. "And they're madly in love."
As for the bride's dad, Stephen Baldwin, he's happy for his 21-year-old daughter but he recently acknowledged that the Biebs wasn't always marriage material.
"Justin is not the kid he used to be," the Threesome star, who spent time with Bieber in Grand Rapids, Mich., before the courthouse proceedings occurred, told DailyMailTV last week. "He is a man now and I think he is going to start making decisions for himself. He's grown up a lot, quick, and I am very impressed with him already for how he's caring for my daughter."
About their whirlwind engagement, which occurred barely a month after they turned up the heat on their dormant romance, which had taken a back burner earlier this year to respective relationships with other people, Stephen insisted it wasn't all that whirlwind.
"Most people don't know that my daughter has known him for 10 years, long time, so obviously, for these kids, they haven't always had the chance to have people understand the dynamics of their friendship," he continued. "So I am very happy for them, I am blessed, and I'm looking forward to a great future for the two of them."
Not to mention, Bieber called Baldwin "someone I really love" in a GQ interview almost three years ago.
Vasquez-Max Lopes / BACKGRID
He also noted, in what is in hindsight a rather touching moment of self-awareness for the once drama-prone star, that he didn't want to commit to anything or anyone before he was ready, knowing his schedule was packed and his phone was always buzzing.
"What if Hailey ends up being the girl I'm gonna marry, right?" Bieber said. "If I rush into anything, if I damage her, then it's always gonna be damaged. It's really hard to fix wounds like that. It's so hard... I just don't want to hurt her."
It goes without saying a lot can change in far less time. Bieber and Baldwin are now busy keeping their little joint secrets and enjoying life together.
Tristan Fewings/Getty Images for adidas
Then it was off to Italy to relax on the Amalfi Coast in a private villa that rents for $13,000 a night.
"They look like honeymooners and are completely in love," a source told E! News at the time. "They always grab each other and hold each other close. They are very affectionate and smitten."
They also probably knew that work was going to get in the way of their alone time eventually.
"I've tried to be really choosy with fashion week going forward, just because I want to have the time to spend being relaxed and being with family—and my fiancé," Baldwin, who sat front row with Bieber at John Elliott's show at a skate park during New York Fashion Week in early September, explained to WWD about taking a step back from modeling in shows for the coming spring 2019 season, minus one walk down the runway for Tommy Hilfiger in Shanghai before NYFW.
Nicholas Hunt/Getty Images for NYFW: The Shows
She's still pretty busy, though, having recently become an ambassador for Bare Minerals and covering the September issues of Vogue Mexico and Vogue Japan. 
Finding out that Uncle Alec had advised, via reporters asking him at the Toronto International Film Festival, to prioritize spending time with Justin in order to maintain a healthy relationship, Hailey admitted that was the first she'd heard of it. "But that sounds like very sound, solid advice," she told WWD. "He's just trying to look out for me."
After Italy, the Baldwin and Bieber show went dark for a couple weeks, but turned back on Oct. 4 when they surfaced for breakfast in Studio City, Calif., around where they're reportedly renting a 6,000-square-foot home. 
Not bad for a couple just starting out.
Bieber was sans Baldwin on a trip to Disneyland a week ago with friends, but they were out Tuesday in West Hollywood together, and on Wednesday Hailey shared a photo of them having a tender moment at a friend's birthday party on her Instagram Story.
Meanwhile, the Baldwin fam is back in action too, with Billy refusing to confirm anything on Live With Kelly and Ryan on Monday—but when he asked the hosts if they could read his mind, and Kelly Ripa said she thought Hailey and Justin were married, Billy turned to the audience and remarked, "She's good."
He nodded, making an impressed face. "This one's good."