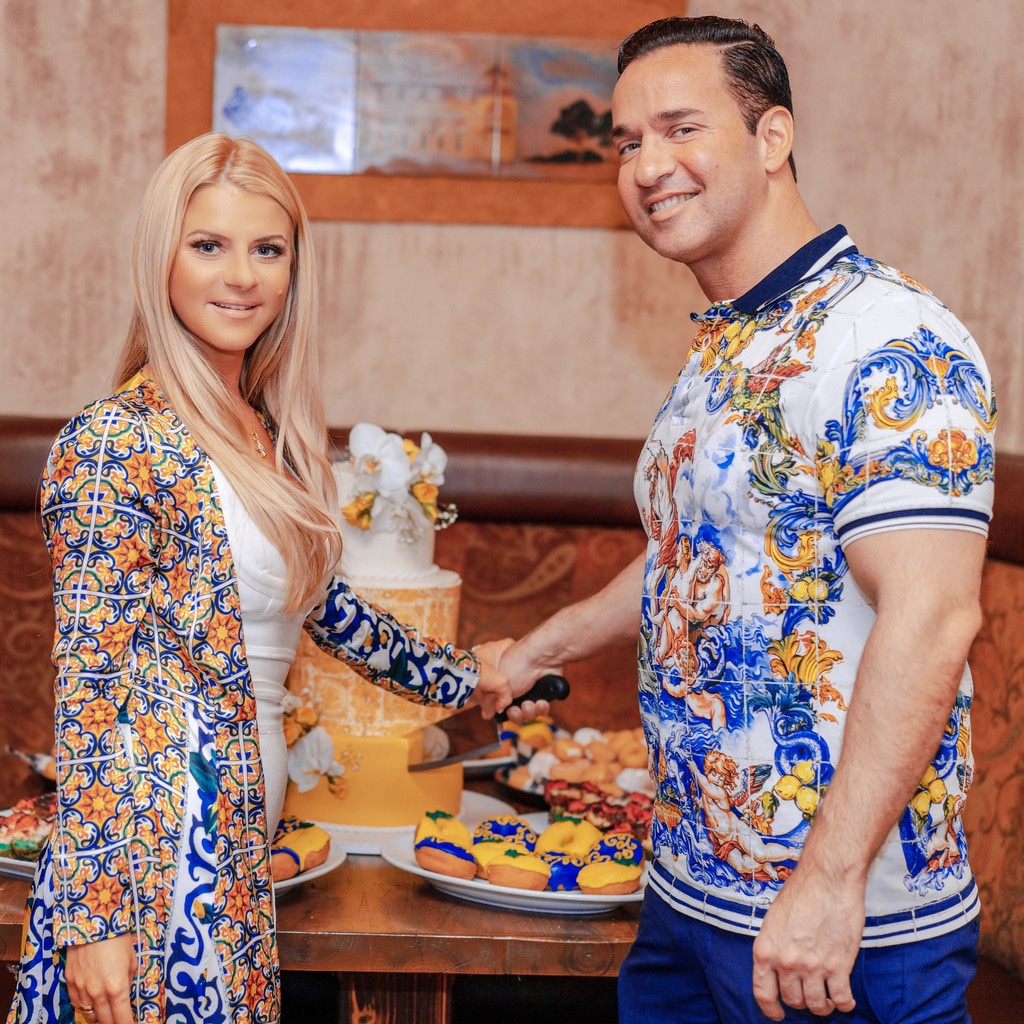 Anthony Serrantonio
Mike "The Situation" Sorrentino is asking for a little more than a gym, tan and laundry before his wedding.
As the Jersey Shore: Family Vacation star prepares to marry Lauren Pesce in the coming months, the Internet has uncovered the couple's wedding registry. And for those hoping to send a gift to the happy couple, there are plenty of options for you.
The pair picked out various items from Crate & Barrel and Bloomingdales totaling more than $18,000.
If you're feeling generous, the couple's most expensive item is a $673 white Montreux All Season Down Comforter in King Size.
But for those hoping to treat Mike and Lauren's dogs to a present, there are some options. From a $25 food tray mat, $180 plush dog bed or $40 food bowls, you may just be able to get some tails wagging with your wedding gifts.
Watch:
"Jersey Shore" Cast Reveals How Long Show Will Go On
While many of their gifts are perfectly understandable—who doesn't want a Roomba vacuuming robot, UGG travel sets and KitchenAid bowls—some items have fans talking.
An $80 toothbrush holder caught the attention of some curious shoppers. And yes, the $225 waste basket may be a bit pricey for some.
At the same time, isn't the point of a wedding registry to compile your dream items you may not necessarily buy on your own?
Whatever the situation may be—no pun intended—this couple remains stronger than ever after Mike was sentenced to eight months in prison earlier this month.
"Mike accepts the court's decision and looks forward to marrying his college sweetheart, Lauren Pesce and moving forward together after serving his sentence," his rep previously said in a statement. "He anticipates to come back stronger as an individual and couple in the same healthy mindset that he has had for the last 3 years. He and Lauren are both so thankful for everyone's support and prayers!"
And if there was any doubt, the cast of Jersey Shore continue to be a support system for the couple as they prepare for their special wedding day.
"Both of our girls Giovanna and Jenni's daughter, Meilani, are going to be the flower girls, he just asked us," Nicole "Snooki" Polizzi recently shared with Jenny McCarthy. "You are going to see it on the show and we are super excited."
Jersey Shore: Family Vacation airs Thursday nights at 8 p.m. on MTV.