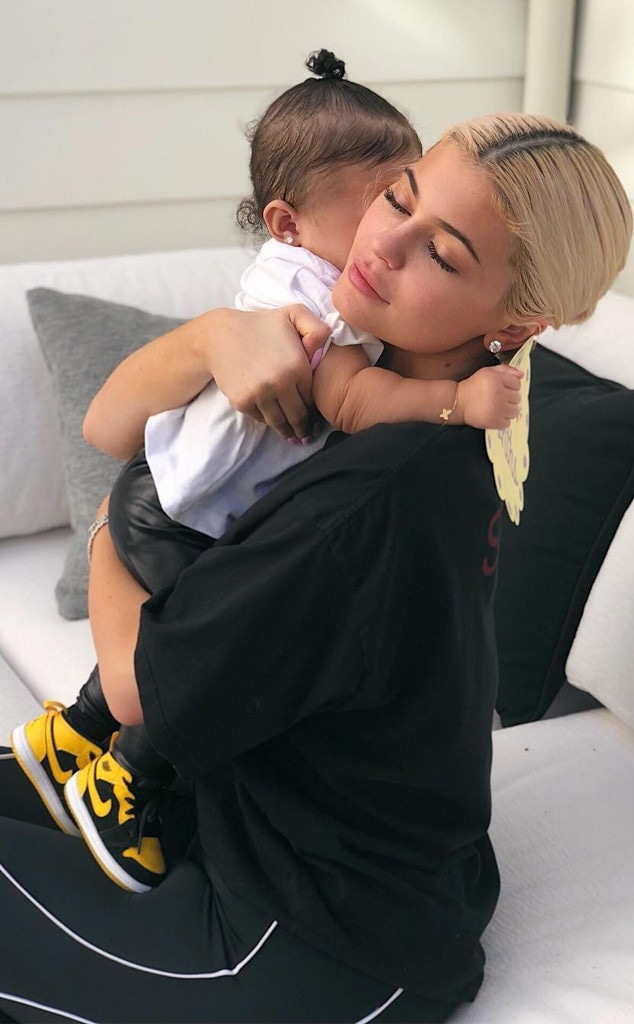 Instagram
They grow up so quickly, don't they?
Stormi Webster turned 8-months-old last week and her mom Kylie Jenner celebrated the day with a cute photo shoot on Instagram. "my little princess hit 8 months last week and i couldn't be more happy and sad all at the same time," she wrote.
In their pictures, both mother and daughter kept it casual clothing-wise. Stormi wore black pants and a white shirt with yellow and black Nike high tops, while Kylie went with leggings, a black shirt and her hair in a low bun. In the picture, Kylie holds onto a yellow sign that says "8 months" in cursive.
The makeup mogul talked about expanding her family on Saturday night during a Snapchat Q&A with her friend Jordyn Woods. She told viewers, "Am I going to have another baby? I want another baby but, 'When?' is the question and I'm definitely not ready right this second. And I don't know when I will be, but yeah, when I do, I would love to share more of that with you guys."
During her Q&A, the Kylie Cosmetics owner described Stormi's close relationship with her father, Travis Scott. "She is just like her dad, but she does look like me, so. She is obsessed with her dad, though," she said. "They have this crazy connection and she's definitely a daddy's girl. It's cute to watch. When dad's around, [it's like] I'm not even there."
If Kylie were to have another child, she has some inklings as to what she would want the baby to be named. She told Snapchat viewers, "Have I thought of baby names for my next baby? I have, but I haven't found anything that I 'love, love.' But I definitely want another girl, hopefully, and I want her to have a really feminine name."
8-month-old Stormi went along with Kylie and Jordyn on a quick weekend getaway to Miami. The trip was mostly to celebrate her best friend Jordyn's 21st birthday in addition to her party on Sept. 21 when their family and friends went bowling. "Kylie and Jordyn wanted a quick girls getaway to Miami to continue to celebrate Jordyn's birthday. They partied at LIV because Kylie wanted to make sure Jordyn got the full '21st birthday' experience, but spent the rest of the time in Miami relaxing," an insider shared with E! News.
Stormi obviously didn't hang out at famous nightclub LIV with her mom and Jordyn, but she's the travel companion that Kylie loves. The source told E! News that Kylie is "very protective" of her daughter and that Kylie "doesn't like to be without her for more than a day."
Kylie shared pictures of their Miami vacation with the ocean and sunset in the background. "You are my happy place," she wrote.
Happy 8-month, Stormi!