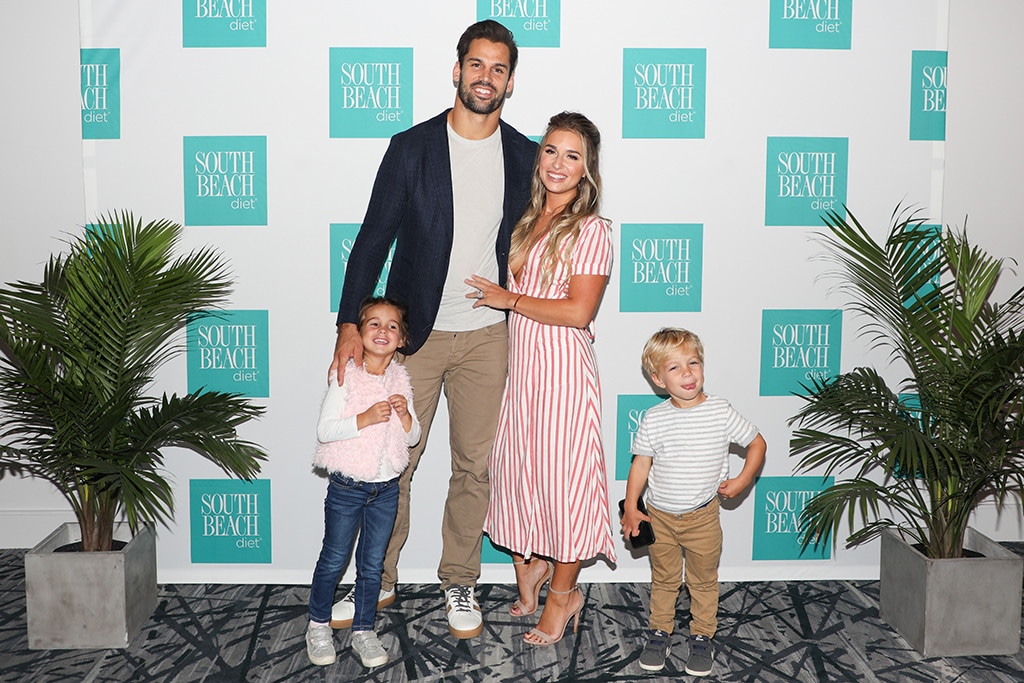 Katie Kauss / KDK Creative
Jessie James Decker and Eric Decker are all about raising their children to be confident and well-loved.
The Deckers spoke with E! News in Nashville at an event hosted by the South Beach Diet to launch her new book called Just Jessie: My Guide to Love, Life, Family and Food. Eric and Jessie James both discussed their complete adoration for their three children Vivianne Rose Decker, 4, Eric Decker II, 2, and Forrest Bradley Decker, 6 mos.
The country singer, who is a brand ambassador for South Beach Diet, told E! News that she not "there yet" to teach her kids about body image, but she constantly instills in them other positive qualities about themselves. "I tell them they're beautiful. I tell them they're special," she said. 
She said she and Eric "feed them healthy" and that the kiddos eat "what we eat," whether it be gumbo or vegetables. "I just give my children confidence, the same thing my mom did. They're beautiful and wonderful and smart and I make sure they hear it every day," she explained to E! News.
Katie Kauss / KDK Creative
Jessie James has been open about her past struggles with being bullied in school, and she wants to make sure her children never deal with the same experience. She explained to E! News how she believes she has the tools to help guide her kids through those tough times if they ever do get bullied. "Hopefully Vivianne never gets bullied and if she does, I need to instill in her just like my mom did, the confidence and make sure I tell her how wonderful she is and that those things don't mean anything," she said. 
Eric had similar parenting strategies. He told E! News, "The biggest message is to always be nice, be polite."
He elaborated that he and his wife teach their children manners, which "go a long way to create healthy habits and treat people with respect."
Katie Kauss / KDK Creative
The country singer also opened up about her music career and what's in the pipeline for her. "Music is my number one out of everything I do in my career. It's my passion," she said. She has a full-length Christmas album and vinyl coming out this year as well as another EP in the beginning of 2019.
The "Flip My Hair" singer revealed that she would be taking her kids with her on tour. "I bring them everywhere," she said. "I just can't be without them."
With Jessie James busy at the helms, Eric is home now after retiring from football in August. He made the announcement on Instagram, describing the sport as "a passion of mine since I was a little boy" and his "childhood dream."
She responded in a lengthy statement on Twitter expressing her support and reminiscing on the fun times the family had while visiting the former New England Patriots wide receiver. "From training camps login the babies in the wagons and seeing them run into you on the practice field to get that 30 minutes a day to see daddy. I have loved every moment of the last seven years watching my husband kick some serious ass! It's a career he should be proud of," she wrote.
Eric told E! News that he retired "at the right time." He added, "I was done. I just kind of was ready for the next chapter in my life."