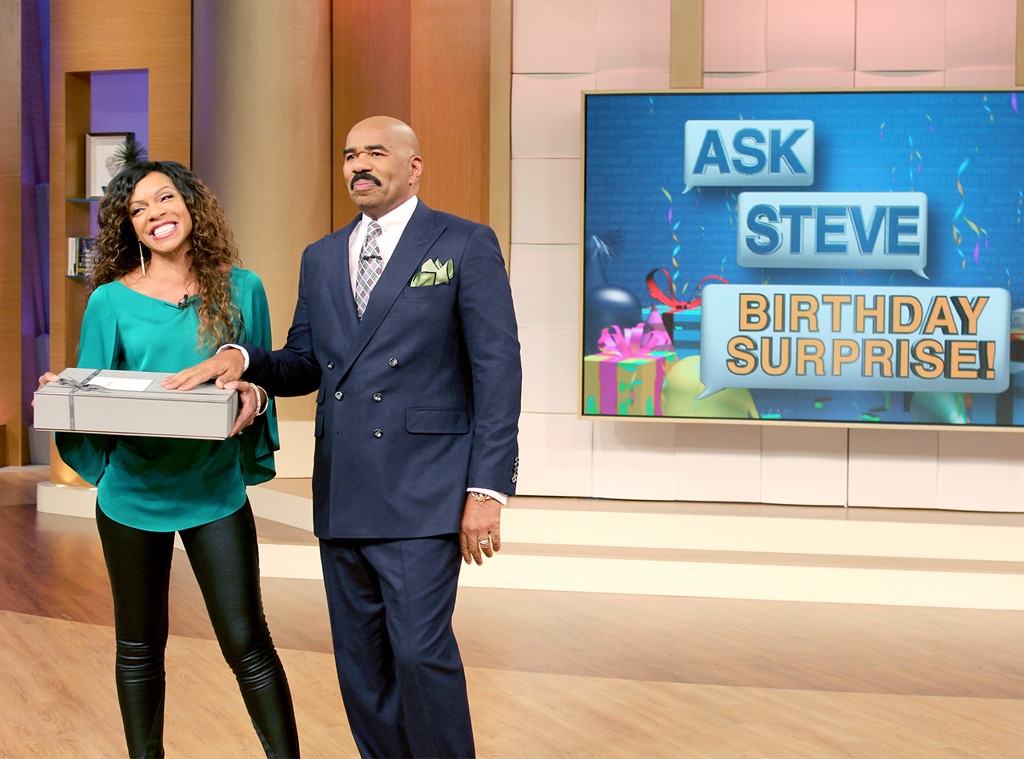 Steve Harvey Show
Steve Harvey is all about helping his audience, which is probably why his show Steve, is a finalist for Daytime Talk Show of 2018 at this year's E! People's Choice Awards.
In the popular segment, "Hey Steve," the 61-year-old television personality shares his take on people's wide-ranging problems. The best part is that the host knows how to get his point across without being too harsh by adding in a sprinkle of humor.
We love that Harvey is never afraid to shed light on any situation, whether it's running for president or making the perfect peanut butter sandwiches. He has opinions on it all!
Take a peek below to see some of the best advice that the Family Feud host has offered up over the years before voting for who you want to win the PCAs Daytime Talk Show of 2018 category next month.
Steve has some tough competition this year, so your vote could definitely help seal the deal.
The show is up against The Ellen DeGeneres Show, Live With Kelly and Ryan, The Real and Red Table Talk with Jada Pinkett Smith.
So, clearly the hilarious talk show host has his work cut out for him.
If you want Steve to win, now is the time to have your voice heard by voting for your favorite show before the Friday, Oct. 19 deadline. What are you waiting for, it's time to vote!
On Groupies
Harvey gets real about groupies when an audience member shares her worries about the temptation that her musician husband faces when he is on road performing. The bottom line, according to the Act Like a Lady, Think Like a Man author, is that the groupies don't have a chance if your partner puts you first and lets you know he is not looking for other people. He even shares a personal story about making his own wife feel comfortable when an overzealous fan asks for his photo. 
On Ghosting
When asked how to stop ghosting men, Harvey offers up some simple advice. Instead of ignoring or avoiding the person, you can tell your suitor you no longer want to date him and then count to ten out loud before walking away. This allows your date to say something before you are free from him the Daytime Emmy winner revealed. Seriously, check out the clip above to see him demonstrate just how to count it out in the middle of a break up. That wouldn't make things awkward at all! 
On Haters
It all comes to down to jealousy according to Harvey and he's not wrong. Haters wouldn't be tossing around insults if you didn't have something they wanted the host believes. When asked by an aspiring plus-sized model how to handle negative online comments on her social media pages, the comedian reminds her that haters only have one job...to spread hate. The best was to handle it of course, is to ignore the negative and nasty comments and focus on the positives. No need to spend time on people who are only trying to bring you down, duh.
On Making the Perfect Peanut Butter Sandwich
Harvey takes his peanut butter sandwiches seriously and we are so taking notes. He became the taste tester for an audience member to end the debate over who makes the better peanut sandwich, her or her husband. She brought samples to the studio for him to try and he was more than willing to participate. Her recipe included peanut butter, maple syrup and bananas. The treat was so delicious that Harvey had to sit down on his desk while eating it. Sounds pretty good, right?
On Online Dating Profiles
According to Harvey, honesty is the best policy when it comes to online dating. In other words, say exactly what you are looking for right in your profile. Whether you want a serious relationship or something casual, it's better to be upfront about it from the very beginning. In fact, he told the audience member that there is a man out there looking for you just the way you are. No need to transform to who you are to find a good man. Preach, Harvey, preach!
On Living Together
Think that a relationship should be 50/50? Think again! According to Harvey it's all about being 85/15. In his experience, relationships work better when the woman has more control. From planning vacations to decorating the house, women should be the ones in charge. He also advises men to carve out a corner that can be all theirs in the home and then shut their mouths and enjoy their 15 percent!
On Selecting An Emergency Contact
Harvey knows that everyone needs an emergency contact, but he thinks you should really ponder over who that one person should be. When one audience member reveals he doesn't want to be his roommates' emergency contact, due to the responsibility, the talk show host totally gets it. Harvey's criteria for this critical job is that the person must have a home phone, be a home owner, and most importantly, be able to provide a solution to your problem at any given time. That seems pretty reasonable to us!
On Running For President
The audience got excited at the thought of Harvey for president in 2020, but the star shot them down when he claimed that a background check would take him out of the game! If he were to became president however, Superbowl Sunday would become a national holiday and so would the Monday following the big game. We could really get on board with this campaign platform, but the real question is, can Harvey count on your presidential, er, we mean, PCAs vote?
OK, let's get serious now, because it's time to vote for all of your favorites ahead of the E! People's Choice Awards, which airs live on live on E! on Sunday, Nov. 11.