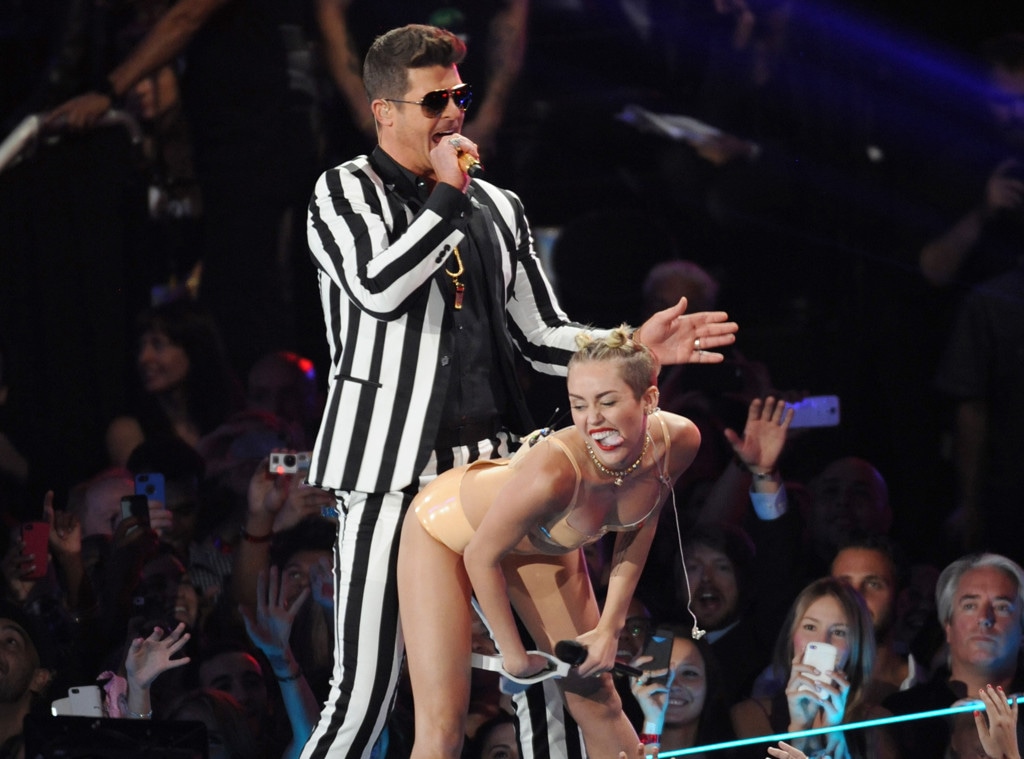 Scott Gries/Invision/AP
2013 was a wild time for Miley Cyrus.
Her engagement to Liam Hemsworth had been called off, bringing a temporary end to their four-year relationship. Her music video for new single "We Can't Stop," her first in three years, introduced the world to a new era in the young star's career—one of untethered, rampant hedonism. And her now-infamous performance at the MTV Video Music Awards—you know, the one with the twerking in Robin Thicke's crotch—only seemed to solidify the notion that Miley couldn't, in fact, be tamed.
And then, on October 4, 2013, Bangerz, her fourth studio album, dropped and things really got weird.
"I want to be memorable," she told the Daily Mail immediately after the release. "That's what my fans want too. Everyone's talking about me, waiting to see what I'm doing next. And, yeah, I like things to be bright and colorful and fun, but then I make 'Wrecking Ball,' which is darker and grey. And then I'll maybe go back to running around being crazy. I want to keep people guessing."
Mission accomplished.
As 2013 became 2014, Miley-mania was in full swing. MTV named her its Artist of the Year. In February, the Bangerz Tour kicked off, literally, with the former Hannah Montana star sliding down a giant approximation of her wagging tongue, sticking out of her mouth, as had become her signature look. "People have made me seem like a character. So now I'm just enjoying playing a character of myself. People's mouths drop when I dance, but my friends are like, 'You dance like that in the kitchen!' I'm always pretty much joking," she explained in an interview with Elle that April. "In the show, I do this really horrible wave, like the Queen. It's so dumb, because everyone waves back at me like that! It's almost like abusing the fact that I'm a little bit of a trendsetter."
Meanwhile, the outside world wondered whether the 22-year-old had gone mad, become a marketing genius, or some combination thereof. There were thinkpieces galore about her provocations, her alleged cultural appropriation and exploitation of black culture. It was the very portrait of a girl becoming a woman, exploring who she was, what she stood for, who she was attracted to, the whole nine yards; only it was happening for the whole world to see.
After a year spent touring, the experimentation continued into 2015. Though she never confirmed it, she entered into some sort of romantic relationship with model Stella Maxwell. She launched the Happy Hippie Foundation, dedicated to the causes of youth homelessness, the LGBTQ community and other vulnerable populations. She hosted the VMAs, where she both got called out by Nicki Minaj for running her mouth and dropped a head-scratching free SoundCloud called Miley Cyrus & Her Dead Petz. By September, the fun had stopped. The album, a psychedelic collaboration with the Flaming Lips, left fans wondering what was going on; the tour, complete with her strap-on dildo, even more so. 
And so a retreat from this particular spotlight began.
She moved to Malibu and adopted some pigs. She immersed herself in her philanthropy. She plotted a return to TV, joining NBC's The Voice in its 11th season while also taking a role in Woody Allen's ill-fated Amazon Prime series, Crisis in Six Scenes. She got back together with Liam. And, perhaps most importantly, she did some reflecting.
"There's so much I don't remember about being a child entertainer because it was so much to keep in my brain. It's like anything when you are in it. I didn't realize how much pressure I was under and how that shaped me until, like, this year," she told Harper's Bazaar in July 2017, recalling that period of Bangerz aftermath.
"People were so shocked by some of the things that I did," she continued. "It should be more shocking that when I was 11 or 12, I was put in full hair and makeup, a wig, and told what to wear by a group of mostly older men...It's no wonder that a lot of people lose their way and lose who they really are because they always have people telling them who to be."
By the time she took her seat in this big red spinning chairs when her first of two non-consecutive seasons of The Voice debuted in the fall of 2016, the world saw a more demure Miley. It was a Miley who was no longer looking to provoke, a Miley who had changed once more.
"It became something that was expected of me. I didn't want to show up to photo shoots and be the girl who would get my tits out and stick out my tongue. In the beginning, it was kind of like saying, 'F--k you. Girls should be able to have this freedom or whatever.' But it got to a point where I did feel sexualized," she told Harper's.
And as tends to happen for trendsetting provocateur, the shtick had been co-opted by way too many copycats. "Even at the Met Gala, everyone had their boobs out, everyone had their ass out, so what's punk about that now?" she continued. "It's more punk actually for me to not."
As she began to ready new music, she set out to distance herself from her past persona even further. Outside of professional obligations, she pulled out of the spotlight, taking several self-imposed "media blackouts" and making sure her personal life was no longer part of the story. After all, the engagement was back on. What else was there to report? "I needed to change so much. And changing with someone else not changing like that is too hard," she said of the time apart in a 2017 Billboard interview. "Suddenly you're like, "I don't recognize you anymore." We had to re-fall for each other."
With the release of first single "Malibu," followed by "Younger Now," the title track off her sixth studio album, a softer Miley arrived, a more accessible one, one you might encounter on a hike up in Laurel Canyon, gathering wildflowers. "I wanted to be more straightforward," she told NME in an interview published the day Younger Now was released at the end of September. "I did it in a less aggressive way where it was subliminally allowing all audiences to be a part of it and enjoy it. From the outside, like you said, Dead Petz wasn't a record for everyone… I think it ended up shutting some doors in the way of people making themselves less mentally available to listen. They think, 'I'm already pissed off so I'm not listening to that, she's crazy.'"
Sadly, not a lot of people were ready to tune back in. Younger Now failed to return Miley to her Bangerz chart glory, debuting at No. 5 and only moving 33,000 units total. Naturally, there would be no tour.
While she's had to go back to the drawing board in terms of her recording career, with Mark Ronson confirming this summer that new music is in the works, Miley's once again gone underground a bit. Her Instagram account remains empty and her Twitter hasn't been updated since July. And when it had? The focus was more on her activism than her artistry, which makes sense considering the biggest lesson she learned from the whole Bangerz era.
"Not only was culture changed, but my life and career were changed forever, and almost defined in that moment. It inspired me to use my platform for something much bigger," she told Wonderland earlier this year. "If the world is going to focus on me and what I am doing, then what I am doing should be impactful and it should be great."
Will this next era of her career, whatever it may be, follow suit and be great as well? That remains to be seen. But one thing's for sure: It certainly won't be boring. Not if she's just being Miley.