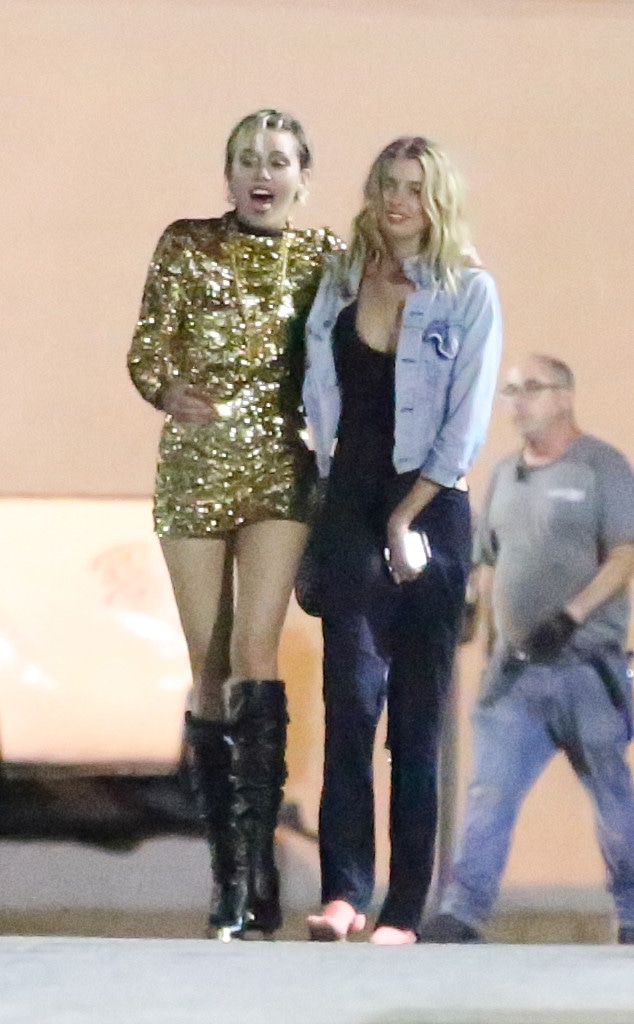 AKM-GSI
UPDATE: A source told E! News that Miley Cyrus and Stella Maxwell are "hanging out now and they really like one another."
__________________________ 
Miley Cyrus has been outspoken about refusing to label her sexuality in recent months, and now, the pop star has been spotted kissing Victoria's Secret model Stella Maxwell.
The two were seen getting up close and personal in a Los Angeles parking lot during what reportedly was a music video shoot for the crooner.
Maxwell donned a pair of black overalls and a denim jacket to the nighttime shoot, while Cyrus was seen wearing a gold sequin mini dress and knee-high black boots.
Of course, this isn't the first time that the two have been photographed together. Both have posted a slew of candid shots on Instagram in recent weeks including one photo of the two fresh-faced beauties hanging out with Cyrus' animals at home.
The photos come in the wake of an interview given to Time magazine by the former Disney darling, in which she explains that she doesn't want to box herself into one specific gender or sexual preference.
"I'm just equal. I'm just even. It has nothing to do with any parts of me or how I dress or how I look. It's literally just how I feel," she shared during a Happy Hippie event.
"People try to make everyone something. You can just be whatever you want to be."
She also told the mag that there was generally an "overly macho energy" when she dated guys in the past—which she wasn't particularly fond of.
"That made me feel like I had to be a femme-bot, which I'm not. And then when I was with a girl, I felt like, 'Oh s--t, she's going to need someone to protect her, so I'm going to need to have this macho energy. And that didn't feel right either."
Back in May, Cyrus launched Happy Hippie—a non-profit organization that works tirelessly to help homeless and LGBT youth across the globe.
During a subsequent promotional event, the "We Can't Stop" singer further dished that she's had past relationships that weren't "straight, heterosexual" ones.
"I never want to label myself! I am ready to love anyone that loves me for who I am! I am open."
Let love rule!