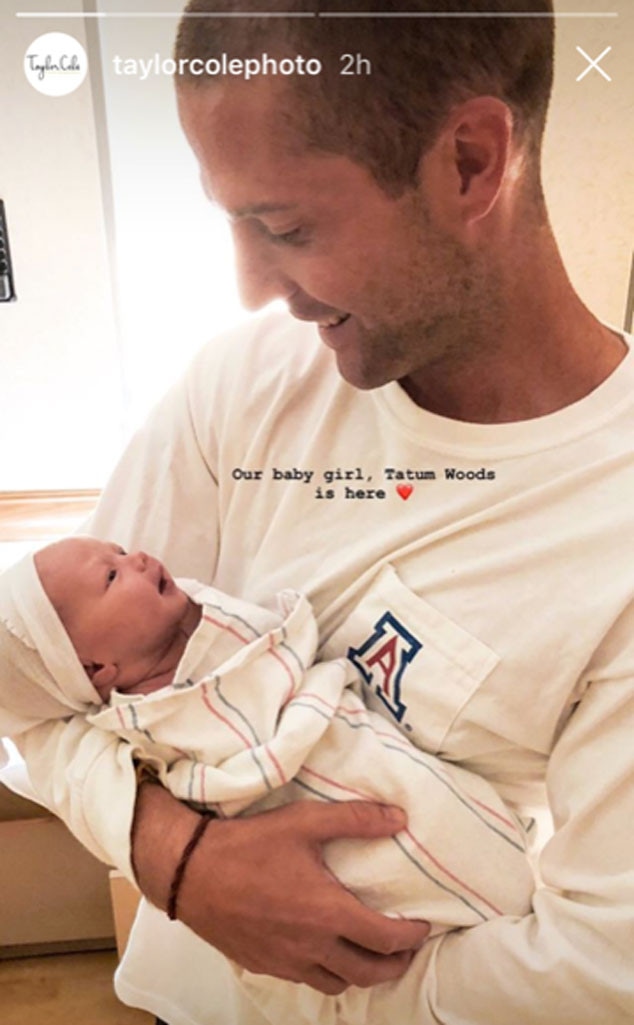 Taylor Cole Instagram
Taylor Cole has welcomed a baby girl!
The Laguna Beach alum has given birth to her and husband Kevin Simshauser's daughter, she announced on Instagram Friday. "Our baby girl, Tatum Woods is here," the photographer captioned the Instagram Story photo of Tatum and Kevin. In a second post, Taylor also shared a photo of her baby girl resting after making her entrance into the world.
Baby Tatum's arrival comes three months after Taylor's baby shower, which was attended by fellow Laguna Beach alum Alex Murrel, who was also pregnant at the time. "Showering our girl @taylorcolephoto & #BabySimsy #8weeksapart," Alex captioned a photo with Taylor at the baby shower.
Alex gave birth to her second child, a son named Kase Robert Johnson on Aug. 1.
"It was a quick labor but so, so happy to have this family of four now!" Alex told E! News in a statement at the time. Baby Kase weighed in at 8 lbs., 13 oz. and is 21 inches long.
Alex and husband Kyle Johnson are also parents to son Levi, 2.
Earlier this month, another Laguna Beach alum welcomed a child into the world.
Dieter Schmitz's wife Isabell Hiebl gave birth to the couple's first child, a baby boy, on Sept. 8.
"Isabell and I welcomed our baby boy, Nico Josef Schmitz, on 9/8/2018 at 9:10 AM!," he wrote on Instagram. "May you make the world a better place and have a tremendously healthy and fulfilling life. We love you so much!"