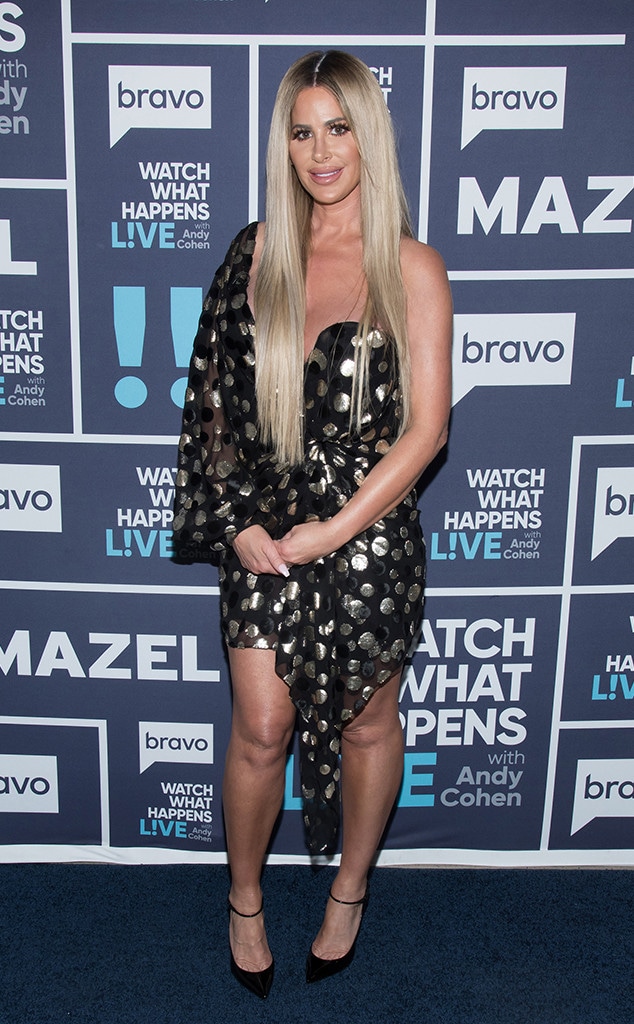 Charles Sykes/Bravo
Kim Zolciak-Biermann has never been one to care about what you think.
In fact, ever since she appeared on season one of The Real Housewives of Atlanta, the reality star has followed a philosophy when faced with critics: Haters are my motivators.
Perhaps it's that brutal honesty and no-nonsense approach that has made her one of Bravolebritiy's biggest stars.
With a new season of Don't Be Tardy coming soon, a brand-new podcast recently launched and a booming Kashmere Kollections business, Kim has asked, believed and received.
But through every milestone, the mother of six has faced her fair share of controversial moments on and off the small screen.
Earlier this week, fans accused Kroy Biermann's proud wife of photoshopping her four-year-old daughter's body. Kim has remained silent but the comparison shots captured by @TheGoodTheBadAndTheFake certainly have people talking in the streets.
And whether it's controversial social media posts or dramatic feuds on Bravo, Kim has certainly found herself in the middle of some drama in recent years.
Take a look back at some of her most controversial moments below.
Racist Allegations: The last season of Real Housewives of Atlanta was a tough one for Kim who appeared as a "friend" of the cast. During the reunion show, Andy Cohen asked Kim to respond to claims that she was racist after calling NeNe Leakes' home a "roach nest." "You're reaching. Reaching," she responded. "Don't try it. It has nothing to do with the projects or none of that s—t. A roach is a roach."
Kim later shared backstage, "This whole racism thing in this day and age is bulls--t, Everyone one of those motherf--kers on that couch owes this world a f--kin' apology for this racism s--t."
Birthday Surprises: When Brielle Biermann turned 21, Kim decided to gift her daughter with a handgun. "You're moving out so it's time you figure it out... It's a very special one for you. It's rose gold," Kim explained. She also gifted Brielle a glitter mold of a topless woman. Who needs gift cards these days?
Bumpy Tour Bus: Before Kim performed "Tardy for the Party" in a concert stop in Miami, the singer got into an explosive fight with NeNe on Kandi Burruss' tour bus. NeNe thought her old friend was being a diva. Kim thought her new enemy was just an intern at a local news station. As for Kandi, she couldn't believe what she was witnessing in such a small space.
Twitter Feuds: Sometimes, the Real Housewives drama spills onto social media. It certainly was the case last season when Kandi and Kim got into a sexually explicit war of words. "I'm sick of these bitches lying on me. @Kimzolciak I have NEVER wanted you or your box. And stop swearing on your kids while you're telling lies. Lying ass bitch," Kandi wrote on Twitter. "Somebody's really reaching for a permanent peach here... This is my house. You're just a visitor!"
Kim replied, "If anybody is lying it's you @Kandi You and your husband are full on swingers f--king all kinds of girls and can NEVER admit it. And bitch if it weren't for me there would be no house. Remember I built this house!" And to think these two used to be great friends.
Bow Wow Wow: Back in June of 2016, Kim took to Snapchat where she posted videos of her daughter Ariana Biermann wearing an electric dog collar. In fact, Kroy proceeded to shock his stepdaughter because she said she would do it in exchange for hanging out with her friends. "She'll do anything to hang out with her friends. Anything—a dog collar," Kim explained.
Anything for a Legend: When Kim heard John Legend was coming to perform in Atlanta, she knew her son Kash Biermann couldn't miss out. "Who does Brielle have to blow in order to meet him?? LOL," Kim wrote to Chrissy Teigen on Twitter.
Chrissy replied, "Plz don't blow anyone it's not that good of a show. Jk it's good but I'll get you tix without the oral." While some followers weren't exactly laughing at the joke, others viewed it as an innocent joke. And for the record: Everyone got to attend and no sexual favors were needed.
Who Is Big Poppa: Before meeting Kroy, there was another special man in Kim's life that she always kept private and away from the cameras. Cast members and viewers alike were left questioning who is Big Poppa and what does he actually do for Kim? Hint: He loved to gift his leading lady. Ultimately, some ladies including NeNe weren't impressed with this romance. She ultimately found her happily ever after with Kroy.