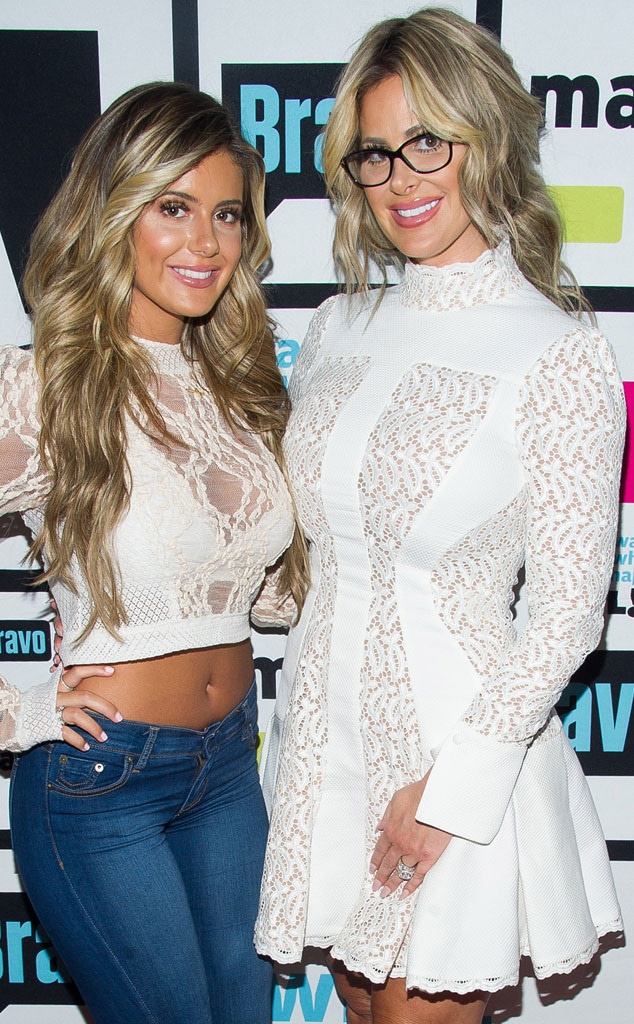 Charles Sykes/Bravo/NBCU Photo Bank
Brielle Biermann is armed and 21! 
Kim Zolciak-Biermann is celebrating her daughter's birthday in a big way... by gifting her with her very own handgun. In a video shared by TMZ, the Real Housewives of Atlanta star presents the rose gold firearm to an admittedly "scared" Brielle. 
"Oh my god, literally what am I going to do with this? I'm scared. I'm not gonna touch it," Brielle says. Kim responds, "You're moving out so it's time you figure it out... It's a very special one for you. It's rose gold."
After ringing in the big 2-1 with friends in Miami over the weekend, Brielle returned home to a family celebration complete with balloons, cake and plenty of presents. 
In snapshots shared to Brielle's Instagram story, Kim also gifted her with a second glitter mold of a topless woman to match a similar piece of art she received as an early birthday present for her condo. According to TMZ, the bold sculptures run for $5,550. 
Luxurious birthday haul aside, the Bravolebrity also paid tribute to her first born with a heartfelt message shared to Instagram yesterday. "I had Brielle at at almost 19," Zolciak-Biermann wrote. "I was so excited I could barely stand it but I was a nervous wreck at the same time!"
She continued, "My side kick, My heart, My strength, My pride and joy, My best friend, My daughter YOU amaze me!! We made it Elle I always knew we would. You are such a blessing to this world! Thank you for making my 'job' as your mom an easy one! I truly mean that from the core of my being! I made it through the night last night barely, no sleep worrying about you .. I guess some things will never change no matter how old you get!"
As Brielle prepares to fly the coop, she recently shared with TooFab.com her plan to live on her own for six months to a year before moving in with her boyfriend, baseball player Michael Kopech, "to gain some independence and figure out the world on my own." 
She explained at the time, "I don't ever want to have to depend on a man, so I want to learn to do things on my own and support myself before I go from living in my parents house to living with a man."
HBD, Brielle and safety first! 
(E! and Bravo are both part of the NBCUniversal family.)