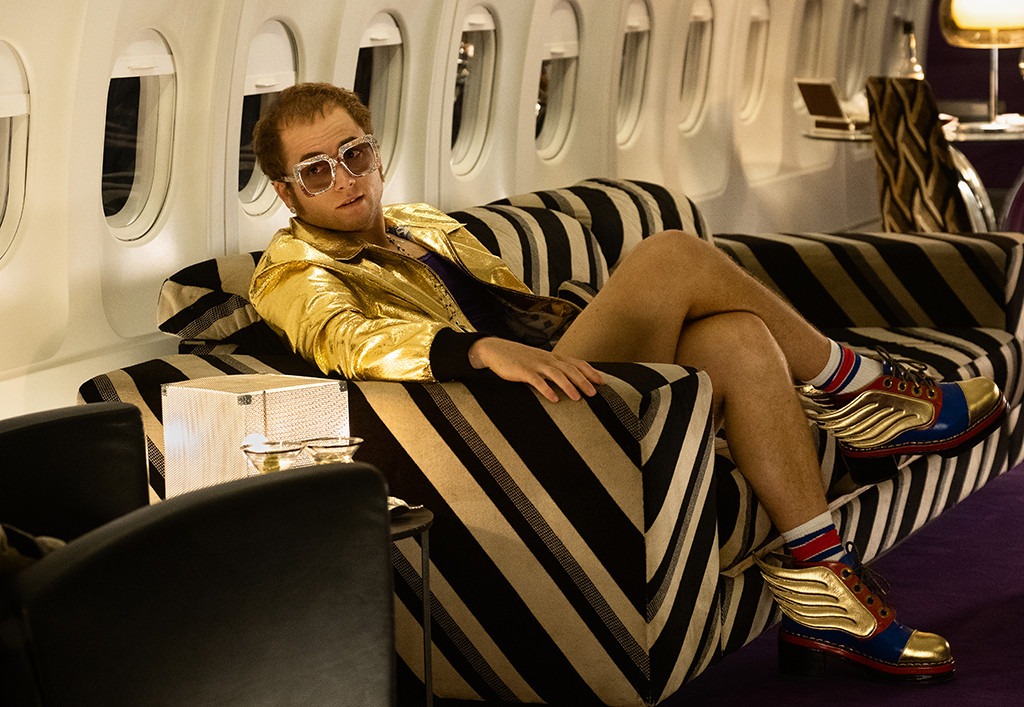 David Appleby/Paramount Pictures
Your eyes aren't deceiving you—that's not really Elton John in the just released photo from Paramount Pictures' Rocketman. But, it does show Taron Egerton in character as the rock star. In the official first look, Egerton wears a gold lamé jacket over a black tank top, completing his look with athletic socks and winged shoes—all while lounging on a couch inside a private plane.
"Can't wait for you all to see the trailer Monday," Egerton told his Twitter followers Friday. "Words cannot describe how proud and excited I am." An overjoyed John also shared the production still via Instagram, writing, "Hold on to your glasses, this is going to be a wild ride!"
Matthew Vaughn, who worked with Egerton on the Kingsman films, is producing the picture. Described as an "epic musical fantasy" and an "uncensored human story" about the rocker's breakthrough years, the biopic also stars Jamie Bell, Bryce Dallas Howard, Gemma Jones and Richard Madden. Directed by Dexter Fletcher, the film will premiere in theaters May 31, 2019.
Egerton first performed one of John's beloved classics onscreen in 2016, when his animated character—a gorilla named Johnny—sang "I'm Still Standing" in Universal Pictures' hit film Sing.
Before Rocketman hits theaters, Egerton will play the lead role in Summit Entertainment's Robin Hood, out Nov. 21. Directed by Otto Bathurst and produced by Leonardo DiCaprio, the movie also stars Jamie Dornan, Jamie Foxx, Eve Hewson, Ben Mendelsohn and Tim Minchin.