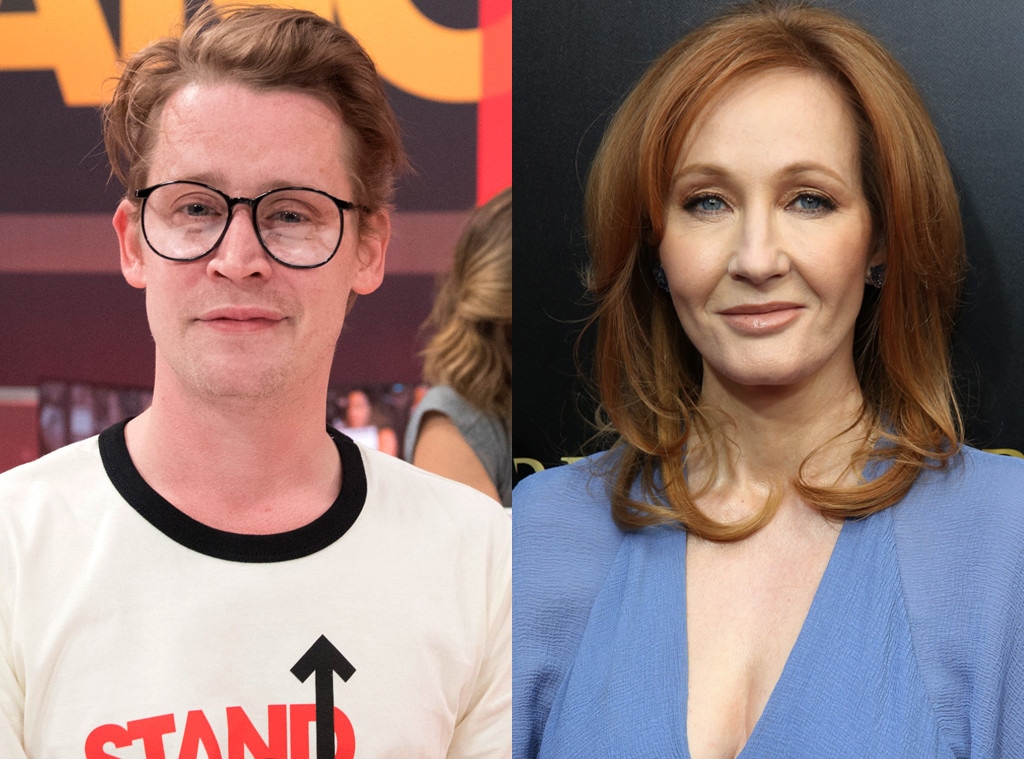 Getty Images
Macaulay Culkin as a wizard? Why not? He's good at magic—he did make his "family disappear..."
The 38-year-old former child actor, who rose to fame with Home Alone, tweeted to Harry Potter and Fantastic Beasts creator J.K. Rowling on Wednesday to make a special request. First he began by buttering her up, then he tweeted part of his résumé.
"Hey @jk_rowling I'm with you! Nagini can be whatever she wants to be! She's a strong woman/snake," he said, in response to the author's comments to a fan who criticized a Fantastic Beasts: The Crimes of Grindelwald casting.
"Also, can you write me into the next movie? I'm Macaulay Culkin (From Home Alone: The Movie) and I was also a Pagemaster (experienced with magic)..." he continued.
Seven years before the first Harry Potter film hit theaters, the actor starred in The Pagemaster, in which he portrayed a boy who is turned into an animated illustration by a mystical guardian of books and must find his way back to reality while facing off against obstacles from classic fairy tales and other stories.
20th Century Fox Home Entertainment / Warner Bros. Pictures
Culkin also tweeted at Dan Fogler, who stars in the Fantastic Beasts films.
"Hey @mrdanfogler put in a good word for me. There's a back rub in it for you. ;)" he wrote. "BTW, it's me Macaulay Culkin (From Home Alone 2/we're friends in real life)."
"Interesting ... you do have the same coloring as a the Malfoy clan..." Fogler replied.
"While I may look like a Malfoy I'm actually a Gryffindor and my patronus is a Mastiff which is a dog. So that's cute! #MakeMeAWizard," Culkin continued.
"Dude I can see you as a grad student at ILVERMORNY," Fogler replied.
Comedian and Kroll Show star Andy Milonakis also weighed in, referencing Culkin's character's tragic outcome in My Girl while telling Rowling, "Don't do it, he can't even handle a bee sting."
Culkin acts sporadically these days but does not actively pursue roles. He said on Joe Rogan's podcast the Joe Rogan Experience in August that he does not even have an agent. He also said he turned down offers to star on The Big Bang Theory, before it first premiered, three times. 
"Listen, I'd have hundreds of millions of dollars now if I did that gig," he said. "At the same time, I'd be bashing my head against the wall."