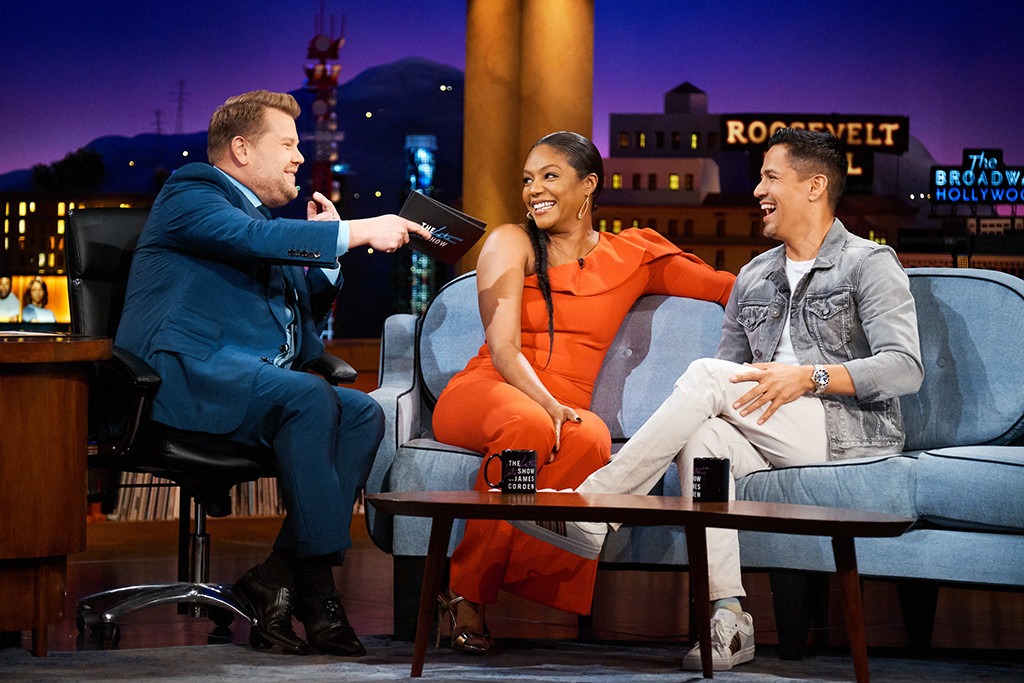 Terence Patrick/CBS
Tiffany Haddish may only need a blanket and some batteries to get her through the night, but she'd happily let Jay Hernandez crawl under the sheets with her, too. Last night, on The Late Late Show, the Night School star made the Magnum P.I. actor blush as she shamelessly flirted with him, prompting host James Corden to say, "I sort of feel like it's an amazing couple, right?"
Hernandez, of course, was on Corden's show to promote the CBS reboot. "What about the shirts? You still wearing the shirts, right?" Haddish wondered. "The flowery Hawaiian shirts?"
"The aloha shirts? I don't start with them, but a couple episodes deep, we get into them," Hernandez promised. Raising her eyebrows, Haddish lowered her voice and replied, "Yeah!"
Hernandez went on to say it's an honor to take over Tom Selleck's iconic role. Asked whether she's a fan of the original Magnum P.I. star, Haddish replied, "Oh, yeah! I thought that Tom Selleck was gon' be my first baby daddy for a little bit!" Putting her arm behind Hernandez, she batted her eyelashes and asked her new crush, "How you doin'? Do you have any baby mamas?"
"I could," Hernandez replied, grinning as he touched Haddish's leg.
"You could?" she giggled. "So, you didn't answer my question, though..."
Red-faced, Hernandez joked, "Can we go to break please? We have a discussion to have." As they moved closer together, he whispered something in her ear, then said, "We'll figure it out."
Hernandez then tried to get back to promoting Magnum P.I., which is filmed on location in Hawaii. "It's paradise. That being said, the first thing I got was a mattress. That's all I had in an empty apartment," the actor admitted. "The second thing I bought was a cabinet full of liquor."
"Oh, OK!" Haddish said quietly. "Sound like you need me to visit."
Laughing, Corden said, "Tiffany just went, 'Sounds like you need me to finish it!'"
"No, I said 'visit!'" Haddish said, sticking her tongue out and taking a sip of her drink. Turning toward Hernandez, she told him, "I've dated men that only had a mattress and liquor before." Hernandez tried to continue telling story, telling the two stars, "The third thing I got is a surfboard. I figured I'd get all the essentials. I don't even know how to surf; it doesn't matter."
"Oh, I know how to surf," Haddish said. "I could teach you."
Noticing the sparks, Hernandez said, "Something's happening right now."
"Your surfing might be a little different," he told Haddish, "but I'm down to learn."
Haddish then sang a few lines from Beyoncé and Jay-Z's "Drunk in Love, telling the actor, "We could make our own music video." Turning to Corden, the comedienne added, "He cute, right?"