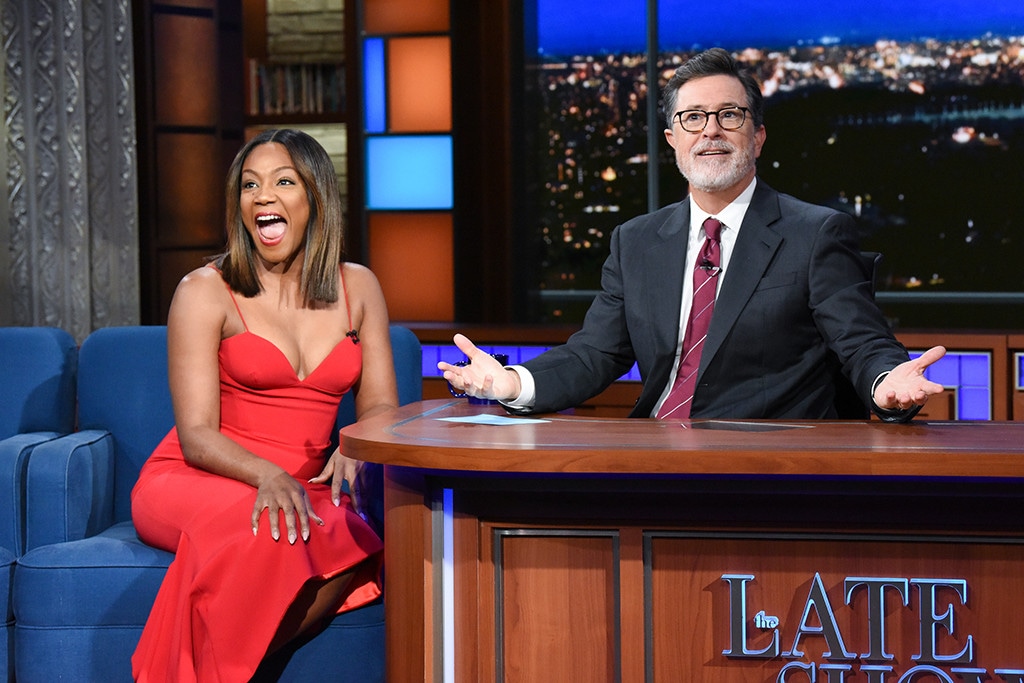 Scott Kowalchyk/CBS
Tiffany Haddish told Stephen Colbert last night she is aiming to make 50 movies by the time she's 50. "They're not all gonna be great movies," she said, "but they're all gonna be movies!"
Unfortunately, in order to achieve that goal, the 38-year-old Emmy Award-winning actress admitted she has had to make a few sacrifices in her love life. "I haven't been dating. I mean, my personal relationships haven't been that good—but I have been keeping up with my weighted blanket and my toys that I get off of Groupon. And batteries! Batteries are a girl's best friend," she said. "I like how the band look at me trynna figure out, 'What is she talking about?'"
Colbert was unfamiliar with the object of Haddish's desire. "A weighted blanket is a blanket is filled with—I think it's sand? I'm not sure what the material is. But it's like 25 panels, right? And then you throw that over your legs, and then you spray a little cologne over it, and you throw it over your arms and it feel like a man is holding you. And you snuggle up in it," the comedian explained. "Then you open up your nightstand drawer, put your batteries in...and go to sleep."
"Because you got your reading light!" Colbert joked. "I do the same thing."
Haddish wasn't looking for sympathy from the Late Show host. In fact, she said the best part of going to bed alone is "you don't have to make 'em breakfast or talk to the weighted blanket or nothin'." She hopes to find love one day, but for now, "I'm waiting—with my weighted blanket."
The actress—who stars in four movies this year—was on Colbert's show to promote the Universal Pictures comedy Night School, in theaters Sept. 28. Haddish plays a school teacher who mentors Kevin Hart's character. It's a movie about "second chances," she said. "Just because you didn't make it through high school the first time doesn't mean you can't try again."
(E! and Universal Pictures are both members of the NBCUniversal family.)