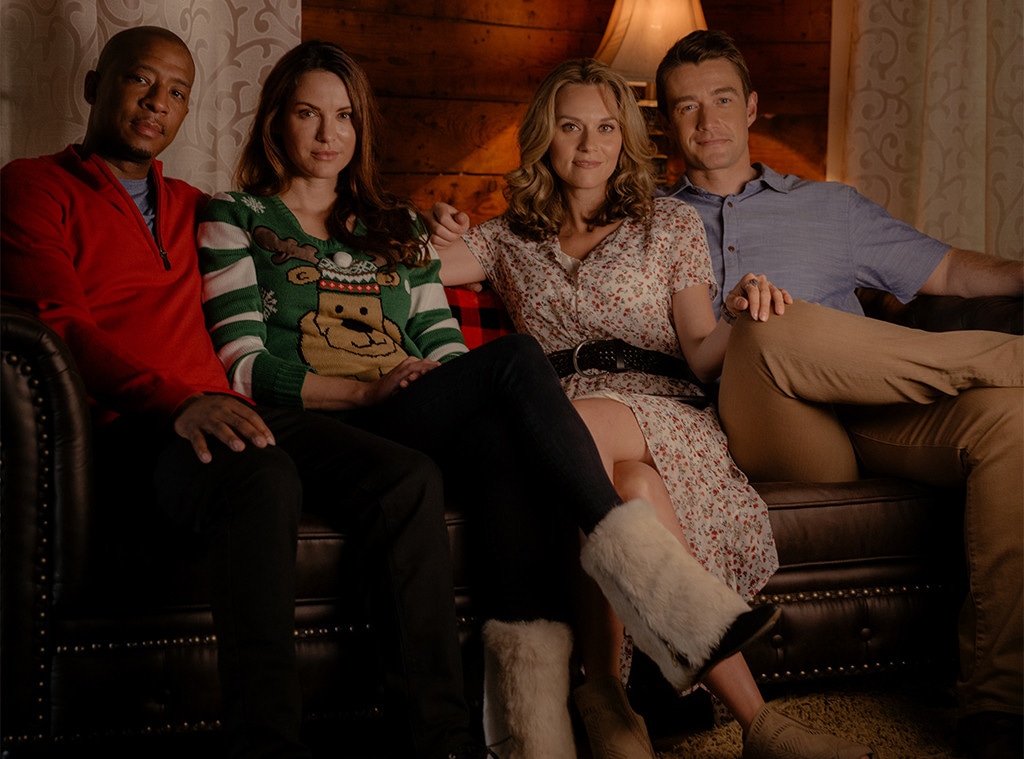 Lifetime
It's November first, so you know what that means: it's almost Christmas!
Sure, we have yet to hit Thanksgiving or Hanukkah or any of the other holidays that fall before Christmas, but in the grand scheme of things, you could argue that in a way, it really is almost Christmas. That means it's time to start preparing your own personal schedule of holiday-themed TV movies with which to fill the time you aren't busy buying presents (only 54 more shopping days to go!) or baking cookies (only 54 more baking days to go!) or wondering where the heck this year went (only 61 more days of 2018 to go!). 
Anyway, Lifetime and Hallmark have released their official holiday movie schedules, and it's time to get HYPED. Below, you'll find descriptions for each and every movie airing throughout the holiday season, even though we're all just going to DVR them all anyway! 
Christmas at Pemberley Manor (Hallmark) 
Saturday, October 27 at 8 p.m. 
Who doesn't love a modern Pride and Prejudice? Jessica Lowndes plays Elizabeth Bennett, a New York event planner who—surprise!—heads to a small town to organize their holiday festival. Michael Rady plays William Darcy a—surprise!—billionaire with no holiday spirit and an estate that's perfect for hosting a holiday festival. A recipe for holiday magic if you ask us. 
Christmas Joy (Hallmark) 
Saturday, November 3 at 8 p.m.
Danielle Panabaker (from The Flash!) plays a workaholic market researcher named Joy who has to drop everything and go to her hometown to help her injured aunt. There, she and her former crush (Matt Long) have to work together to chair a "legendary annual Cookie Crawl" which involves holiday window displays, lots and lots of cookies, and something called the Golden Wreath Award. Just a guess, but they're probably gonna fall in love. 
Road to Christmas (Hallmark) 
Sunday, November 4 at 8 p.m.
Jessy Schram plays a Los Angeles TV producer named Maggie who falls for another former producer named Danny, played by Chad Michael Murray. She puts together a secret plan to reunite Danny with his brothers on live TV, and would you be shocked to discover that the plan goes awry? 
It's Christmas, Eve (Hallmark)
Saturday, November 10 at 8 p.m.
Note the comma! LeAnn Rimes plays Eve, an interim school superintendent who may have to cut the music program of her handsome music teacher neighbor, Liam (Tyler Hines). Could a website asking for donations be the miracle the town needs and the thing that brings Eve and Liam together?! Probably! We can't wait. 
Christmas In Love (Hallmark) 
Sunday, November 11 at 8 p.m. 
It's like we dreamt this one. Brooke D'Orsay plays Ellie, an aspiring crafter who works in her small town's bakery making famous "Christmas Kringles." But then the bakery company gets a new "big-city" CEO named Nick (Daniel Lissing), and he wants to modernize and lay everyone off...until Ellie teaches Nick the magic of a Christmas Kringle...until Ellie discovers a betrayal on Nick's laptop!
Christmas at Graceland (Hallmark) 
Saturday, November 17 at 8 p.m. 
It's Kellie Pickler, y'all! She plays a business executive who travels from Chicago to Memphis to secure "one of the city's oldest family-owned banks." However, she gets kind of distracted from business by Clay (Wes Brown), an old flame and musical partner who is now a local music promoter and reminds her of her days as a musician on the brink of stardom. There will be singing in this one. 
It's a Wonderful Lifetime Preview Special (Lifetime)
Saturday, November 17 at 10 p.m. 
Melissa Joan Hart hosts a special asking the question: What if Lifetime never made Christmas movies? We'll also get a little preview of the network's new holiday movies. 
Mingle All the Way (Hallmark) 
Sunday, November 18 at 8 p.m. 
Mingle All the Way is an app that helps busy professionals hook up with each other for upcoming events without any further commitment, but when the app's founder, Molly (Jen Lilley) uses it to meet up with Jeff (Brant Daugherty), we're just going to assume it fails miserably and they fall deeply in love, because that's what we're here for, after all. 
My Christmas Inn (Lifetime) 
Wednesday, November 21 at 8 p.m.
Tia Mowry-Hardict plays Jen, a woman whose life is turned upside down when she inherits a cozy inn in Alaska right when she's about to get a big promotion at the ad agency. Could her true calling be running a small town inn with small town attorney Steve (Rob Mayes)? And if it's not, can it be ours? That sounds nice. 
Christmas at the Palace (Hallmark)
Wednesday, November 21 at 8 p.m. 
A regular beautiful lady/professional ice skater falls in love with the king of a fictional country called San Senova, and honestly if you need anything more than that to be convinced, then why are you here? 
A Christmas Arrangement (Lifetime, Acquired) 
Wednesday, November 21 at 10 p.m. 
A flower shop owner obviously named Poppy (Nicky Whelan) goes up against Garrett (Miles Fisher), the protege of a famous florist, in the annual holiday floral show. They can arrange flowers, but can they arrange...a romance? 
The Christmas Contract (Lifetime) 
Thursday, November 22 at 8 p.m. 
I don't wanna be anyone other than someone who's watching this moviiiiieee. It's the One Tree Hill reunion you've been waiting for, starring Hilarie Burton as Jolie, a woman who heads back to her hometown for the the first time since a devastating breakup. After discovering that her ex has a new girlfriend, Jolie's BFF Naomi (Danneel Ackles) suggests her brother Jack (Robert Buckley) as a date. He's hesitant, so Naomi makes them a dating contract, and they're probably going to fall in love at a Christmas Market and it's gonna be great.
'Tis the Season: A One Tree Hill Cast Reunion (Lifetime) 
Thursday, November 22 at 10 p.m. 
Follow up the reunion you've been waiting for with yet more of the reunion you've been waiting for. Hilarie Burton, Robert Buckley, Danneel Ackles, Antwon Tanner, Stephen Coletti, and "a few surprise special guests" get together for an hour to celebrate the holidays in this special. 
Christmas at Grand Valley (Hallmark) 
Thursday, November 22 at 8 p.m. 
Danica McKellar plays Kelly, a burned out artist from Chicago who—you guessed it!—heads home to her picturesque small town Grand Valley for Christmas. There, she meets up with Leo (Brennan Elliott), a businessman and a family man who visits Grand Valley to assess a hotel and eventually helps Kelly rediscover her passion for art. 
Every Other Holiday (Lifetime, Acquired)
Friday, November 23 at 10 p.m. 
Schuyler Fisk and David Clayton Rogers play recently separated parents whose young daughters are tired of trading off holidays, and this year all they want for Christmas is to spend it with both of their parents (while maybe Parent Trapping them back together at the same time). 
Pride, Predjudice, and Mistletoe (Hallmark)
Friday, November 23 at 8 p.m. 
Darcy (Lacey Chabert) is a succcessful woman with her own company and a complicated relationship with her father. Luke (Brendan Penny) is an old rival and restaurant owner in her hometown. They have to plan a charity event together and probably fall in love! 
Poinsettias for Christmas (Lifetime)
Friday, November 23 at 8 p.m.
Bethany Joy Lenz (because 'tis the season for One Tree Hill alums to be literally everywhere) stars as Ellie, a woman who has to return home when her father (John Schneider) needs help with the family poinsettia farm because of a major dilemma: the poinsettias are not turning red in time for the annual Christmas parade! Meanwhile, she falls in love with a local botanist played by Marcus Rosner. 
Every Day Is Christmas (Lifetime) 
Saturday, November 24 at 8 p.m. 
It's A Christmas Carol, but it stars Toni Braxton as shrewd money manager and workaholic Alexis Taylor who gets a visit from her Christmas past, present, and future and probably also falls in love with someone. 
Christmas Everlasting (Hallmark) 
Saturday, November 24 at 8 p.m. 
Tatyana Ali stars with frickin' Patti LaBelle in this movie about a big city lawyer on the verge of a promotion (Ali) who has to go back to her hometown and live in her family home for 30 days in order to inherit it from her recently deceased sister, whose lawyer (Dondre T. Whitfield) is conveniently attractive. 
Christmas Harmony (Lifetime, Acquired)
Saturday, November 24 at 10 p.m.
A young woman (Kelley Jakle) returns to her hometown after her pop star boyfriend dumps her to rediscover her heart and the music she's been missing. 
Jingle Belle (Lifetime)
Sunday, November 25 at 8 p.m.
Two nights of Tatyana Ali in a row! In this movie, Isabelle (Ali) returns to her hometown to reunite with Mike (Cornelius Smith Jr.), her high school sweetheart and former duet partner in the annual Christmas Eve Pageant. With Isabelle now the songwriter and Mike now the director of the pageant, we're most likely in for one incredible reunion duet! 
A Shoe Addict's Christmas (Hallmark)
Sunday, November 25 at 8 p.m. 
Candace Cameron Bure accidentally gets locked in a department store on Christmas Eve and meets a guardian angel in the shoe department, which eventually leads to a visiting of Christmases past, present, and future and having to work with a hot "Christmas-loving firefighter" to plan a gala. Worse things have happened, tbh. 
Christmas Perfection (Lifetime, Acquired) 
Sunday, November 25 at 10 p.m. 
Caitlin Thompson plays Darcy, a Christmas control freak who suddenly finds herself magically transported into her idea of a perfect Christmas Village "and learns that perfection isn't all it's cracked up to be." 
A Very Nutty Christmas (Lifetime) 
Friday, November 30 at 8 p.m. 
Too many cookies and too little time for Melissa Joan Hart! She plays a bakery owner whose life gets turned upside down when the Nutcracker Prince from The Nutcracker (Barry Watson) shows up in her living room. Just typical Tuesdays for people who used to be teenage witches, probably. 
Christmas in Evergreen: Letters to Santa (Hallmark) 
Saturday, December 1 at 8 p.m.
Retail designer Lisa (Jill Wagner) discovers that the historic general store in her hometown has closed, and charms a local contractor (Mark Deklin) to work with her to restore the store. Somehow, a 25 year-old letter to Santa is involved, and Lisa falls in love with not only the contractor, but also the town. Aww. 
Love for Christmas (Lifetime, Acquired)
A local theater director (Shantel VanSanten) runs into a childhood crush when he returns from the Navy, which leads to an "unexpected" romance. 
A Twist of Christmas (Lifetime) 
Saturday, December 1 at 8 p.m. 
A single mom (Vanessa Lachey) and single dad (Brendon Zub) mix up their kids' presents in a busy department store, and even though they can't stand each other, they definitely are going to fall in love. 
The Christmas Pact (Lifetime) 
Sunday, December 2 at 8 p.m. 
This movie asks the question, "Can best friends fall in love?" The movie's own description spoils that the answer is yes, but we still get to watch Sadie (Kyla Pratt) and Ben (Jarod Joseph) figure it out with help from a pact they made when they were eight years old. There's not a lot that's better than watching two best friends fall in love (according to every TV show ever), so yes, we're here for it. 
A Majestic Christmas (Hallmark)  
Sunday, December 2 at 8 p.m. 
An architect (Jerrika Hinton) gets a promotion that requires her to go back to her hometown to turn a historic theater into a modern multiplex, which is so rude, especially when the owner of the theater is a hot guy played by Christian Vincent. Who wants to place bets on whether that theater will survive the movie? 
A Star for Christmas (Lifetime, Acquired)
Sunday, December 2 at 10 p.m. 
A cupcake owner falls in love with an action movie star and that's really all the info we need to be 100% Here. For. This. 
Christmas Lost and Found (Lifetime) 
Friday, December 7 at 8 p.m. 
The Good Place's Tiya Sircar loses Christmas and then she finds it! Actually she loses a box of family ornaments given to her by her grandmother (Diane Ladd), and has to go on a scavenger hunt to find the ornaments and also hot guy to fall in love with. 
Homegrown Christmas (Hallmark) 
Saturday, December 8 at 8 p.m. 
Lori Loughlin plays Maddie, a CEO who steps down to head home for the holidays. She then runs into her high school sweetheart (Victor Webster), who she now hates. Naturally, they have to work together to put together a Christmas dance at the local high school and they're definitely going to fall in love again. 
Santa's Boots (Lifetime) 
Saturday, December 8 at 8 p.m. 
Megan Hilty (long live Smash) returns home only to find that her family's department store is about to be foreclosed! She takes a job as Santa's Helper and discovers that Santa is super hot. "Their undeniable chemistry and charisma draw in big crowds," the description says verbatim, "until suddenly Nick disappears." The only clue? One boot. Yes we will watch this Sexy Santa mystery film and yes we are going to love it. 
A Christmas in Tennessee (Lifetime) 
Sunday, December 9 at 8 p.m. 
Small town family baker? Check. Handsome real estate developer? Check. Town in danger of being turned into a corporate ski resort? Check. Santa Claus shows up to save the day? Check, apparently. Rachel Boston, Andrew Walker, Patricia Richardson, and Caroline Rhea star. 
Christmas Wonderland (Hallmark) 
Sunday, December 9 at 8 p.m. 
Emily Osment left her small town to become a painter, but she's not a painter, she's an art gallery curator. Now she must go home to watch her niece and nephew, and wouldn't you know it, she meets back up with her high school sweetheart, has to help put together the Christmas SnowBall, and rediscovers her love of painting. Sound familiar? Yes, but it also sounds perfect and we'll take it. 
Christmas Around the Corner (Lifetime)
Friday, December 14 at 8 p.m. 
Alexandra Breckenridge is a savvy venture capitalist in NYC who plans to escape to a quiet town to stay in a bookstore. Her plans are ruined when she finds that flooding has ruined the bookstore and canceled the holiday festivities. In her quest to fix the bookstore, she clashes with the owner (Jamie Spilchuk), and then they fall in love, but then she finds out he plans to sell the bookstore! Can she change his mind with the spirit of Christmas?! Can we also stay in a bookstore?! TBD. 
Christmas Pen Pals (Lifetime)
Saturday, December 15 at 8 p.m. 
Former Grey's Anatomy star Sarah Drew plays a tech wiz and dating app creator who goes home for the holidays to work on coming up with a new dating model. This somehow involves signing up for the town pen pal program, Christmas Cupid, through which she receives a whole bunch of beautiful letters. Could they have been written by her old high school boyfriend (Niall Matter), the only other man mentioned in the description besides her dad? Who knows?!
Gingerbread Christmas (Hallmark) 
Saturday, December 15 at 8 p.m. 
Tia Mowry-Hardrict plays an architect who has to compete in a life-size gingerbread house contest (is this real and if so how do we join?), so she teams up with a local baker and single dad...finally finding a place to call home in the process. 
Entertaining Christmas (Hallmark) 
Saturday, December 15 at 8 p.m. 
Jodie Sweetin plays the daughter of a Martha Stewart-type and is poised to take over the empire, except for the fact that she can't sew or cook or craft or anything. So instead, she helps a young girl welcome her deployed father home for Christmas and meets the young girl's reporter uncle. This may actually be the first movie in this whole list that makes no mention of someone coming home to a small town! 
Hometown Christmas (Lifetime) 
Sunday, December 16 at 8 p.m. 
Beverley Mitchell and Stephen Colletti play former high school sweethearts who end up working together to restore their Louisiana hometown's live nativity. They're still feeling the burn from their senior year break up, but rest assured they'll "uncover a hometown love for each other and the joy of Christmas." 
A Christmas Kiss (Lifetime, Acquired)
Friday, December 21 at 8 p.m. 
"A high-end interior designer Priscilla and her assistant Wendy vie for the attention of Priscilla's socialite boyfriend while decorating his home for the holidays," says Lifetime. "So in," says us. 
A Golden Christmas (Lifetime, Acquired)
Saturday, December 22 at 8 p.m. 
The story of two friends brought together as children by a special dog who find each other again many years later, just in time for Christmas. 
3 Holiday Tails (Lifetime, Acquired)
Sunday, December 23 at 8 p.m. 
David and Lisa are meant to be, but they only figure that out with the help of their family, friends, and four dogs. 
Christmas Made to Order (Hallmark)
Sunday, December 23 at 8 p.m. 
Alexa PenaVega plays a "holiday coordinator" who is hired by an architect and "Christmas amateur" who hires her to bring holiday joy to his home. Somehow, neither one expects this gig to bring them closer together, because clearly neither one has ever seen a Hallmark movie. 
When Calls the Heart Christmas (Hallmark)
Tuesday, December 25 at 8 p.m. 
It's a Christmas special for Hallmark's When Calls the Heart! A group of orphans become stranded in Hope Valley, cared for by two sisters with a "mysterious backstory." When Bill (Jack Wagner) investigates, he discovers the orphanage is in jeopardy, so Abigail (Lori Loughlin) rallies the other residents to give them a Christmas to remember. 
Focus on Love (Hallmark) 
Saturday, December 29 at 8 p.m. 
Lisa and her party-planning family company are tasked with putting on a huge New Year's Eve party, but when half the family is out of commission, Lisa enlists the help of her brother's friend, David (Carlos PenaVega) to help with the planning. "But what Lisa didn't plan on was falling in love in the process," says the Hallmark website. 
Which ones are you most excited for? Please join us in discussing on Twitter at @eonlineTV.