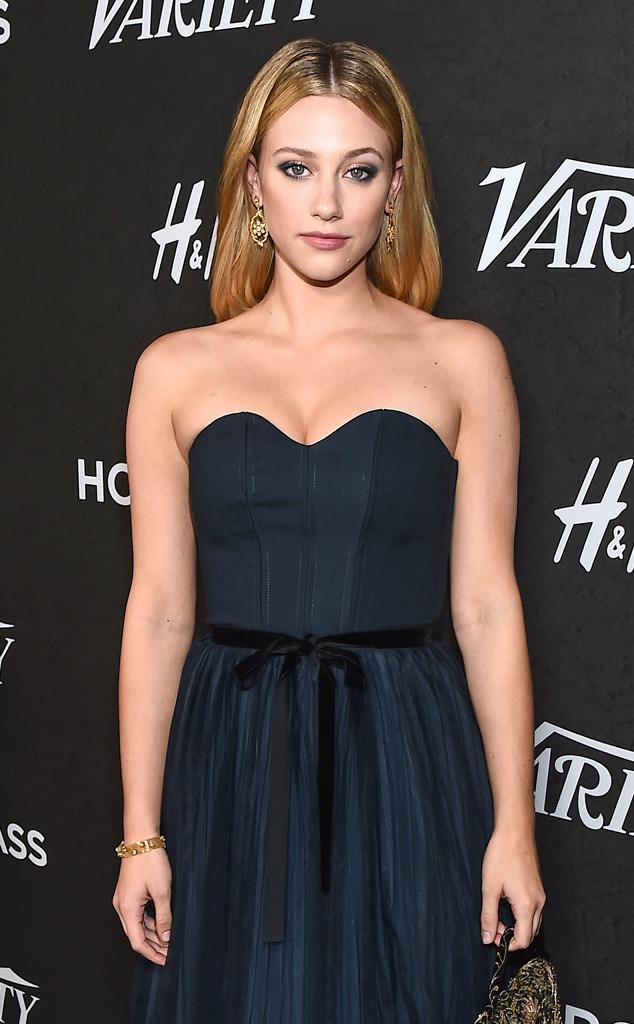 Michael Buckner for Variety
 Celebrities are sharing their own experiences with sexual harassment or assault as part of the #WhyIDidn'tReport movement.
Last week, actresses like Lili Reinhart and Ashley Judd took to Twitter to reveal why they chose not to go to the authorities after suffering from sexual harassment or assault. These women were inspired by Alyssa Milano after she protested the treatment of Dr. Christine Blasey Ford, who accused Supreme Court nominee Brett Kavanaugh of sexual assault. In Ford's defense, the actress tweeted, "Hey, @realDonaldTrump, Listen the f--k up. I was sexually assaulted twice. Once when I was a teenager. I never filed a police report and it took me 30 years to tell my parents." She then encouraged women to share their own stories with #WhyIDidn'tReport.
Her statements came after President Donald Trump  tweeted, "I have no doubt that, if the attack on Dr. Ford was as bad as she says, charges would have been immediately filed with local Law Enforcement Authorities by either her or her loving parents. I ask that she bring those filings forward so that we can learn date, time, and place!"
Richard Shotwell/Invision/AP/REX/Shutterstock
Soon after, the hashtag began trending on Twitter and celebrities spoke out about the trauma they endured.
Sarah Hyland shared her own account of being sexually assaulted in high school. The Modern Family star tweeted, "#whyididntreport He was a friend. It was New Year's Eve my senior year of high school. Everyone was drunk. He broke in to the bathroom I was in. I hoped it was a dream but my ripped tights in the morning proved otherwise. I thought no one would believe me. I didn't want to be called dramatic. After all I didn't say no. Shock can do that to a person."
Similarly inspired by Dr. Ford's before a senate judiciary committee on Thursday, Busy Philipps revealed in a personal Instagram post that she was raped at the age of 14. 
It's taken me 25 years to say those words," she shared with her followers. "I wrote about it in my book. I finally told my parents and sister about it 4 months ago. Today is the day we are silent no more. All of us."
Cara Delevingne also stood in solidarity with fellow survivors, tweeting, "Because I felt ashamed of what happened and didn't want to publicly ruin someone's life, even though they privately ruined mine #WhyIDidntReport."
Michael Buckner/Getty Images for March of Dimes
Alyssa Milano wrote about her sexual assault in a first-person essay on Vox. In it, she wrote, "For me, speaking up meant reliving one of the worst moments of my life. It meant recognizing my attacker's existence when I wanted nothing more than to forget that he was allowed to walk on this Earth at all. This is what every survivor goes through. Telling our stories means being vulnerable to public attacks and ridicule when our only 'crime' was to be assaulted in the first place."
She added, "Today, we will not be silenced." 
In her essay, Milano explains why she waited so long to speak out about her assault and her reasoning for never reporting it to the police. She penned, "if you are also a survivor, I encourage you to honor your own experiences and your own voice, in your own time." Read her full essay here. 
Lili Reinhart, who rose to fame because of her role as Betty in Riverdale, tweeted she was to afraid to come forward with her claims, "Because I didn't want to lose my job or make people think I was a drama queen."
Top Chef host Padma Lakshmi also revealed her experiences from over the years. "I was 7 the first time I was sexually assaulted. He was a relative of my mom's second husband. I told my folks and they sent me away," the TV personality shared.
She continued, "The second time I was 16 years old and a virgin. He was my boyfriend. 'Date rape' wasn't discussed in the 80's. I was horrified and ashamed."
Lakshmi claims she again experienced abuse at the age of 23, but "thought that no one would believe me, because no one wanted to stand up to him." 
"I had seen the way Anita Hill was treated when she came forward," she explained.
Rodin Eckenroth/Getty Images
Padma's experiences and sentiments were echoed by Ashley Judd, who also endured sexual abuse from a young age. "The first time it happened, I was 7. I told the first adults I came upon. They said 'Oh, he's a nice old man, that's not what he meant,'" Judd revealed. "So when I was raped at 15, I only told my diary. When an adult read it, she accused me of having sex with an adult man."
Similarly, Daryl Hannah went through a similar experience, even after reporting the incident. "I did, it didn't matter, I was dismissed, disparaged, & I still get blamed," the actress said. 
Other celebrities showed solidarity for the thousands of people who came forward with their stories by highlighting their braveness.
"If you want to see who the leaders are of #MeToo look no further than the thousands of people sharing their  #WhyIDidntReport stories. This movement will not be derailed by anyone. It is decentralized collective power which is why it has limitless strength," Patricia Arquette  said. 
Crazy Rich Asians star Gemma Chan  told her followers, "If you are still unsure why women and men who've been abused might not speak up please take a moment to read #WhyIDidntReport. The culture of victim blaming has to end."
(This article was originally published Sept. 21, 2018 at 7:15 p.m.)