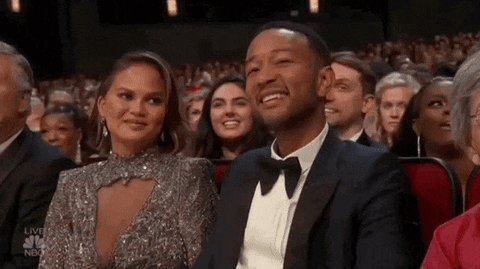 NBC
When it comes to sparking memes, Chrissy Teigen is queen—and she knows it. 
It was just earlier this week that the cookbook author went viral yet again after the 2018 Emmys cameras caught her trying to hide in her seat in the audience, adding to a list of now-unforgettable moments that also include her 2015 Golden Globes cry face and her sleeping at the 2017 Oscars. 
"I feel like now they're always looking at me and waiting for something," the Cravings: Hungry for More author said in an interview on Good Morning America Wednesday. "I tried to duck out of that one and that became the face."
With eyes—and cameras on her—Teigen knows what to look out for. "You know when you see that red light and your like, 'It's coming!'" she quipped. 
"I can't hide anything," the Lip Sync Battle co-host quipped, noting her husband John Legend's ability to keep his face composed. 
And we love Chrissy all the more for it. 
Speaking of the new EGOT winner, Teigen has a mini-version of her husband on her hands in the form of their 4-month-old son, Miles. 
"Miles is just a little tiny baby John—wants love and kisses and affection," she gushed to the co-hosts. "He's just a little nugget."
Big sister Luna is also a fan. "When it comes to him, she's very nurturing, very caring, very sweet. She turns into a little angel."