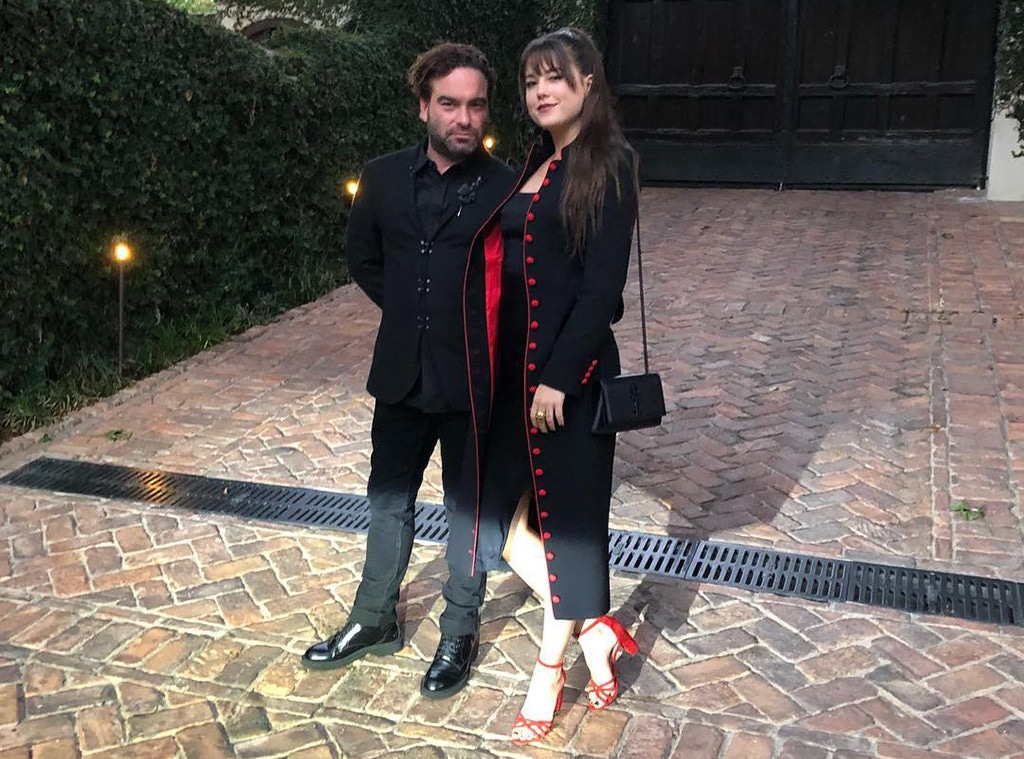 Instagram
The Big Bang Theory's Johnny Galecki has a leading lady in his life. Her name is Alaina Meyer.
In the past two months, both Galecki and Meyer have made their relationship Instagram official. The Roseanne actor uploaded a black-and-white photo of himself laughing with the caption "Michigan bound" and credited her for taking the picture. On July 15, Meyer added a picture of her holding up a polaroid photo of herself, Galecki and Dee Larson. On Monday night, Galecki and Meyer each shared pictures before the Emmys.
Since then, the two have been all smiles in their pictures together from all over the country. 
Here are five things to know about Meyer amid their budding romance.
1. She's visited her beau on set of The Big Bang Theory: The hit sitcom is ending this year after its twelfth season (and is a 2018 People's Choice Awards nominee), but it wasn't too late for Meyer to hang out on the show's set. Her Instagram pictures show her holding a salt shaker above her friend's mouth. "Keeping it spicy & salty#bigbangtheory," she wrote.
2. Meyer and Galecki got tattoos of each other's initials: On Sept. 1, she uploaded a picture of some new ink. Meyer's arm has "JG" written in large block letters with a skull underneath. Galecki's tattoo says "AMM" with a heart underneath it. His art is in bold black ink that looks like it's dripping down his hand. "Gone country and branded by babe," she wrote.
3. She and Galecki have traveled a lot together: Meyer and Galecki are not just a good looking couple, but a well-traveled one, too. In August, Meyer shared a picture of the two of them in front of the Waldorf Astoria Hotel in Chicago looking dapper. About a week later, she added a picture of them at the Santa Barbara Bowl before seeing a Jack White concert. 
4. She went out of the country for the first time in 2017: Although she and Galecki have been jet-setting across the U.S.A. these past few months, her first sojourn across the Atlantic was in September 2017 when she went to Norway. She wrote on Instagram, "Already in love with this city... the air is amazing and you can drink the tap water. WOW OSLO."
5. Her dad was a member of the U.S. Army Special Forces: According to his Amazon page, John Stryker Meyer has written three books about his experience in the Vietnam War as a Green Beret.  Meyer has posted pictures of her and her father on Instagram and called him "my everything.".
--Additional Reporting by Spencer Lubitz