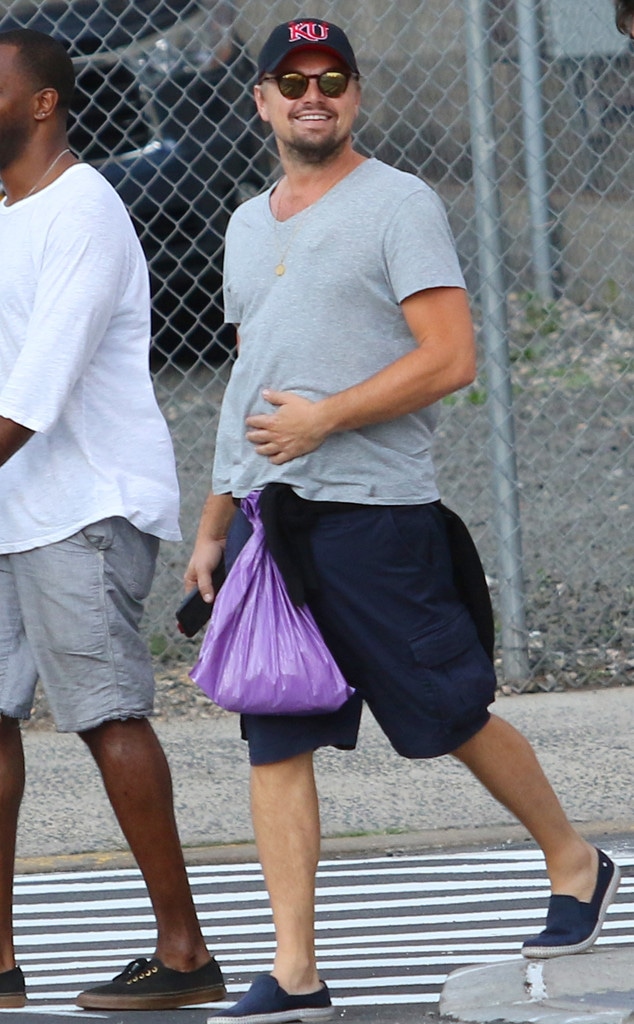 LRNYC / MEGA
The Leonardo DiCaprio Foundation advocates for wildlife and environmental protection to help save animals and the planet, but apparently the organization's namesake prevented something else from extinction all on his own.
That's right: Leonardo DiCaprio salvaged cargo shorts for all of mankind, according to Coldplay singer Chris Martin.
The foundation just celebrated its twentieth anniversary and had a gala on Saturday night in Sonoma, Calif., which included a performance by Coldplay. Before Martin and his band began their set, the "Fix You" singer praised DiCaprio for his dedication to environmental and sartorial choices. Martin said, "I studied him very closely for about five or six years and what became clear to me was his unbelievable service, his commitment to the business of cargo shorts."
He continued admiring the Inception actor's devotion to this one item of clothing. "This is a guy, he's seen cargo shorts and he said, 'I'm going to save these shorts from extinction. They should have gone out about 25 years ago. I'm personally going to fund the sort of renaissances of cargo shorts,'" Martin added.
Perhaps DiCaprio really needed the extra pocket space.
The intro was a perfect segue into Martin's original song about none other than...cargo shorts.
Instagram user missy_ib shared the singer's intro to his new anthem in honor of DiCaprio. The Coldplay frontman also sang a cover of Celine Dion's classic song from Titanic "My Heart Will Go On."
Cargo short salvation aside, the Leonardo DiCaprio Foundation's 20th anniversary gala was a star-studded event co-hosted by Laurene Powell, who was married to the late Steve Jobs. According to a release sent to E! News, the event included an art auction with pieces by renowned artists Ai Wei Wei, David Hockney, Wayne Thiebaud, Frank Gehry and more. Additionally, Dr. Jane Goodall joined the foundation's new independent board of directors.
All the food from the event was sourced locally and used all renewable energy. DiCaprio and the foundation donated funds to help victims of Hurricane Florence, which has flooded many parts of North and South Carolina. DiCaprio told attendees, "When I founded LDF 20 years ago, I did so based on the simple idea that we could make a real difference by directly funding some of the most effective environmental projects – whether it be individuals, grassroots movements or major nonprofits, we wanted to focus on getting critical funding to those who could have the greatest impact."
Last year, the Leonardo DiCaprio foundation donated $1 million to those impacted by Hurricane Harvey.
When he isn't raising money saving the planet, DiCaprio is playing a lead role in Quentin Tarantino's upcoming film Once Upon a Time in Hollywood. The movie takes place in the late 1960s during the era of the Charles Manson murders. Fellow actors in Once Upon a Time include Brad Pitt, Margot Robbie as Sharon Tate, Damon Herriman as Manson, Damian Lewis as Steve McQueen, Dakota Fanning as Squeaky Fromme and many more.