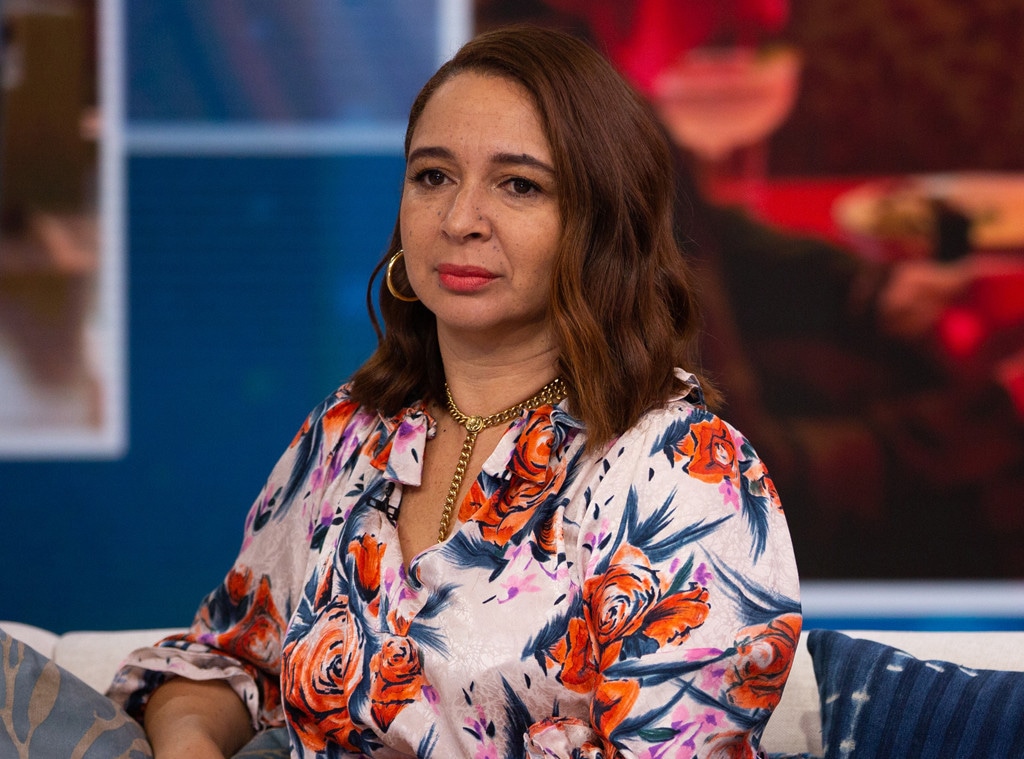 Nathan Congleton/NBC
Long before Maya Rudolph became a star in her own right, she was famous.
The daughter of soprano Minnie Riperton (best known for her No. 1 hit "Lovin' You") and composer Richard Rudolph, Maya was just a child when her mother died of cancer in 1979. "When I was a kid, and people would come up to me or stare at me because of my mom, I didn't like it. I really didn't like it. I used to think, 'Oh, they're staring at my hair, because it's so big and ugly.' Because I didn't realize people were just staring at my mother, like, 'Wow, that's her daughter!'" the actress says. "I didn't know; I was a kid. And kids always personalize things."
"For many, many years, I couldn't even touch this conversation. Like my mom was always—it was such a painful—" the actress continues, cutting herself off. "I don't remember if I ever did proper grieving. I know I did, but it came out in ways—like when I was a kid, I went to a new school and I kicked people. I was like the kicker for a year. And then people tell me stories that I don't remember, like I'd be crying at a roller-skating party, and they were like: 'What's wrong? Why are you crying?' And I wanted to skate with a boy, and they said that I was like, 'My grandma died.' Which wasn't true! But I was f--king laying it on thick. I definitely think that children process very differently. And I'm genuinely fascinated by it, so I wish I knew all the ways that I do or did, but I don't. But I know that the place that I was with it most of my life was more of a, 'Poor me, why me?' Up until very recently, it was still, like, a sting to talk about her."
Maya discusses the impact of her mother's death at length in a New York Times profile, published today. The Forever actress describes her father as a "pretty adorable Jew" who did not know how to do her hair after Minnie's death. "So much of my childhood was dealing with my hair and being super embarrassed by it, mainly because I grew up being the only mixed kid."
For much of her youth, Maya says she felt "completely" lost. "My mom died when I was 7, so when you don't have a woman—" she adds, trailing off. "First of all, hair products that exist today did not exist when I was a child. The detangling system that I use now on my children is light-years beyond anything that would've ever happened to me growing up in Westwood."
Often, the biracial actress wondered whether she had a place in her community. "I never felt like my black cousins. I felt loved, but I didn't feel culturally..." the SNL veteran says without finishing her thought. "I was the kid that lived in California who didn't grow up around the family." The 46-year-old actress adds her parents never wanted her to feel restricted by things like race. "'Be whatever you want to be,'" Maya recalls being told as a kid. " 'You're beautiful. You're unique.' I was like, 'Oh, unique. There's always going to be a f--king name for what I am.'"
Michael Ochs Archive/Getty Images
After Minnie's death, the late singer's fans would often stop Maya on the street, wanting "to know why I wasn't as black as my mother, more or less," she says. "I didn't seem as culturally black." Considering she was just a child, "It really didn't help that it was a public experience." For example, two months after Minnie's death, Maya recalls how her seventh birthday party was the subject of a Jet magazine cover story. "It was weird to grow up that way, thinking, 'I'm the kid whose mom died, and everybody knows it.' Or at least you feel like everybody knows it."
As the years went on, being the daughter of a dead celebrity didn't get any easier. In fact, it sometimes got "kind of intense," she reveals. "Complete strangers would just be like: 'I felt like she was this angel!' And you're like: 'I'm 16. Why are you telling me about my dead mother?'"
So, it's easy to understand why Maya repeatedly forbids The New York Times' Caity Weaver from describing any interactions involving the four children she has with director Paul Thomas Anderson. "I grew up with people knowing who my mother was, and that isn't lost on me," she reasons. "I understand that I probably have more of an awareness of strangers' recognizing me."
For more of Maya's thoughts on Forever and SNL, pick up The Times' Sunday Magazine.