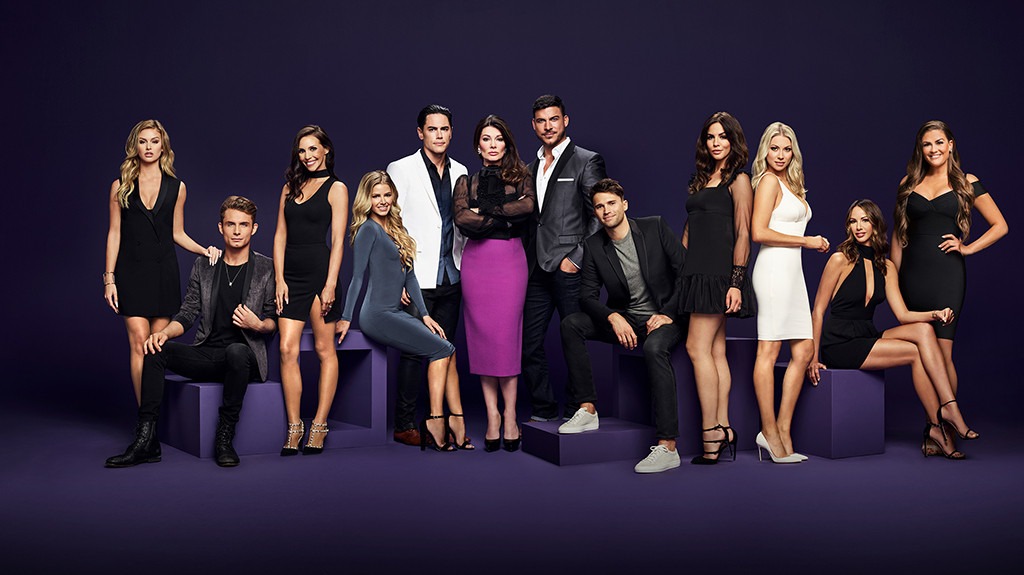 Bravo
The cast of Vanderpump Rules is all about their 2018 E! People's Choice Awards nomination and you should be too...if you love reality TV that is.
After six seasons on Bravo, the cast of the show has become beloved by fans and made a major splash in the reality TV world and therefore we're not that surprised that they made the PCAs nominations list this year.
We do however love the stars a little bit more now based on their reactions to the show's Reality Show of 2018 nod. Seriously, this cast is too sweet sometimes.
"I think it's a really dope thing. I'm excited for my cast mates. They work hard at their job and they really love their lives," Billie Lee told E! News on Thursday at the Firework App launch event at Two Bit Circus.
"They work hard and they stay true to who they are and I like the fact that they are so raw but also real with each other."
Season after season it is clear that the cast mates love one another—with a few fights here and there of course—and that love and realness is what makes them at least one of the people's choice reality shows.
"It's just so exciting. People's Choice is amazing. All of us together, collectively have made this show amazing," Scheana Marie told us after hearing about the show's PCAs nom. "It's not just one person making the show. We've all done it together and I think that why sometimes it's easy for us to get over bullshit because we have this bond and we all started this show together."
"The fact that we're all still on the show? It's amazing. That's unheard of for seven years…I don't want to say we're better than other reality shows but we're the best," she added.
Tom Sandoval was also in attendance at the Firework app launch and his reaction to the award nomination news pretty much says it all. "I was completely floored. This was just amazing. I ain't mad at it. Let's face it," he said.
As a reminder, today is the last day to vote for round one of the People's Choice Awards, and luckily the cast of Vanderpump Rules is still campaigning and winning us over once again in the process.
"Honestly, they are groundbreaking. Just even having me part of it is amazing and magical. Being a trans activist, we need to see more trans people on TV," Lee told E! News when asked why the series should win. "To see a trans woman living her life with amazing people and dealing with drama and dating, that's important. They've always pushed the envelope and they deserve to win."
Both Sandoval and Tom Schwartz revealed that the key to their success has been love and lots of it this season, so fans should definitely show them some love by voting ASAP.
"I think it's important for people to vote for the show that they truly love the best and not who has the most followers on social media," Sandoval said.
"It's been a wave of love lately," Schwartz added. "I have to remind myself that I'm on the show. It's been like a fairy tale."
If Vanderpump Rules is your idea of a fairy tale reality show then get your vote in today.
Plus, votes currently count as double until the first round closes tonight at 11:59 p.m. ET, so start clicking!
For more exclusive PCAs nominee reactions and interviews watch E! News weekdays at 7 p.m. on E!
(E! and Bravo are both part of the NBCUniversal family.)