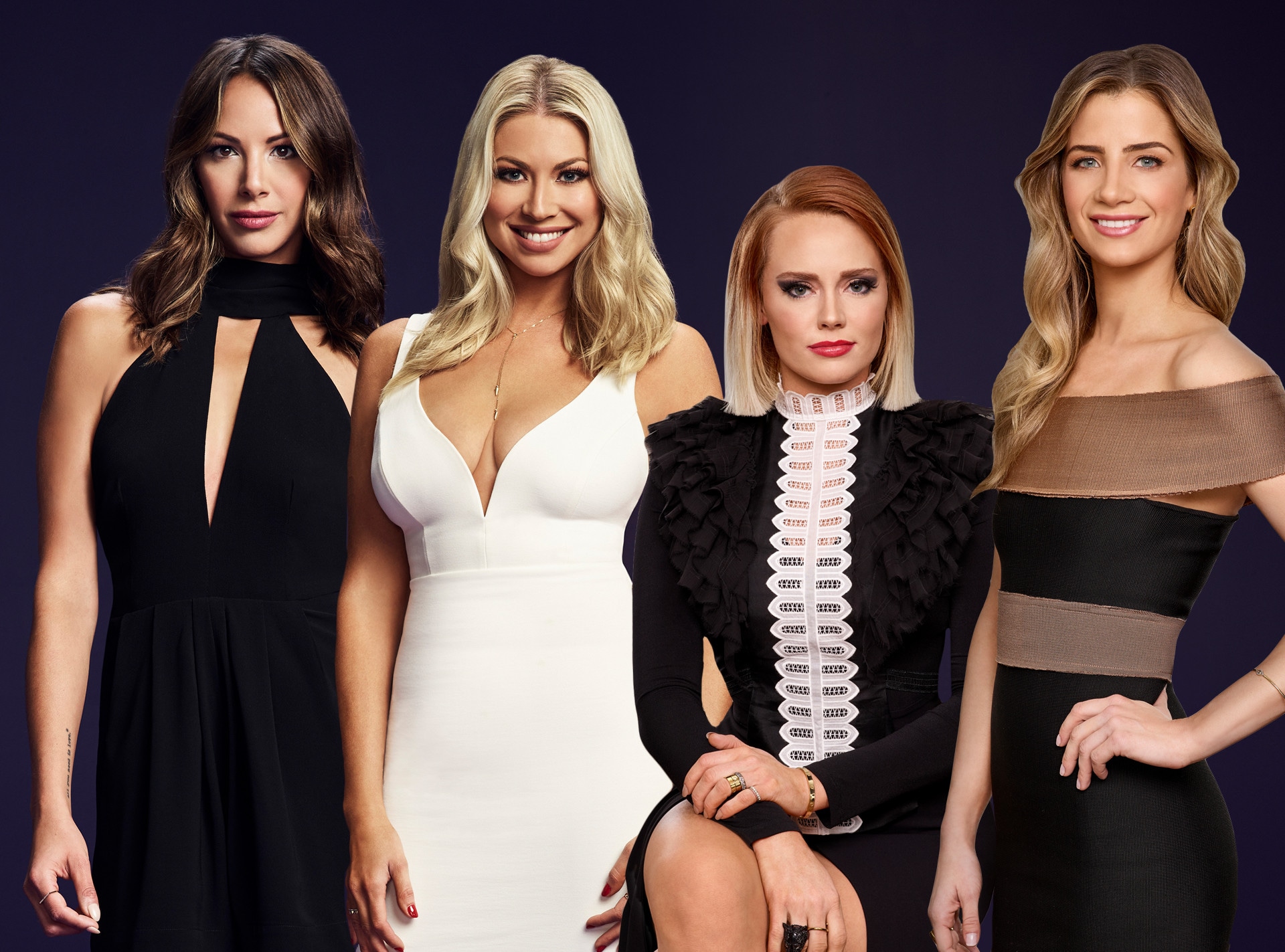 Bravo/E! Illustration
Some friendships are easy as the birds and the bees and the 1-2-3's.
Tonight marks the official return of Bravo's reality show called Southern Charm with initial previews teasing plenty of OMG, juicy-filled moments.
But away from the cameras, much of the cast has quietly built solid, not-so-dramatic friendships with many members of another Bravo series.
Anybody know the staff of SUR restaurant in West Hollywood, Calif.? Oh yes, the Southern Charm crew is quite close with cast members from Vanderpump Rules.
"I adore them. I had some of them on my podcast and we just instantly became best friends," Stassi Schroeder recently shared with E! News while attending Monster Jam at Angel Stadium. "Naomie Olindo and Danni Baird and Craig Conover and Shep Rose became a part of our group of friends."
While Lisa Vanderpump's team reside in Southern California and the Southern Charm cast call Charleston, South Carolina home, the friendship groups have made several trips to each other's towns.
And instead of waiting for a Watch What Happens Live appearance or Hollywood party to bring the casts together, these reality stars have stuck to the basics in building their friendships.
"We stay in touch the same way any friends do," Naomie shared with E! News. "Text, the occasional FaceTime and leaving very idolatrous comments on each other's social media."
According to comedian Rachael O'Brien, she and BFF Stassi were watching Southern Charm and discovered Danni and Naomie were following them on Twitter. After a few messages, a bond was quickly formed.
"We forced them to become friends with us and then flew across the country on a whim hoping they wouldn't think we were insane," Rachael joked to us. "Luckily, they didn't and we now have a life-long friendship with much of the cast."
And before you think the groups talk strictly about their respective shows or plot lines, we found out it's just not the case.
"We almost never talk about the shows," Rachael assured us. "We talk about the other businesses we are working on, Stassi's successful podcast, Naomie's schooling and new business, Danni's paintings, Kathryn Dennis' adorable kids, my comedy career...We've even been there for each other through several breakups we have all gone through."
The cast friendships are so strong that one famous pair has sparked a few romance rumors. Yes, some fans were hoping Stassi and Shep would take their friendship to the next level.
Stassi would quickly set the record straight on Watch What Happens Live last month. "I've been asked this many time," she confessed. "I enjoy his company but we butt heads. It's not good."
Instead, these stars will focus on having plenty of innocent fun coast to coast. Stassi and her friends have enjoyed boat rides, ghost tours and delicious food in Charleston while Naomie recently experienced night life in Los Angeles during Kristen Doute's birthday party.
To see more of the Bravo stars hanging out together, take a look at our gallery below.
Watch Vanderpump Rules Monday nights at 9 p.m. and the Southern Charm season premiere airs tonight at 9 p.m. also on Bravo. 
(E! and Bravo are part of the NBCUniversal family)