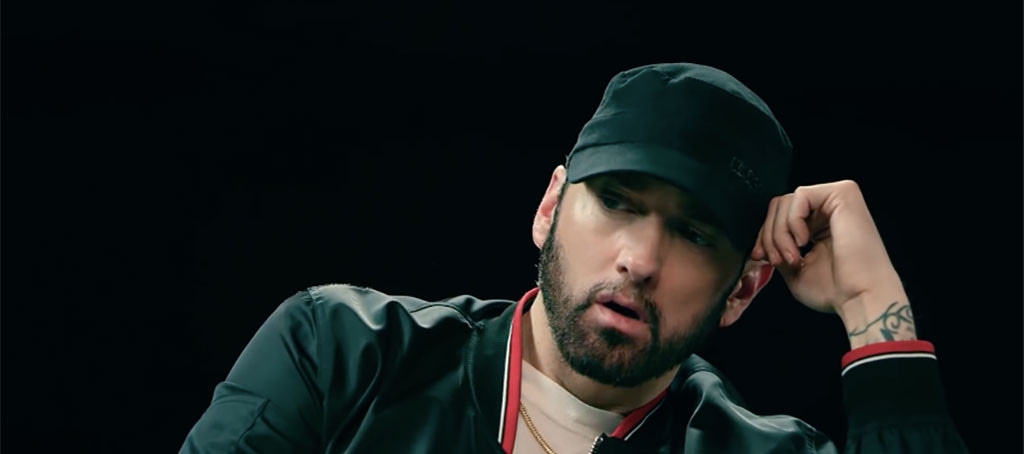 YouTube
Eminem has been rethinking his word choice. 
The rapper came under fire late last month when, upon the release of his 10th studio album, Kamikaze, fans learned he had used a homophobic slur to describe rapper Tyler, the Creator. On the track "Fall," the Grammy-winning star raps, "Tyler create nothin', I see why you called yourself a (faggot), bitch/It's not just 'cause you lack attention/It's because you worship D12's balls, you're sack-religious/If you're gonna critique me/You better at least be as good or better."
As Eminem explained in an interview with Sway Calloway released late Thursday, he decided to stand up for himself after Tyler criticized his 2017 song, "Walk on Water," on Twitter despite the two expressing mutual admiration for each other in earlier years. 
"When Tyler tweeted out the thing about 'Walk on Water'—this f--king song is horrible, I was like, 'Alright, I need to say something now because this is f--king stupid,'" the rapper recalled to Calloway. On November 10, 2017, Tyler tweeted out, "Dear god this song is horrible sheesh what the f--k," seemingly in reference to the track.
"I'm not gonna be America's punching bag and motherf--kers just wanna think it's cool and safe to say whatever the f--k they want about me," Eminem retorted to Calloway. 
So, he fired back at the 27-year-old star on "Fall," though it quickly did not sit right with him. 
"I realize now and I realized when I said it, but I wasn't like in the mind frame—I was angry when I said the s--t about Tyler. The fact of like  everytime I saw this kid, always so cool to you. I loved his energy. He was a funny dude, like he's super charismatic and s--t," the rapper continued in the interview. 
"But, I'm sitting back like, man, at what point do I have to say something just to defend myself and I think that the word that I called him on the album was—on that song—was one of the things where I felt like this might be too far because, in my quest to hurt him, I realized that I was hurting a lot of other people by saying it and, at the time, I was so mad it was just whatever, but in the midst of everything else that was going on in this album, the things that it took to pull this album together and all that kind of s--t, it was one of the things that I kept going back to going, 'I don't feel right with this,'" Eminem admitted.  
As the rapper noted, the word was ultimately edited over, though not effectively. 
"Before the album came out, I had the conversation with Paul and we spun the word back, but now I realize people can hear what I'm saying anyways."