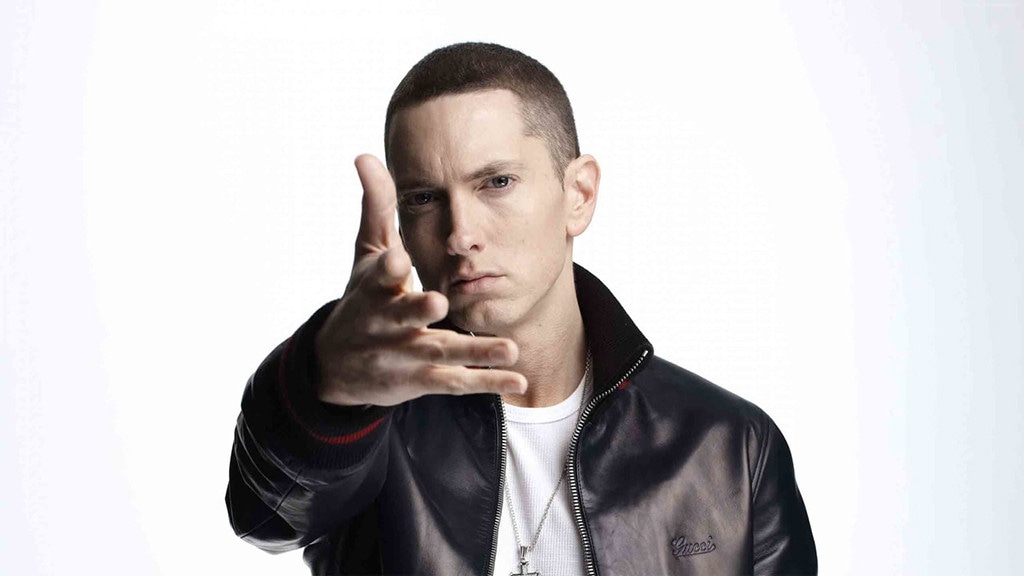 Universal Music Group
Guess who's back?
Overnight, Eminem surprised fans by dropping his tenth studio album, Kamikaze, two years after the release of Revival. Eminem executive produced the 13-track album with his longtime collaborator, Dr. Dre, and worked many other prolific producers, including Fred Ball, Boi-1da, Illadaproducer, Ronny J, Tay Keith, Mike WiLL Made It, Jeremy Miller, S1, Tim Suby and Jahaan Sweet. Joyner Lucas, Jessie Reyez and Royce da 5'9" also make guest appearances.
"Tried not 2 overthink this 1... enjoy," Eminem tweeted, adding a middle finger emoji.
Like Ariana Grande with Sweetener and Travis Scott with ASTROWORLD, Eminem is selling his album in merch bundles, packaging it with everything from camo jackets to special lithographs. Throughout the album, he name-drops a number of stars, including 50 Cent, Charlamagne Tha God, Gabby Giffords, Kathy Griffin, Lil Xan, Lil Yachty, Logic and Machine Gun Kelly.
The final track, "Venom," appears on the soundtrack for the upcoming film of the same name—but it's the title track that's caused a stir on social media. First, he criticizes the next generation of rappers, spitting, "These rappers are like Hunger Games / One minute, they're mocking Jay / Next minute, they get they style from Migos, then they copy Drake." In the next verse, he attacks Joe Budden, rapping, "Somebody tell Budden before I snap / He better fasten it, or have his body bag get zipped / The closest thing he's had to hits / Since smacking bitches."
One of the more egregious parts of the song comes when Eminem disses Tyler, The Creator, rapping, "Tyler create nothing, I see why you called yourself a f----t, bitch / It's not just 'cause you lack attention / It's 'cause you worship D12's balls, you're sac-religious." Eminem received criticism for using anti-gay slurs on his first two albums, as well as when he released "Rap God" in 2013. But Eminem has always denied being homophobic, once defending himself in a Q&A with Rolling Stone. "It was more like calling someone a bitch or a punk or a--hole. So, that word was just thrown around so freely back then," he said, arguing that he says "so much s--t that's tongue-in-cheek" and has no legitimate problems with LGBTQ people. "The real me sitting here right now talking to you has no issues with gay, straight, transgender, at all. I'm glad we live in a time where it's really starting to feel like people can live their lives and express themselves."
To this day, Eminem's repeated use of the anti-gay slur still irks people:
Elsewhere on the album, Eminem also takes aim at the Grammys—just as Jay-Z did in the song "APES--T," from his joint album Everything Is Love with Beyoncé. "In "Kamikaze," Eminem raps, "Detract this, I might have to f--k Pitchfork with a corkscrew / Just what the doctor ordered / Revenge is the best medicine / Increase the dose, unleash the monster / Then tell the Grammys to go and f--k themselves / They suck the blood from all the biggest artists like some leeches / So they nominate 'em, get 'em there, get a name to 'em / See the show, every parasite needs a host / Then give Album of the Year to somebody that no one's ever even heard of." Eminem, who has won 15 awards from 43 nominations over the years, got zero nominations for Revival. In a similar vein, in "Lucky You," he spits, "I have said a lotta things in my day, I admit it / This is payback in a way, I regret it that I did it / I done won a couple Grammys, but I sold my soul to get 'em / Wasn't in it for the trophies, just the fuckin' recognition / F--k's the difference?"
(In several songs, Eminem also attacks the media over Revival's poor reviews.)
"Cyclone" details an abusive relationship, with Eminem rapping, "Heartless, no wonder we're partners / Both got hundreds of charges / Domestic disputes but we've always / Swept it under the carpet / Even when 911 gets the call that / I slipped up and busted her jaw with / A Louisville Slugger 'cause all's it / Really does is make our love / For each other grow stronger."
On "The Ringer," Eminem claims that after he criticized Donald Trump in two freestyles last year, the President of the United States "sent the Secret Service to meet in person / To see if I really think of hurtin' him / Or ask if I'm linked to terrorists." Condemning the politician once again, Eminem raps, "I empathize with the people this evil serpent sold the dream to that he's deserted." He also fires shots at Trump's No. 2, rapping, "Jam a Crest white strip in the tip of my d--k with an ice pick / Stick it in a vice grip, hang it on a spike fence / Bang it with a pipe wrench / While I take my ball sack and flick it like a light switch / Like Vice President Mike Pence."
Pence and Trump have yet to comment on Eminem's lyrics.
As fans have come to expect, the rest of the album is fill of booming beats and clever clap-backs. In the song "Not Alike," Eminem raps, "I Harvey Weinstein, a bathrobe hanging open / My code name is groper, I roleplay with lotion / I f--ked on the world / Then I throw away the Trojan." And in the song "Stepping Stone," he addresses the death of Proof, his former D12 bandmate. One of the skits features a voicemail from his music manager, Paul Rosenberg. "Are you really going just to deride everybody who you don't like what they have to say about you or the stuff you're working on?" Rosenberg asks Eminem. "I don't know if that's really a great idea."
Time will tell if Rosenberg was right.