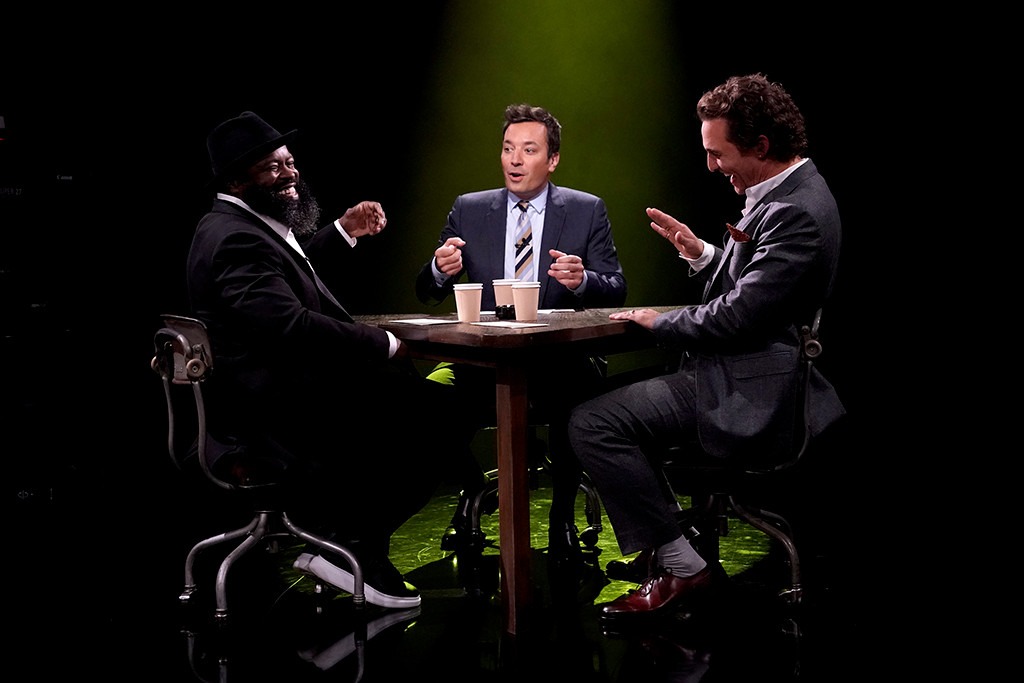 Andrew Lipovsky/NBC
Matthew McConaughey once came face to face with a mountain ram and had to toss his then 6-month-old son, Levi, 15 feet to save him. 
The actor told the wild story on Tuesday's episode of The Tonight Show Starring Jimmy Fallon.
The story was brought up during a round of "True Confessions"—a game in which McConaughey, Jimmy Fallon and The Roots' Tarik Trotter took turns revealing random facts about their lives and then were interrogated by the other players who were trying to guess whether the facts were actually true.
According to McConaughey, he was enjoying a picnic with his wife, Camila Alves, their eldest son and their dog at the Grand Canyon when an "alpha" mountain ram appeared. While his wife had managed to scatter down the edge to avoid the animal, McConaughey was trapped.
First, he tossed their dog, who was growling at the ram. Then, in an attempt to save his son, he threw the baby boy to his wife. 
"I had to, after I had already got rid of the dog, I had to launch Levi through the air for my wife to catch so we didn't get rammed off the edge," he explained.
While the How to Lose a Guy in 10 Days star tried to grab a tree branch for protection, he was able to find only a weak little cherry blossom bush. So, he tried a different tactic.
"I squared off and tried to go as Yoda as I could with this ram and just say, 'Not me, whatever it is,'" he recalled.
Luckily, the tactic worked and the ram scampered off. McConaughey later realized he and his family had been standing between the ram and his harems. 
"So we were between him and all his ladies and he didn't want any other male scent on his mountain," the actor said. "I was like, 'Your mountain, sir.'"
But was McConaughey actually telling the truth?
"That's 100 percent true," he said.
Watch the video to hear him tell the whole story.
(E! and NBC are both part of NBCUniversal).