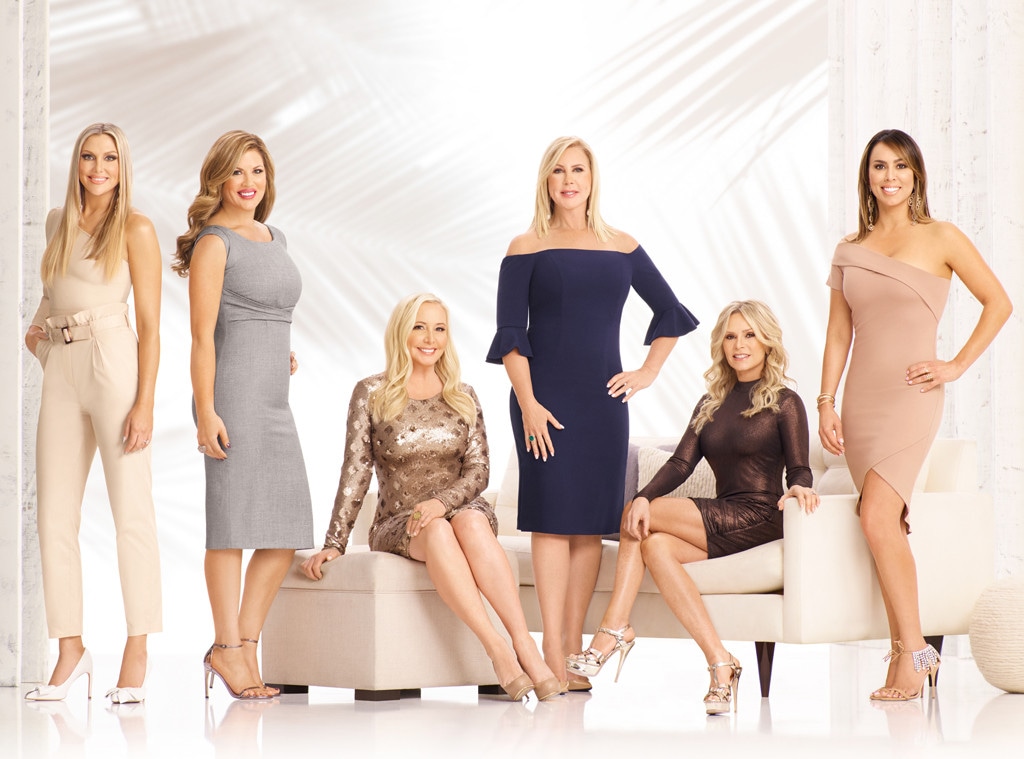 John Tsiavis/Bravo Media
Eddie Judge's birthday celebration almost turned into a brawl on The Real Housewives of Orange County. And the fight? It had nothing to do with RHOC star Tamra Judge or Eddie. You see, Kelly Dodd was still harboring some ill will toward Vicki Gunvalson's boyfriend Steve Lodge over the role he played in setting up her ex-husband Michael on a date. Naturally, Kelly confronted Steve. Steve was having none of it. But that was just the start.
After Steve dismissed Kelly, Emily Simpson's husband, Shane, commented on the situation and called Kelly drunk. Kelly did not take kindly to his commentary and called him everything from a dork to a twerp to a "little bitch." Emily showed up and wasn't thrilled to hear that and started screaming at Kelly. The fingers went flying, poking the air, and the episode ended with Emily shouting, "I'm going to kill you!" in Kelly's face. Not your typical Real Housewives fight, as evidenced by the looks of shock that took over the faces of the assembled cast.
"Bzz! Bzz! Is that a housefly? Who is this pest buzzing in my ear? Can someone remind me why any of this was Shane's business? I find it sad (and more than a little funny) that Emily was hoping to bring Shane to the party so that we could all see what he's really like. Well, now we know! Who talks to women like that? I said it then, and I'll say it again: He's a little bitch," Kelly wrote.
Kelly maintains she didn't know Shane was Emily's husband until Emily showed up and started defending him and getting in Kelly's face. "Someone call animal control, because Emily turned into a wild animal at record speed! She threatened to kill me! Did you see my face?! Let's hope I don't go missing before next week's episode, and if I do, you'll know who did it," Kelly said in her blog.
In her blog, Vicki targeted Kelly. "The way Kelly verbally abuses people is alarming and quite frankly scary. I can't even imagine what Michael went through for 14 years of marriage with her. I've witnessed it, as well as others out in public, and it's frightening. When Shane asked her if she was drunk and she said that was her first drink, I didn't believe it. Maybe the first drink at Tamra's. She came in to the party looking for a fight, and when Steve didn't play along, she picked a fight with Shane instead. I mean, who acts that way at someone's home? She called Shane a 'little bitch,' and she acted like she didn't know who he was when they had just met 30 minutes prior. Her outburst was classic Kelly. If you have seen past episodes, there is no surprise in her irrational behavior," Vicki wrote.
However, she didn't condone with Emily's heated threat.
"I can see why Emily was so upset. Just as Tamra had said, when someone talks crap about your husband/partner, 'GAME ON.' Kelly had no reason to go up to Steve or for that matter attack Shane over this. Kelly should have never brought this up at Eddie's party," Vicki wrote. "It wasn't the time or place. Kelly was obviously looking for drama, so why did she bring up an issue that had already been resolved?  It's time for Kelly to find something else to talk about—how about herself—and leave me out of her drama. I think she's looking for attention and sympathy but is going about it the wrong way."
Shannon Beador seems to be Team Kelly, at least by her account of the event.
"I can't believe that Steve was standing with Emily's husband. I had no idea who he was. It was odd to me that he started to pipe in with comments to Kelly after Steve walked away. He didn't know anything about the situation and should have kept quiet. The icing on the cake was when Emily became irate and threatened to kill Kelly. That is not appropriate party etiquette, especially for an attorney/party planner," she wrote.
Tamra, the host of the party, said Shane should have stayed out of it. "I would have to say that I've heard many different stories about Kelly and Emily's argument. After seeing it, I'm a little shocked," Tamra told Bravo. "I get that Emily was upset that Kelly called her husband a little bitch. But that was extreme anger and strong words for an attorney/party planner to throw around. Anyone else find it odd that Shane stood behind his wife and kept making rude comments as SHE fought for him?"
The drama continues on The Real Housewives of Orange County, airing Mondays, 9 p.m. on Bravo.
(E! and Bravo are both part of the NBCUniversal family.)