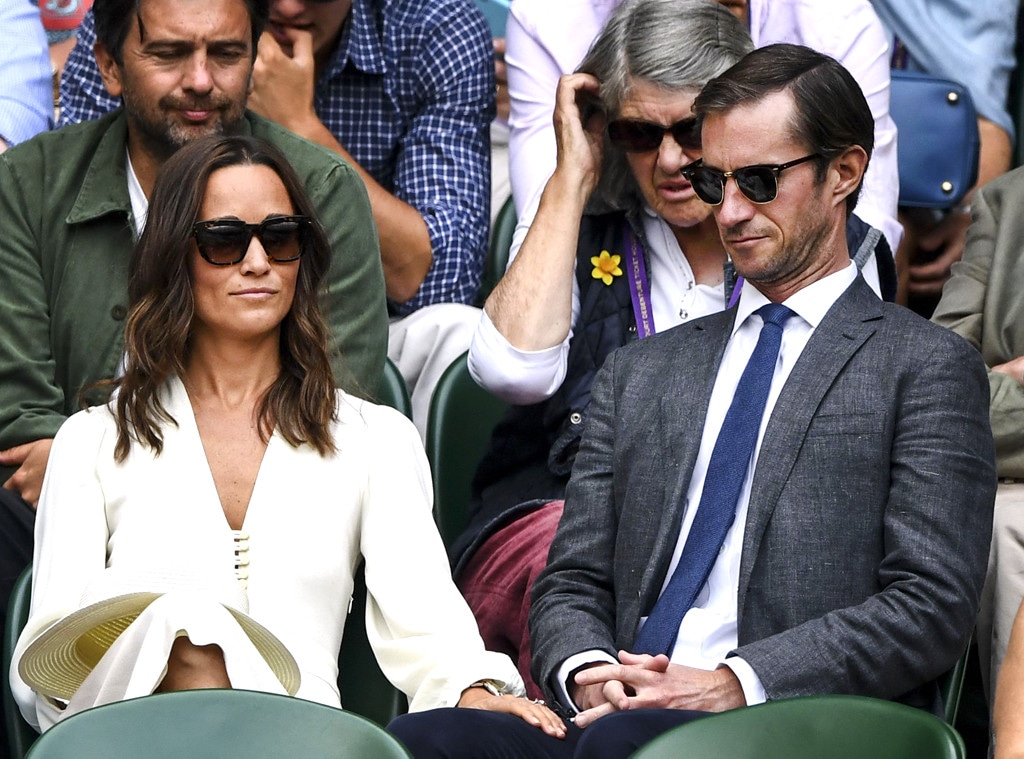 Javier Garcia/BPI/REX/Shutterstock
This is pretty much what Pippa Middleton had in mind when she eagerly accepted financier James Matthews' custom engagement ring in 2016. 
Sure, she had grown used to the increased focus that had been trained on her ever since she dutifully wore the form-fitting Alexander McQueen bridesmaid dress selected by sister Kate Middleton and her hedge fund manager love had, in turn, adapted to the attention that comes with squiring around the world's most famous in-law. "I guess it's become the new normal for us," she told the Daily Mail.
But, frankly, all of the hoopla had become more than a bit tiresome. "It means there are factors we have to weigh up and think about, but we try not to let it affect us," she told the British newspaper. "I try not to be too sensitive about things because it's just a bit of life I have to deal with. But I would be lying if I said it didn't affect me." 
Absent being able to go back to a time before everything from her style choices to the admittedly simplistic tips in her party planning tome were picked apart simply because she filled out a gown—"It's a bit startling to achieve global recognition (if that's the right word) before the age of 30, on account of your sister, your brother-in-law and your bottom," she wrote in Celebrate: A year of Festivities for Families and Friends—she would settle for shrinking away from the spotlight a bit. Primed to wed her on-off love of several years, a source told People, she was ready to have a family and start "leading a quiet life." 
Of course now the 35-year-old will have to come up with a few more wishes before she blows out the candles on today's birthday cake. Because save for the drama surrounding her hotelier father-in-law David Matthews—and the rape charges levied against him in France—this past year and a half or so of marriage has unfolded exactly as she had hoped. 
James Gourley/REX/Shutterstock
Come next month, she is set to welcome her first child, a mini Matthews who will be greeted by built-in playmates. First, of course, there's Prince Louis, the heir Kate gave birth to this April just as news of Pippa's pregnancy was revealed. Rounding out the trio is the little boy James' brother Spencer Matthews welcomed just yesterday with wife Vogue Williams. Having cousins close in age (plus Prince George, 5, and Princess Charlotte, 3) means Pippa has a chance to somewhat replicate her childhood, where she was sandwiched between 20-months-older Kate and younger brother James Middleton, 31. "I think it will be great for the kids to kind of grow up together," Made in Chelsea star Spencer told U.K. talk show This Morning in April. "We're all looking forward." 
For Pippa it marks a new chapter. Not even five years ago, she was sharing the Today Show stage with Matt Lauer so frequently rumors began she was auditioning for a role as correspondent, and her byline was appearing in the likes of Vanity Fair to The Spectator Magazine as she riffed on everything from her and Kate's love of tennis to Kim Kardashian's rear. And when she wasn't turning up at a society event or on TV, she was climbing a glacier, participating in a 50-mile swim-run or biking across the United States, collecting checks for heart disease charities and children's cancer foundations.
Press Association via AP Images
"Much more so than Kate, Pippa has enjoyed the limelight over the years," Duncan Larcombe, former royal editor at The Sun and author of Prince Harry: The Inside Story explained to Town & Country back in February. "I just think now she's happy and happily married, settling down, not having to go to party after party or run these endurance events for charity. She seems to have put all that behind her at the moment." 
Because of course, that life wasn't all inflated paychecks, designer garb and ice tray expertise. No sooner had the British media finished praising her dress-wearing skills, they were ready to trash them, comparing her ensembles to potato sacks and inquiring if she'd "dressed in the dark." 
Their jabs left Pippa gutted, she admitted. "I have felt publicly bullied a little bit," she told Lauer. "Because eventually I'm just paving my way and trying to live a life."
Most hurtful were the questions about how filled the time she wasn't using to meticulously plan her outfits, her six-figure writing gigs and charitable endeavors not being impressive enough. "People see me as someone privileged who has used my position to advantage; that I don't really work, that I am a socialite—that word really irritates me—and that I'm a party girl without any substance," she griped to the Daily Mail. 
So she transformed herself into one of the world's fittest philanthropists, penning a second book, Heartfelt, in her spare time to raise funds for the British Heart Foundation. And following her elaborate 2017 wedding to the Eden Rock CEO, 43, she stripped back many of her public appearances, save for events such as her nephew's christening and her brother-in-law's wedding that would be normal family affairs if the clan in question didn't come with titles. 
Following in her pals' well-heeled footsteps, notes Larcombe, she's seemed content to lay low at the recently renovated six-bedroom home she shares with Matthews in London's Chelsea neighborhood. "A lot of her friends have gotten married and settled down," he opines, "so I think these days she's more likely to be hosting dinner parties in their lavish house rather than going out on the town and being photographed." 
Of course, her late night activities are about to get a lot more casual. 
Learning that she was expecting was a bright spot following what a source labeled a "tough few weeks" to The Sun, what with David's arrest and potential trial in the offing. As she phoned up parents Michael and Carole and big sister Kate there was the expected delightedness all around, the paper reports: "This has provided some much-needed happiness and light relief."
One would imagine her chat with Kate was especially giddy. Because the duchess was expecting Louis at the time, the news fulfilled a dream the siblings had long held of being pregnant at the same time. As a family friend told Us Weekly, "Pippa's always said how great it would be if they were to be expecting together."
The two had envisioned months of prenatal yoga classes, shared maternity wear and shopping adventures to score the most desirable baby clothes. But the was one commonality they didn't have. Unlike Kate who has suffered from hyperemesis gravidarum with all of her children, "I was lucky to pass the 12-week scan without suffering from morning sickness," Pippa revealed in her fitness column for U.K. supermarket monthly Waitrose Kitchen. While Kate was forced to sit out her royal obligations in the early months, confined mainly to her Kensington Palace bedroom, Pippa's biggest adjustment was toning down her intense fitness routine. 
"When I learned the happy news that I was pregnant I realised I needed to adjust my normal 4 to 5-day-a-week routine and find a way of continuing exercise safely throughout the three trimesters," she wrote. She eventually landed on a program that was heavy on her beloved tennis ("Mostly doubles, which requires less side-to-side movement and intensity," she wrote), swimming ("Being in water gives that floating, light-as-air feeling that soothes and relieves the body,") and more walking than running "not because I read it was unsafe, just because I rather liked the idea of giving my body (and growing baby) a rest from pavement pounding."
Three to four times a week she would walk with hand weights for 45 minutes, cycle or hit up the gym for a Barrecore, strength and conditioning, Pilates or yoga class. It's a program she pieced together almost entirely on her own. "I have looked at loads of books and websites on exercise during pregnancy but have been disappointed by the limited technical information on what you can and can't do," she shared. "I found that particularly so during the riskier first trimester. And this being my first pregnancy, I had so many questions I felt were still unanswered." 
LEON NEAL/AFP/Getty Images
Feeling somewhat unsatisfied with what her research turned up, "I decided to use my own initiative and adapted my current exercise routine, adjusting the weight and intensity to what felt right for me." 
So the prenatal exercise information was lacking, but any other questions she might have could be answered with a quick phone call.  
Three kids in, Kate is "a walking baby encyclopedia at this point," a friend crowed to Us Weekly. And the sisters have managed to stay close through despite the demands of Kate's adopted role and the unique pressures that come with it. 
"We spend a lot of time together," Pippa noted to Today in 2014. "We still do a lot together as a family and I think that's really the heart for all of us is having a really close family that we can sort of be normal with each other, treat each other normally. And that's sort of kept us all, you know, affixed to the ground."
Calling their bond "a very normal, sisterly relationship," she continued, "We're very close. And, you know, we support each other and get each other's opinions on things." 
And that was before they were both traversing the world of parenting together. So we can only imagine the late night phone calls that will transpire in the future. 
Ahead of the sleepless nights to come, Pippa and James marked some of their final weeks as a family of two with an extravagant Italian babymoon. While it didn't exactly rival the jet-setting they enjoyed in the weeks following their wedding, with stops in French Polynesia and Australia, the multi-millionaire hedge fund manager booked a stay at Il Pellicano in Tuscany, where the cliffside views are only rivaled by the luxe accommodations. 
And speaking of grand living quarters...they've been filling one of their six bedrooms back home with gender neutral essentials. 
Like Kate, Pippa has elected not to learn if she's having a boy or a girl, a sound strategy when the public is dissecting your every purchase and wardrobe item for clues. (Should the couple welcome a daughter come October, Pippa's choice to don a pink turtleneck and coat to meet Louis back in April will be viewed as the first hint.) 
After revealing the couple don't know their baby's gender during his August appearance on This Morning, Spencer shared he wasn't one to press about potential baby names or nursery decor. "They're extremely private," he explained of his brother and sister-in-law, "and honestly, we know nothing." 
Following years of fans being familiar with everything from her mile splits to embarrassing photos from her University of Edinburgh days to just how well she can pull off a form-fitting dress, that's precisely the way Pippa prefers it.