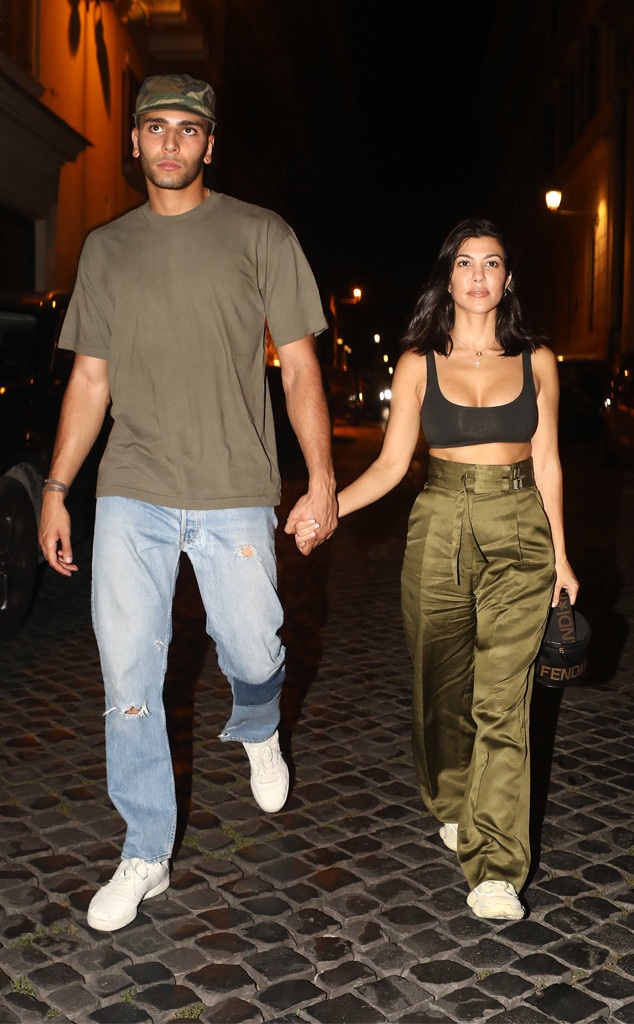 TheImageDirect.com
Nearly a month to the day E! News confirmed Kourtney Kardashian and Younes Bendjima called it quits, the two have reunited. 
The reality star and her former beau of almost two years were spotted back together on Monday night, according to photos published by The Daily Mail. In the snaps, the two are shown sitting in a black Range Rover SUV together with Bendjima in the driver's seat. Per The Daily Mail's report, the duo picked up Japanese takeout in Malibu before pulling into a parking spot along the Pacific Coast Highway, where they reportedly watched the sunset for a few hours. 
However, it seems someone was also in the mood for In-N-Out because they went through the drive-thru at the fast food eatery before heading to Kardashian's Calabasas neighborhood, The Daily Mail reported.  
A source told E! News that they were both in Malibu all weekend. "She talked to him and listened to what he had to say. He said he really didn't want the relationship to end and missed her like crazy. He explained that a lot of what happened was a misunderstanding and he took responsibility," the source said. "They ended up going to dinner."
As the source added, "Kourtney isn't back together with him, but it's a strong possibility that it's going to happen. She's not interested in anyone else and she loves him."
It was early last month that E! News confirmed they had broken up after taking "time apart."
"Kourtney is upset, but she is trying to focus her energy on other things and stay busy," a source told E! News in early August. "Kourtney doesn't plan on calling attention to it publicly and wants everything to blow over. It's upsetting to her. They have been having ups and downs for the past month."
According to the source, the playful photos of Bendjima with Jordan Ozuna in Mexico didn't help things.  
"There was a huge chance they were going to get back together and they were working on things, but now that these photos surfaced, things are definitely over," the source added. 
As for Bendjima, the model did not take kindly to the reports about their breakup. "They really want me to be the bad guy," he wrote with a series of laughing emojis on a photo of The Daily Mail's story using the pictures of him with Ozuna. "F--k your Hollywood bullsh-t (cant have fun with your friends no more)." He then added, "dailymail Where are my 12 other friendssss? Nice catch tho."
In a separate Instagram statement, he added, "Once again you guys failed. I'm not attached to this 'life' so you can't touch me. I know who I am where I'm from and where I'm going and that bothers you. Only one opinion matter the one of my lord. Have a wonderful day."
Meanwhile, the mom of three carried on with her life by jetting off to Mexico with a few gal pals to soak up the last of the summer sun. In honor of Labor Day, the reality star joined sisters Kendall Jenner and Kim Kardashian as well as Bella Hadid and Jen Atkin for some low-key family fun before welcoming fall.