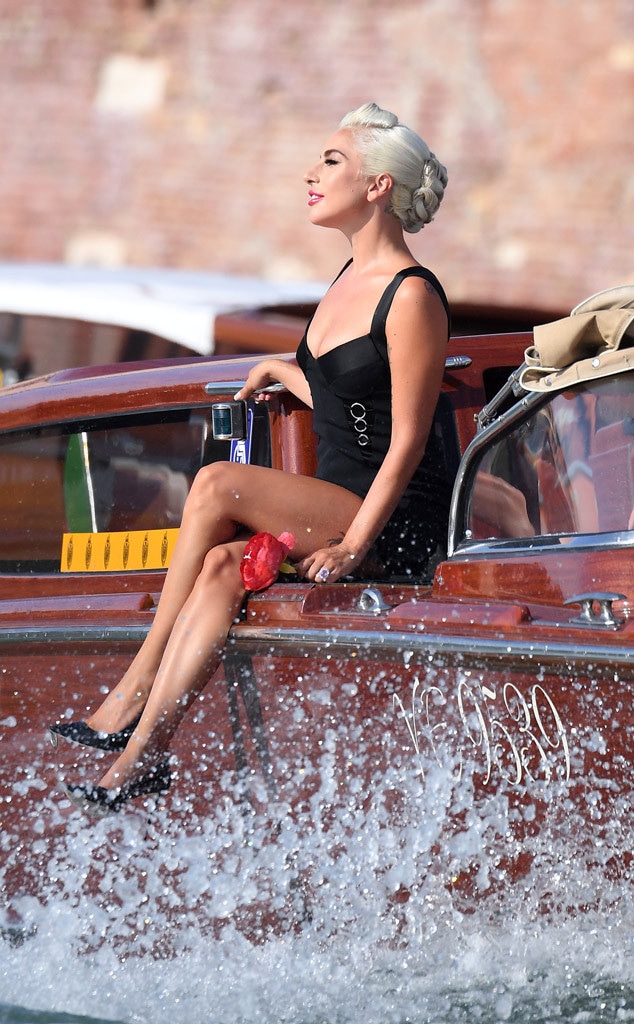 SplashNews.com
No matter the destination or occasion, Lady Gaga always—always!—stands out.
When the 32-year-old entertainer arrived at the Venice Film Festival this week, she did so in style. Wearing a Jonathan Simkhai dress, Gaga (real name: Stefani Germanotta) was all smiles on a water taxi, posing for photographers on her way to promote A Star Is Born. Because if there's one thing Gaga knows how to do, it's how to make an entrance—and that's precisely why the shots went viral on social media.
But, of course, the "Million Reasons" singer has been making grand entrances for years.
Before her new movie hits theaters Oct. 5, join E! News and take a stroll down memory lane as we look back at some of the award-winning artist's best entrances of all time:
Vittorio Zunino Celotto/Getty Images
August 31, 2018: Venice Film Festival
Valentino in Venice! The pop sensation arrived to the festival premiere of A Star Is Born in an absolutely sensational, haute couture gown embroidered with pale pink feathers. With director and co-star Bradley Cooper by her side, all eyes were on Gaga as she walked down the red carpet. 
Ronald Martinez/Getty Images
February 5, 2017: Pepsi Super Bowl 51 Halftime Show
It was Gaga's idea to plummet from the top of NRG Stadium to the stage when she performed in Houston. The stunt was prerecorded, due to "weather and environment" concerns, but no less impressive. After the Versace-clad singer did a medley of "God Bless America" and "This Land Is Your Land," she transitioned to some of her hits, like "Bad Romance" and "Just Dance."
March 31, 2014: Concert at Roseland Ballroom
Before the famed venue closed its doors for good after 95 years, Gaga performed a mini residency. She arrived each night in a tricked out taxicab, covered in—what else?—rose petals.
November 24, 2013: American Music Awards
When Miley Cyrus saw Gaga arriving on "horseback," she rightly called her "a scene stealer." The Versace-clad "Do What U Want" singer was actually riding a puppet, animated by two men.
TIMOTHY A. CLARY/AFP/GettyImage
Sept. 14, 2012: Fame Fragrance Launch Event
Macy's shoppers got more than they bargained for when Gaga showed up in a horse-drawn carriage, made to resemble her scent bottle. Wearing a "hunchback dress," she made her way inside the store to promote her perfume, which she had said was inspired by blood and semen.
Feb. 13, 2011: 53rd Annual Grammy Awards
Celebrities were shell-shocked when Gaga showed up encased in a "giant egg" and went on to "hatch" during the opening performance. She referred to her mode of transportation as a "vessel," not an egg, telling Jay Leno, "I was in it for three days. It was temperature controlled."