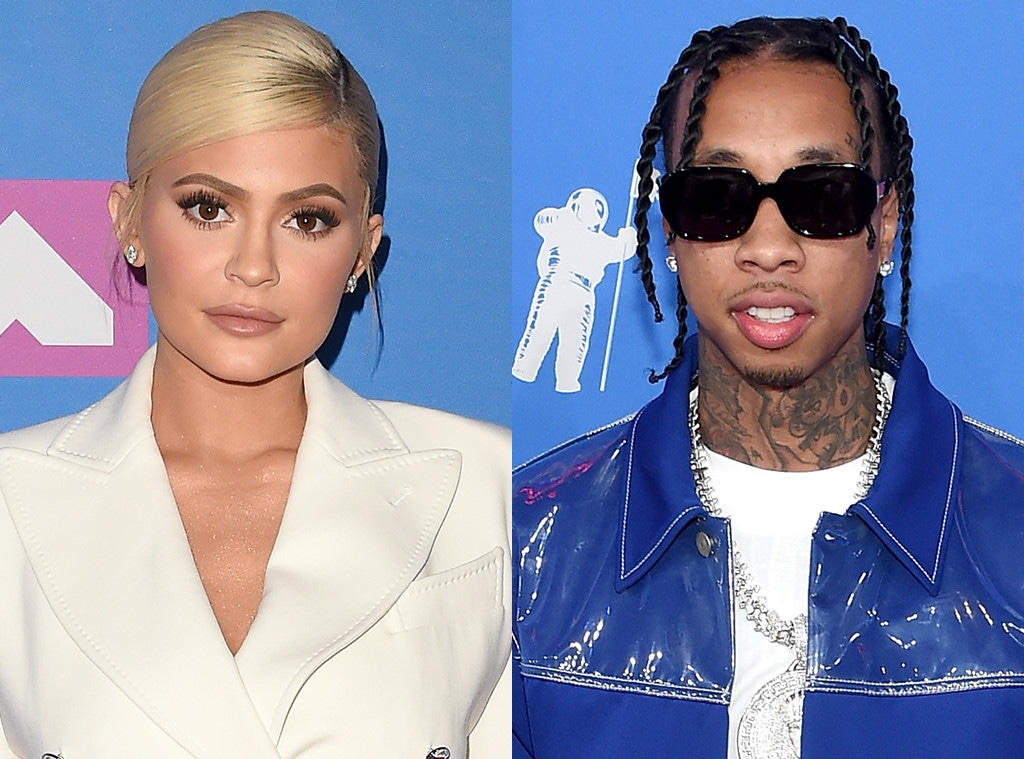 Axelle/Bauer-Griffin/FilmMagic, Nicholas Hunt/Getty Images for MTV
It's been over a year since Kylie Jenner and Tyga broke up, and the "Taste" star recently suggested he's moved on from his ex.
During Thursday's episode of Queen Radio, host Nicki Minaj asked Tyga if he misses the Keeping Up With the Kardashians star.
"No, I'm good. I'm good love, enjoy," he said. 
The recording artist also took credit for the makeup mogul's level of fame. When Nicki asked him if he helped put Kylie on the map, he replied "big fact," adding that "everybody know that" and "that's public." He also said fans needed to look at "the before and after." 
"She always had a platform, and she was always destined to be where she was going to be, regardless," he said. "But, when I stepped in, and there was a lot of codes being taught, it was like, 'You could do this. You should start this. You should start doing your hair like this, or you should do this. You should adapt because you need black people to f--k with you cause you need culture. If you aint got black people behind you, you aint got nothing—aint nobody going to listen. You can't influence nobody.' So, I had a lot to do with all that."
But he didn't stop there. He even suggested he helped the reality star come up with the colors and names for her lip line.
"It was a lot of stuff, but, it's like, I'm not that bitter type of person because God is going to pay me back; the universe is going to pay me back," he said. "And people are seeing what's happening now." 
Still, he suggested there's no animosity between him and Kylie.
"I'm not a bitter person. That's like, if we break up, we break up," he said. "We had a good time and we kept moving. You know, we went our separate ways, and we both are doing good, you know what I'm saying?"
Kylie has moved on, too. As far as her makeup collection goes, she's grown Kylie Cosmetics into a multi-million-dollar empire. She even graced Forbes' 2018 "Richest Self-Made Women" issue and secured the 27th spot on the list. The magazine estimated her net worth to be around $900 million. She's also moved on in terms of her personal life. She's now dating Travis Scott and is the mother to their daughter Stormi Webster.
As for his feelings towards Kylie's current beau, Tyga said, "We aint got no beef."
Kylie and Tyga started dating in 2014. After splitting up in 2015, the two rekindled their romance. They then had an on-again-off-again romance for a few years before calling it off for good. Kylie started dating Travis in 2017.
Like Tyga, Kylie suggested the two broke things off fairly amicably. 
"There was absolutely not one thing wrong with me and T," she said on an episode of Keeping Up With the Kardashians. "Him and I will always, always have a bond. There was no crazy fight, we just decided—well, I decided that I'm really young. I don't want to look back in five years from now and feel like he took something from me when he's really not that type of person."