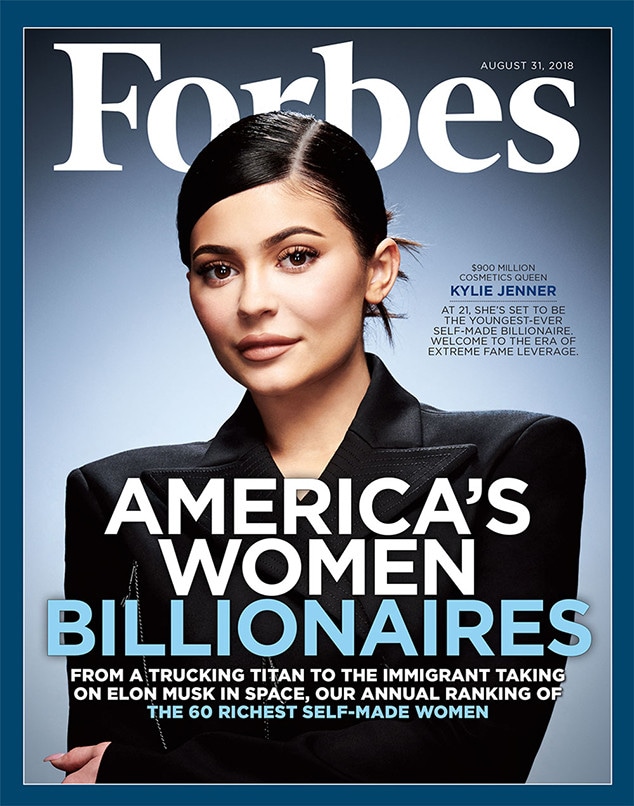 Courtesy of Forbes
Kylie Jenner is sitting on an empire.
Since founding Kylie Cosmetics in February 2016, her company—of which she owns 100 percent—has earned more than $630 million in revenue. At 20, she has managed to leverage her social media following (110 million followers on Instagram) to build a $900 million fortune. Now, she is gracing the cover of Forbes' "Richest Self-Made Women" issue, landing at No. 27. Amazingly, it's the first time she's been included in the list since it was first published in 2014.
"The most successful women entrepreneurs in the country are increasingly taking advantage of technology, including social media, to help them launch and grow businesses," editor Luisa Kroll says. "That's one reason why we've seen a notable influx of Instagram-savvy moguls like 20-year-old Kylie Jenner in the ranks of America's richest self-made women." Today, Jenner's company is worth $800 million. "Social media is an amazing platform," the E! star, who boasts 25.6 million Twitter followers, explains. "I have such easy access to my fans and my customers."
Before launching her makeup line, which has moved beyond lip kits since its initial launch, "I struggled for a minute with finding something to do on my own," Jenner says. But she's always been drawn to the allure of cosmetics. "Ever since I was in sixth grade, I would wear purple eye shadow," the makeup mogul tells Forbes. "I turned to makeup to help me feel more confident."
Jenner envisions she will be working on Kylie Cosmetics "forever." But, she would "maybe" consider one day handing over the business to her daughter, Stormi Webster—"if she's into it."
The combined net worth of this year's group is $71 billion—15 percent more than last year's. The minimum net worth needed to make this year's list is $320 million, up from $260 million last year; drop-offs include Dottie Herman, Patricia Miller and Diane Von Furstenberg.
Jenner, who also makes money from endorsements, is the youngest woman to be featured. Others top earners include Oprah Winfrey (No. 6, $3.1 billion), Sheryl Sandberg (No. 12, $1.55 billion), Tory Burch (No. 29, $800 million), Vera Wang (No. 34, $630 million), Madonna (No. 36, $590 million), Donna Karan (No. 43, $470 million), Céline Dion (No. 46, $430 million), Judy Sheindlin (No. 48, $400 million), Barbra Streisand (No. 48, $400 million), Beyoncé (No. 53, $355 million), Kim Kardashian (No. 54, $350 million) and Taylor Swift (No. 60, $320 million).