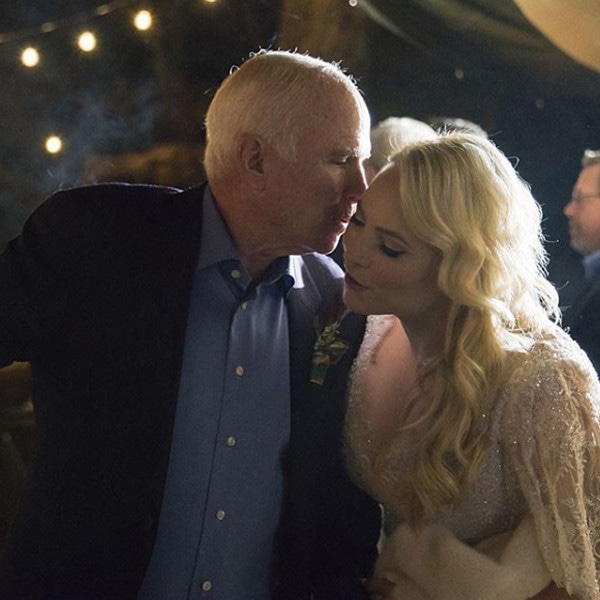 Instagram
Family and friends continue to mourn the death of John McCain after his brave battle with cancer.
On Wednesday morning, the body of the late Senator arrived at the Arizona State Capitol building. Soon after, select guests were able to walk up to the flag-draped casket and pay their respects.
Cindy McCain patted the casket then leaned over and kissed it. The couple's children including a visibly upset Meghan McCain followed close behind.
When Meghan had a moment to visit, she was seen weeping before continuing with the memorial that landed on what would have been John's 82nd birthday. The View co-host was escorted by her husband Ben Domenech and stayed close to her brother Jimmy McCain during the service.
"Imagining Arizona without John McCain is like imaging Arizona without the Grand Canyon. It's just not possible," Arizona Governor Doug Ducey said during the memorial before giving praise to Cindy. "You are a model for us and an inspiration. Arizona loves you Cindy McCain."
Heidi Gutman /ABC via Getty Images
Later in the day, the Capitol will be open to members of the public who want to pay their respects to the Arizona Senator.
Back on August 25, the McCain family announced that the politician passed away at 81 after battling brain cancer. "My family is deeply appreciative of all the love and generosity you have shown us during this past year," Meghan wrote on Twitter. "Thank you for all your continued support and prayers. We could not have made it this far without you—you've given us strength to carry on."
She would later post a personal letter to fans where she expressed how wonderful of a father John was.
"I was with my father at his end, as he was with me at my beginning. In the 33 years we shared together, he raised me, taught me, corrected me, comforted me, encouraged me, and supported me in all things," she wrote. "He loved me, and I loved him. He taught me how to live. His love and his care, ever present, always unfailing, took me from a girl to a woman—and he showed me what it is to be a man."
Meghan continued, "All that I am is thanks to him. Now that he is gone, the task of my lifetime is to live up to his example, his expectations and his love."
On Thursday morning, a procession will occur through Phoenix on the way to a memorial service. The event will include readings, musical performances and a tribute from former Vice President Joe Biden.
Another viewing will be at the United States Capitol on Friday before a final memorial service at the Washington National Cathedral.