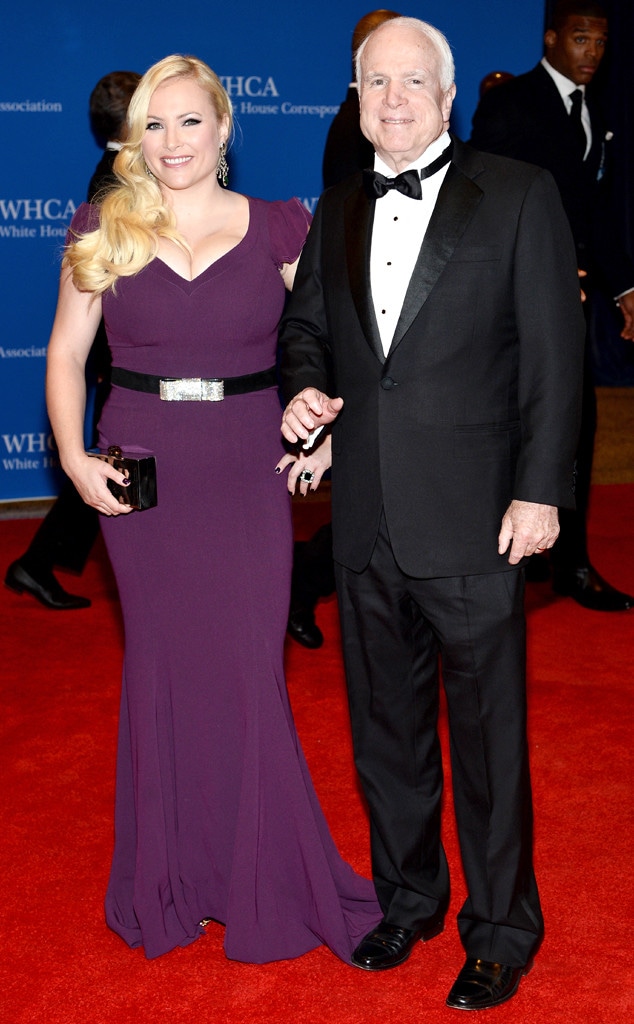 Dimitrios Kambouris/Getty Images
Meghan McCain is mourning the death of her father John McCain following his passing on Saturday.
The U.S. Senator passed away at the age of 81 after battling cancer. "Senator John Sidney McCain III died at 4:28pm on August 25, 2018," a statement from McCain's office reads. "With the Senator when he passed were his wife Cindy and their family. At his death, he had served the United States of America faithfully for sixty years."
Meghan also then confirmed the news with a statement, posted on Twitter Saturday evening.
"My father, United States Senator John Sidney McCain iii departed this life today," her statement began. "I was with my father at his end, as he was with me at my beginning. In the thirty-three years we shared together, he raised me, taught me, corrected me, comforted me, encouraged me, and supported me in all things. He loved me, and I love him. He taught me how to live. His love and his care, ever present, always unfailing, took me from a girl to a woman- and he showed me what it is to be a man."
"All that I am is thanks to him. Now that he is gone, the task of my lifetime is to live up to his example, his expectations, and his love," Meghan continued. "My father's passing comes with sorrow and grief for me, for my mother, for my brothers, and for my sisters. He was a great fire who burned bright, and we lived in his light and warmth for so very long. We know that his flame loves on, in each of us. The days and years to come will not be the same without my dad- but they will be good days, filled with life and love, because of the example he lived for us."
"Your prayers, for his soul and for our family, are sincerely appreciated," she concluded. "My father is gone, and I miss him as only an adoring daughter can. But in this loss, an in this sorrow, I take comfort in this: John McCain, hero of the republic and to his little girl, wakes today to something more glorious than anything on this earth. Today the warrior enters his true and eternal life, greeted by those who have gone before him, rising to meet the Author of All Things: 'The dream is ended: this is the morning.'"
Cindy McCain also took to Twitter to mourn her husband's death. "My heart is broken," she wrote. "I am so lucky to have lived the adventure of loving this incredible man for 38 years. He passed the way he lived, on his own terms, surrounded by the people he loved, in the the place he loved best."
Barack Obama, Donald Trump, Hillary Clinton and Bill Clinton have also released statements following the death of McCain.
"My deepest sympathies and respect go out to the family of Senator John McCain. Our hearts and prayers are with you!" Trump tweeted Saturday.
"John McCain and I were members of different generations, came from completely different backgrounds, and competed at the highest level of politics," Obama's statement, posted on Twitter, reads. "But we shared, for all our differences, a fidelity to something higher — the ideals for which generations of Americans and immigrants alike have fought, marched, and sacrificed. We saw our political battles, even, as a privilege, something noble, an opportunity to serve as stewards of those high ideals at home, and to advance them around the world. We saw this country as a place where anything is possible — and citizenship as our patriotic obligation to ensure it forever remains that way."
"Few of us have been tested the way John once was, or required to show the kind of courage that he did," Obama's statement continued. "But all of us can aspire to the courage to put the greater good above our own. At John's best, he showed us what that means. And for that, we are all in his debt. Michelle and I send our most heartfelt condoleces to Cindy and their family."
The Clintons also released a statement that reads, "Senator John McCain believed that every citizen has a responsibility to make something of the freedoms given by our Constitution, and from his heroic service in the Navy to his 35 years in Congress, he lived by his creed every day.  He was a skilled, tough politician, as well as a trusted colleague alongside whom Hillary was honored to serve in the Senate.  He frequently put partisanship aside to do what he thought was best for the country, and was never afraid to break the mold if it was the right thing to do.  I will always be especially grateful for his leadership in our successful efforts to normalize relations with Vietnam.  Our thoughts and prayers are with his wife, Cindy, his mother, Roberta, his children, and his entire family."
"America lost a real hero today," Jimmy Kimmel tweeted. "Condolences to @cindymccain, the McCain family and the Arizonans who were so fortunate to have the opportunity to vote for a man of principle. John McCain's sacrifice and the sacrifices made by all our POWs and MIAs must never be forgotten."
Whoopi Goldberg tweeted, "Senator John McCain passed today, all i can think about..he never stopped trying to do his best. What an honor it's been to know him. My condolences to the family he loved and adored and to his daughter & my friend @MeghanMcCain...from all my family, much love."
George W. Bush shared a photo with McCain on Facebook along with the message, "Some lives are so vivid, it is difficult to imagine them ended. Some voices are so vibrant, it is hard to think of them stilled. John McCain was a man of deep conviction and a patriot of the highest order. He was a public servant in the finest traditions of our country. And to me, he was a friend whom I'll deeply miss. Laura and I send our heartfelt sympathies to Cindy and the entire McCain family, and our thanks to God for the life of John McCain."
"Today we lost an American original," Sarah Palin tweeted. "Sen. John McCain was a maverick and a fighter, never afraid to stand for his beliefs. John never took the easy path in life - and through sacrifice and suffering he inspired others to serve something greater than self."
"John McCain was my friend," she continued. "I will remember the good times. My family and I send prayers for Cindy and the McCain family."