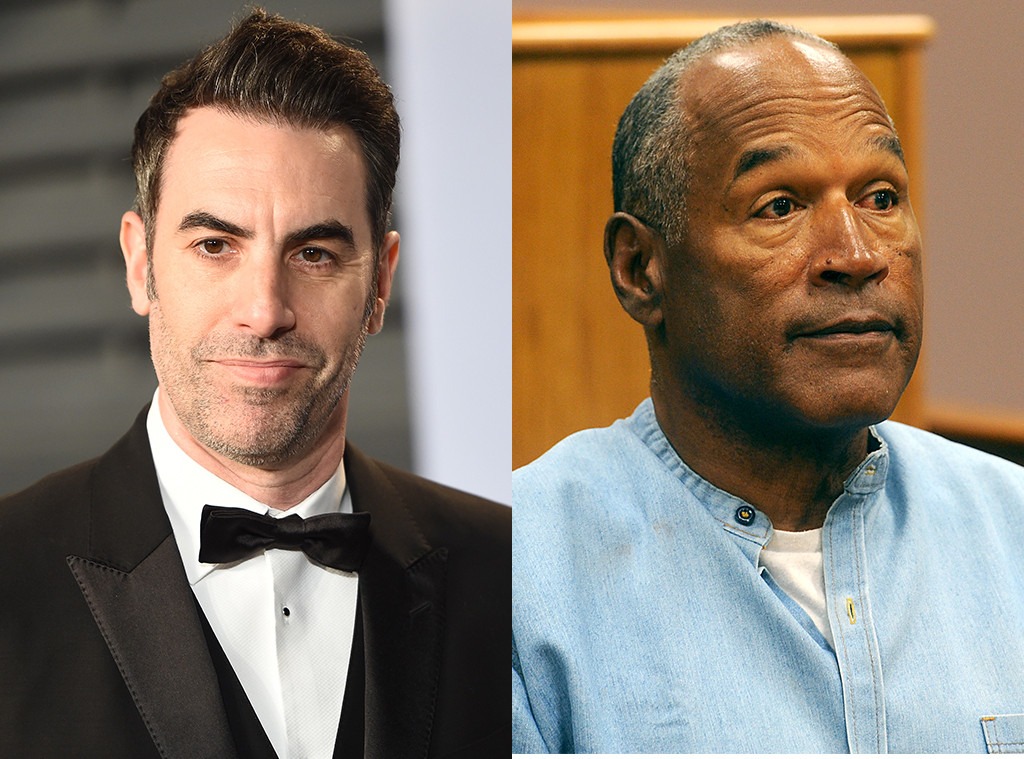 J. Merritt/Getty Images, Jason Bean-Pool/Getty Images
OJ Simpson is the latest public figure to be targeted by Sacha Baron Cohen for the show Who Is America?.
The Borat star tried to get Simpson to open up about the murder of his ex-wife Nicole Brown on Sunday night's season finale. Simpson was famously acquitted of Brown's and Ron Goldman's murders back in 1995; however, a civil jury found him liable for the deaths in 1997.
For this episode, Cohen pretended to be a rich Italian playboy named Gio Monaldo. According to The Hollywood Reporter's recap of the episode, Cohen's character pretended to interview Simpson for a show called La Vita Diamante di Gio, which served as a spoof of the show Lifestyles of the Rich and Famous. Simpson was introduced as "an American hero and women's rights activist" for the phony program.
At one point, Cohen's character introduced Simpson to his pretend girlfriend, who acted like she had no idea who the former NFL player was. While Cohen's character mentioned Simpson's former football career and films, it wasn't until he made a stabbing gesture that she pretended to recognize him.
"She knows that," Simpson said. "Oh, Jesus."
After Cohen's pretend girlfriend left, Simpson told the fake interviewer she was "gorgeous."
"She's gorgeous, but sometimes I want to kill her," Gio said, per THR's recap. "I want to send her on a private helicopter and throw her over the Grand Canyon —oopsie daisie!" 
Cohen's character then proceeded to give Simpson a high-five. Simpson laughed but told Cohen's character to stop.
According to THR's recap, the two men then joked about having her do a bungee jump and having her cord be too long. Cohen's character said he also wanted to meet Simpson's former lawyer Johnnie Cochran. After Simpson said he'd have to introduce him to his late lawyer in the afterlife, Gio replied, "What? You didn't kill him too, did you?" Again, Simpson laughed but told him to stop.
At one point, Gio asked Simpson "how you got away with it," noting his character's ex-wife had also died under unique circumstances. 
"Me and you, we got something in common," Cohen's character said, per THR. "We both, how you say, 'ladykillers.'"
However, Simpson laughed and said, "No, I didn't kill nobody." 
"Ah, I didn't either," Cohen's character replied.
Watch the full episode on Showtime.