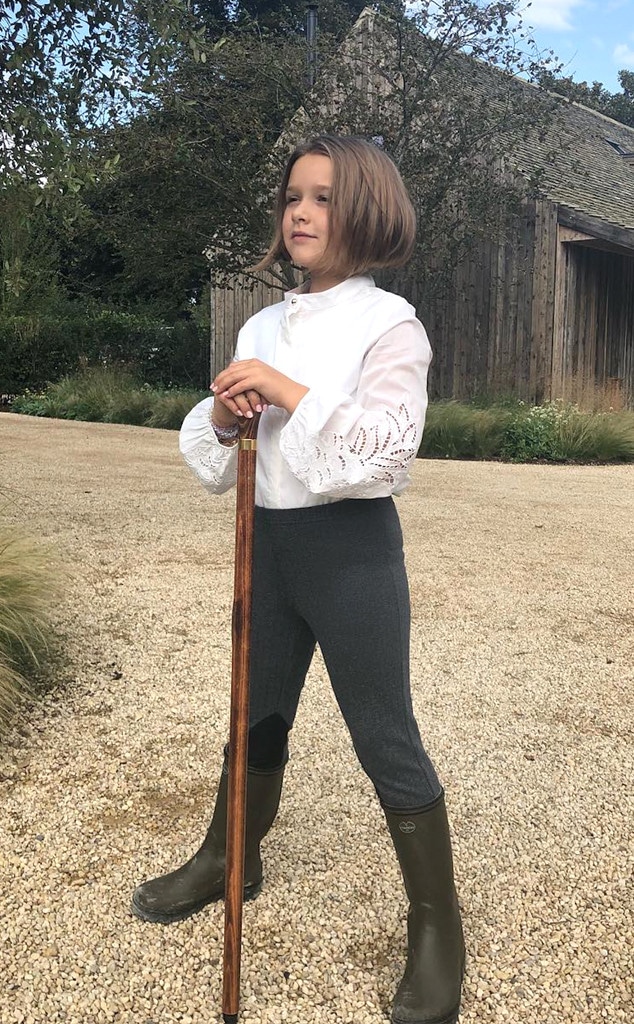 Victoria Beckham/Instagram
For some, spicing up your life means getting a haircut, and that's exactly what Harper Beckham did.
Harper, the daughter of former Spice Girl Victoria Beckham and soccer star David Beckham, chopped off a decent amount of hair and is now styling it in a bob just like her mom did back in the day. Victoria shared the new look on Instagram. "Hair cut for our baby girl," she wrote with the hashtag #howchic. In the picture, Harper looks ready to take on the world as she stands in a power stance.
A few weeks ago, the former L.A. Galaxy player stared a picture on his Instagram of Harper getting a trim. She looks ecstatic about it, but the dad seems a little (jokingly) less than pleased about the hair transformation. 
The 7-year-old channeled the Spice Girls in more than merely her hair style. Last week, Victoria snapped a picture of Harper looking at the ocean with her hands up in the classic Spice Girls peace sign pose. Her mom called her "my very own Baby Spice."
Earlier in their vacation, Posh Spice revealed to her social media followers that little Harper was paying homage to her mom's past. "Spice World has been on heavy rotation this holiday!!" the designer said. "Not only is Harper obsessed with the Spice Bus....she now wants 'a little Gucci dress.'" Don't we all.
The hair transformation is a big change for Harper. In April, Victoria posted a picture of her daughter painting, and her mane is nearly too long for the photo. Long hair, short hair, any hair: it all like zigazig ah-mazing on Harper.