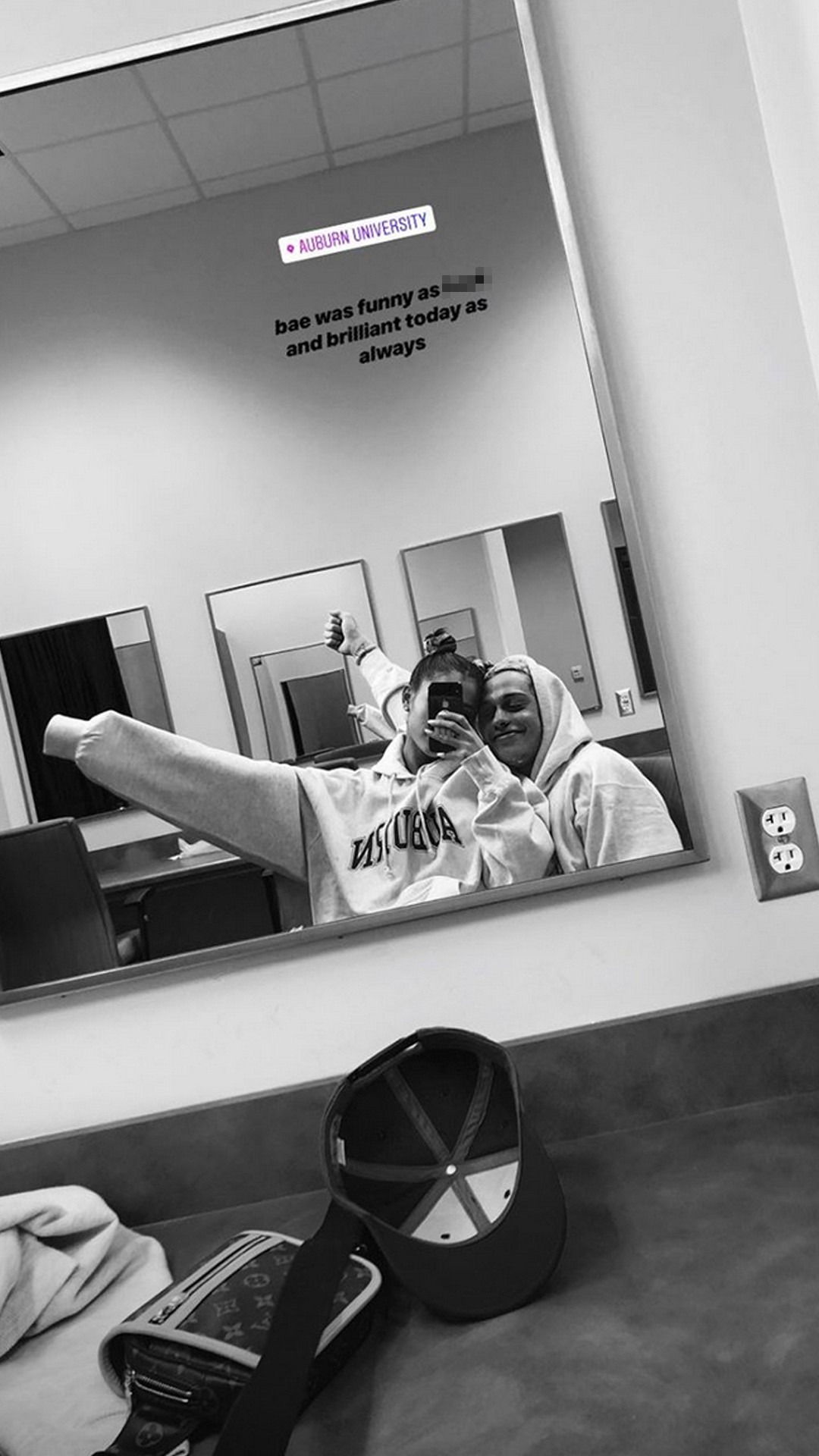 Instagram Stories
Fans have learned a lot about Pete Davidson's penis this summer.
In June, after a fan asked "how long Pete is," Grande gave a very revealing answer. In a since deleted tweet, the pop star replied, "Like 10 inches? …oh f--k…I mean…like a lil over a minute." A few days later, The Cut's Allison P. Davis proclaimed the Saturday Night Live star has "Big Dick Energy"—which is, she wrote, "a quiet confidence and ease with oneself that comes from knowing you have an enormous penis and you know what to do with it. It's not cockiness, it's not a power trip—it's the opposite: a healthy, satisfied, low-key way you feel yourself." Flattered, Davidson added "crying laughing" emojis to screenshot of the story on his Instagram.
Yesterday, Davidson spoke at Auburn University's Welcome Week and was asked about his fiancé, who was also in attendance, at a Q&A. "What's it like being engaged to Ariana? It's like what you would think it was like but, like, 100 times sicker. It's f--king lit. I'm a very, very lucky boy, and I'm very, very loved and I'm very lucky," he said. "And my d--k's forever hard." Grande cheered him on, raving on her Instagram, "Bae was funny as f--k and brilliant today as always."
E! News confirmed Davidson and Grande's engagement in June, just weeks after the couple began dating. "The universe works in strange ways," the 24-year-old comedian said months later, in GQ's September issue. "All I know is that I'm the luckiest guy in the world." Grande said similar things in a PAPER Q&A with Troye Sivan, published yesterday. "I'm the happiest I've ever been," she revealed. "...He's really supportive and just a positive thing all around in my life."
Months ago, Grande left L.A. and moved into a $16 million apartment in New York City with Davidson. "It's been really, really, really, really fun and I'm really happy," she told PAPER. "I think the people who are closest to me are blown away because everyday they see pictures of me walking around with my friends and using the front door and walking around New York City and smiling and I seem OK, and that's really different. I've only been in hotels and venues for the past, I guess three or four years, or at my house. So, yeah that's been crazy. It's either house, studio, like there was one sushi restaurant I would go to in L.A., and then I've been touring and in hotels for the past four years. So going out and not having any anxiety—well, less anxiety—but living closer to all my friends and being in love and having a new dope place and being close to my family...I love New York. I thought I hated New York, but I actually love it."