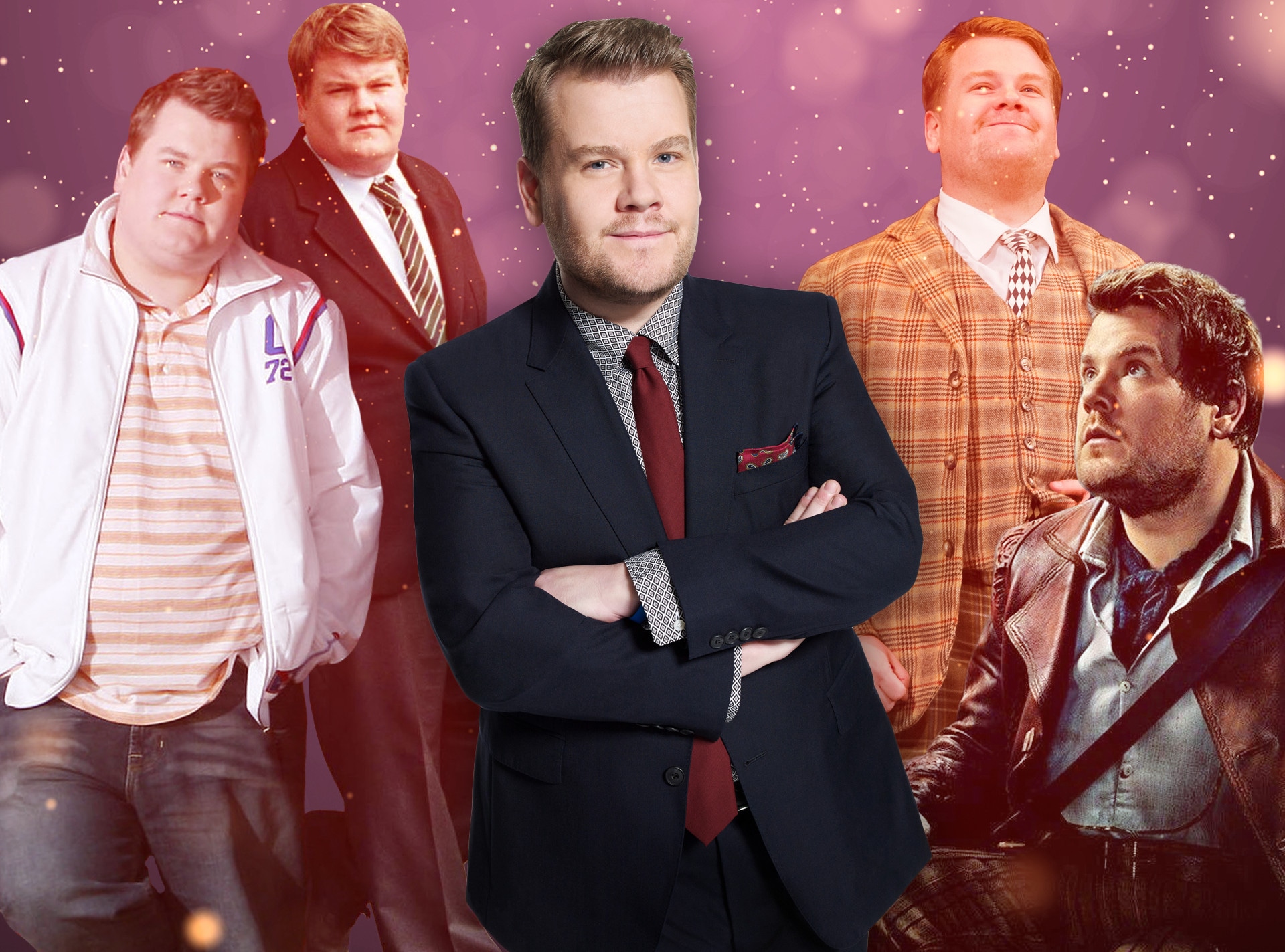 Melissa Herwitt/E! Illustration
There was nothing in James Corden's resumé to suggest that he was the man who might possibly help reinvent American late-night television. Hell, there was nothing there that even suggested he was a suitable candidate for a Stateside hosting gig. 
"I was so convinced it wouldn't work that we rented all our furniture for a year," the affable host of CBS' The Late Late Show, who's celebrating his 40th birthday on August 22, told Mr Porter in 2016 about his hesitancy towards accepting the job. "I mean, I've never hosted a chat show before. I'm not a stand-up. I'm not even a sketch comedian."
What he was before he added late-night host to his resumé in 2015 and, alongside Jimmys Fallon and Kimmel, helped usher in late-night's current era of charmingly sincere virality, was a Tony-winning actor and writer who'd never even once appeared on an American talk show, a veteran of both stage and screen, and the pride of the U.K. And, quite miraculously, that was more than enough for CBS.
As the son of a Royal Air Force band member father and social worker mother, one of Corden's earliest memories is of him at his younger sister's christening, at all of four years old, where he realized he could get the churchgoers' attention while standing at the altar. He made faces. They laughed. He was hooked. The desire to be a performer became so all-consuming that he couldn't be bothered to devote much time to his school work. 
"All the things I'm doing now – being in this play, writing a TV show – I just dreamt of them all the time. When I was at school people would say you have to have something to fall back on," he told the UK's The Times back in 2011. "And I would think, well, if I'm even considering falling back on something I'm considering not doing it. Considering giving up, basically. And that just never felt like an option to me. Ever."
He began auditioning early and often, landing his first stage appearance at 17 in the 1996 stage musical Martin Guerre. His single, solitary line? "Roast the meats." After an adolescence spent dreaming of appearing in London's West End, the reality left something to be desired. "And then, once I was actually in a musical and I was stood so far up the back, I thought: 'Hang on a minute! When I sat in the audience I never really thought about the 20 chorus people,'" he told The Guardian in 2011. 
He turned his attention to film and television, soon racking up impressive credits in projects including Channel 4 comedy Teachers, famed director Mike Leigh's All or Nothing, the ITV drama Fat Friends, soap opera Hollyoaks, and sketch comedy series Little Britain. While still starring on Fat Friends, he returned to the stage in 2004 for the original production of Alan Bennett's play The History Boys, which became a phenomenon, taking Corden and his young co-stars (including future stars Dominic Cooper and Russell Tovey) on an international tour and a Stateside run on Broadway before being adapted into a 2006 feature film.
And while the success was great, Corden couldn't shake the feeling that he was being pigeon-holed into roles that squared solely on his weight. So he decided to do something about it. "If you're not given a seat at the table, make your own," he told Mr Porter. "When I was coming up, I was never on the One To Watch pages, like my friends. It felt like the industry was saying, 'We think you're good, but we'd like you to play the man who drops off a TV to Hugh Grant in a movie. And these other people will go and be stars.' So I wrote a TV show for myself. I muscled my way in."
Linking up with his Fat Friend co-star Ruth Jones, Corden co-created the BBC Three series Gavin & Stacey, which debuted in 2007 with the creators in starring roles as the title characters' best friends. The show was an instant commercial and critical success, turning Corden into Britain's comedy golden boy somewhat overnight. And that was when the trouble began.
With the fame and attention clearly getting to his head, a less-likable side to Corden soon emerged. There was the 2008 incident at the BAFTAs where, while accepting the second of his two trophies of the evening (best comedy performance and audience award for TV program of the year), he wondered to the crowd why the show hadn't also been nominated in the comedy category too. As he noted in his 2011 autobiography, May I Have Your Attention Please?, his display of hubris was met "with silence, shock and disbelief" by the audience. That same year, at the Broadcasting Press Guild Awards, he called TV critic Gareth McLean, who had written unfavorably about the series, "a f--king t--t" while on-stage accepting award. Then there was the 2010 confrontation with Sir Patrick Stewart at the Glamour Awards, where the pair traded loaded insults. 
Between a failed attempt at creating a second hit TV show (the 2009 sketch series Horne & Corden), the dissolution of a long-term relationship that began in his late teens, and a growing discomfort with returning to his hometown, haunted as it was with the memories of that failed relationship, it was something of a perfect storm. Crashing at Cooper's home, he was going out all the time and it was "intoxicating," he admitted to The Guardian in 2011.
"I was heartbroken and lost," he told The Times. "I'd had a long relationship which I was still getting over. I'd had a relationship with Sheridan [Smith, his Gavin & Stacey co-star] which was heartbreaking, when you think something might work and it doesn't. And I felt a bit lost. And feeling lost, and feeling heartbroken, and feeling single for the first time in your adult life, at the very moment when you become a little bit famous, is quite a potent mix."
"The biggest thing was I really felt like I was just being a d--k­­­," he told The Telegraph around the same time. "And I couldn't quite work out why. I remember thinking, if me two years ago met me now, I'd think I was a bit of a knob. And you've got two ways you can go: you can face up to that, or…"
So face up to it he did. He released his autobiography, which was something of a mea culpa. He settled down suddenly after meeting Julia Carey, a charity worker, at a party. (Fun fact: The pair were introduced to one another by Cooper, who'd known Carey for years.) "I was only ever going out to find someone to stay in with," he told Mr Porter of his partying ways. They welcomed a son, Max, into the world in 2011 and married in 2012. (The couple have since added two daughters, Carey and Charlotte, to their family.) And then came his lead role in the comedy play One Man, Two Guvnors.
Corden's work in the play, which moved from the National Theatre to the West End, couple with his impressive run hosting the Brit Awards a total four times, remade his image in his native land. And when it moved to Broadway in 2012, landing him the Tony Award for Best Actor in a Play, it caught the eye of the man who would change his life: CBS President Leslie Moonves.
Theo Wargo/Getty Images for Tony Awards Productions
Despite Corden beating out the likes of Philip Seymour Hoffman, James Earl Jones, Frank Langella, and John Lithgow at the 2012 Tonys, Moonves had never heard of the guy until saw him in action on stage in 2013. "I just walked out of there saying, 'This guy's extraordinary,'" the exec admitted to the Wall Street Journal in 2016. "I knew I wanted to be in business with this guy," he told Fast Company a year later. Meetings were arranged and soon Corden was sitting down with Moonves and the network's head of entertainment at the time, Nina Tassler, to talk sitcom ideas. But David Letterman has just announced he was retiring from his post at The Late Show—and unbeknownst to Corden, Craig Ferguson was on his way out at The Late Late Show, as well—and the topic of late-night came up. 
"At one point, James said, 'You know, what I've always really wanted to do is a chat show,'" Moonves recalled. He shot Tassler a glance. "One way or another, we wanted this guy on our network."
With his career back on the rise—he'd just shot the big-budget Disney film adaptation of the musical Into the Woods and was circling a deal with HBO—when CBS made him an offer. And another. And another.
David Fisher/REX/Shutterstock
Corden was hesitant—"I thought, I love the variety of my career," he told WSJ—but was ultimately sold on the idea while making a BBC movie in South Africa. "I was Skyping my son on his birthday, and my wife was pregnant at the time," he told the publication. "And I was like, This is only going to get harder. Here's someone offering me a job—[and] all I really want is to feel creative every day. And I realized it doesn't come around again. CBS doesn't go, 'Let's go back to that guy who passed.'"
So, he accepted the offer and, in the fall of 2014, was announced as the new host of The Late Late Show. 
"95 percent of people didn't know who I was talking about," Moonves confessed in 2016. "The only people who did were either Brits or people who knew the Broadway theater scene. When I mentioned it to Anna Wintour, she was over the moon—she thought I'd gotten Johnny Carson back."
But it turned out that Wintour was right. (Honestly, though, has the Vogue editrix ever been wrong?) Three and a half years later, Corden's version of The Late Late Show is a bona fide hit, with viral segments Carpool Karaoke and Drop the Mic spawning TV shows of their own while racking up enviable social impressions and YouTube views. And he hasn't even had to give up that variety he so cherished in his career, landing a key role in this year's Ocean's 8, voice work in Trolls and Peter Rabbit, and hosting gigs at both the Tonys and Grammys. So what if he doesn't sleep?
"I think it was Lorne Michaels who famously said that there was no job after talk-show host, but I'm not sure I agree," he told Fast Company. "I think that might have been the case back in the linear network world, but now the lines are so blurred. I remember the first time I came to L.A., driving around, having meetings. The feeling was if you want to do movies, you don't do TV. But now, everyone's looking for a TV show. And then it was, you can do TV, but you can't do commercials. And now everyone is looking for their George Clooney Nespresso ad. There used to be TV actors and film actors and theater actors and commercial actors. Now, there are just actors."
And when they're actors who've learned from the bumps in the road along the way to success, as Corden as, the work will certainly always be there.
"I've learned not to think, 'Right, I've made it. I've made a Mike Leigh film now, this will change everything.' Because it never does. That pinnacle doesn't exist. All you have is the work you're doing now," he told Mr Porter. "So don't look ahead to the next thing. Just do your best in the moment. Be the best father, talk-show host...or whatever, and you'll always be a success."