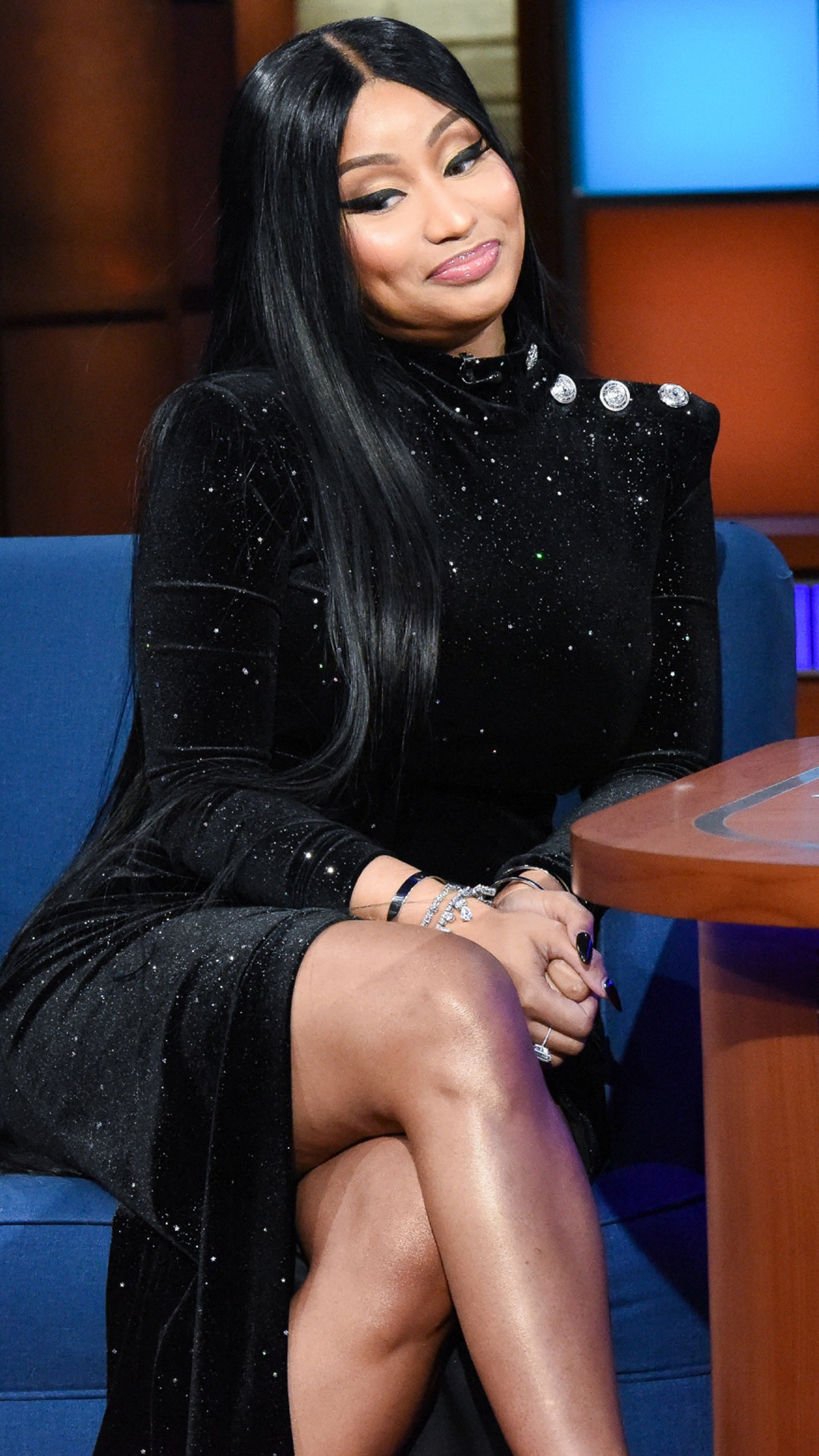 Scott Kowalchyk/CBS
Nicki Minaj is not pleased with the promotion of her latest album, Queen.
On Sunday, Billboard reported that Travis Scott's album, Astroworld, held the top spot on the Billboard 200 charts this week, with Minaj's Queen debuting at No. 2. Then, around the same time the report was published, Minaj took to social media to share her thoughts on her album sales and how Kylie Jenner helped promote her beau Scott's album and tour.
Taking to Twitter, Minaj shared a screenshot of Jenner's Instagram post, which said that she and baby Stormi Webster are "ready" for Scott's tour, sharing a link to buy his tour merch and album.
"Travis sold over 50K of these. With no requirement of redeeming the album! With no dates for a tour, etc. I spoke to him. He knows he doesn't have the #1 album this week," Minaj tweeted along with the screenshot. "I love my fans for the #1 album in AMERICA! I'll explain on #QueenRadio 4 albums in, #1 in 86 countries."
She then tweeted, "I put my blood sweat & tears in writing a dope album only for Travis Scott to have Kylie Jenner post a tour pass telling ppl to come see her & Stormi. lol. Im actually laughing. #Queen broke the record of being number 1 in 86 countries. Thank Jesus & thank you to my fans.."
Minaj went on to tell her Twitter followers, "I looked at the numbers the Carters, Kanye, Nas, etc recently did. Travis sold 200K in his first week of clothes alone. I spoke to him last night & he said he's been selling clothes b4 the music. Billboard says they'll change the rules cuz of this, so it should be changed now!"
The "Bed" rapper then called out Spotify, writing, "Spotify put Drake's face on every playlist but told me they'd have to teach me a lesson for playing my music 10 mins early on #QueenRadio. Even tho they've been giving away my music for free for years & I am one of the top Spotify artists of all time."
"Spotify had to teach me a lesson but rewarded the man who has had an Apple radio show the longest; inadvertently helping the Apple platform the most," she continued. "Oh I can't wait for #QueenRadio on Tuesday. They took away my promotion they had promised for the 1st cpl days b/c of this. #Queen."
Minaj then added, "My music went up on Apple so I played it. I assumed it was on Spotify & Tidal at the same time. Spotify said that Apple tweeted fans advising #Queen was up & therefore they had to teach me a lesson. But PRAISE BE TO GOD!!!!!!"
Nicholas Hunt/Getty Images
After posting the tweets Minaj clarified that "this is sarcasm/dry humor."
"People are calling me thinking I'm huffing & puffing," Minaj tweeted. "Omg y'all this is sarcasm/dry humor. Yikes. I'm having the most iconNIC time. Come let me kiss you. Who's coming to the secret show? When people call me & hear me crackin up laughing they seem so puzzled. Loosen up."
Minaj, Scott and Jenner are set to attend the 2018 MTV VMAs on Monday evening, where—according to a seating chart photo, they'll be seated close to each other.