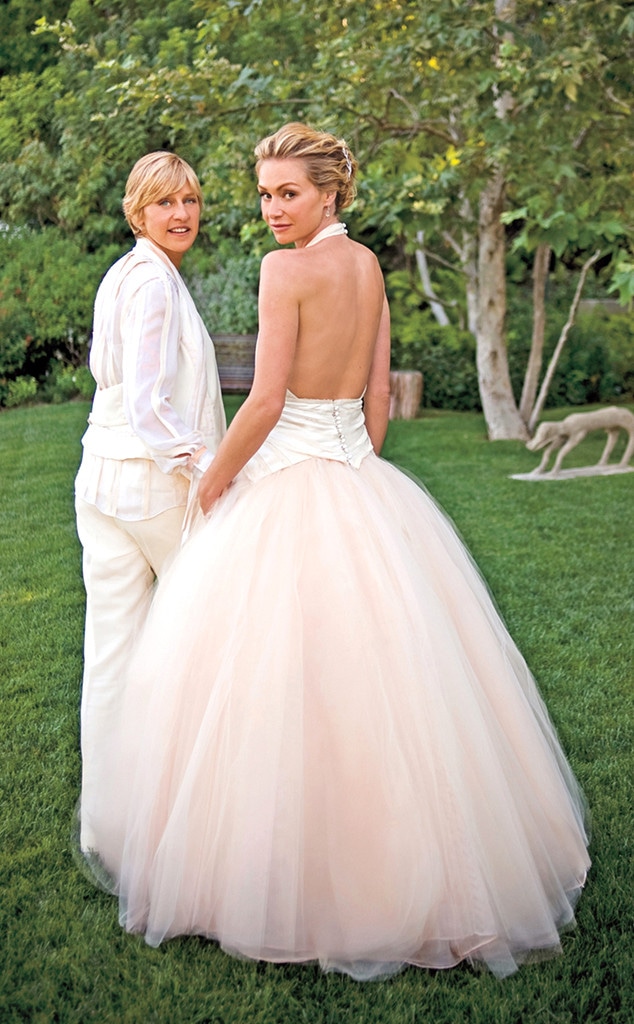 Lara Porzak Photography via WireImage
Happy 10th anniversary, Ellen DeGeneres and Portia de Rossi!
In honor of the special milestone, the 60-year-old talk show host and the 45-year-old former actress posted on their Instagram pages on Thursday a video from their wedding, which shows the two getting their first looks at each other as well as a photo montage from their special day. The footage was originally broadcast on The Ellen DeGeneres Show a month after they tied the knot.
Ellen and Portia wed on Aug. 16, 2008, more than three years after they started dating, at their home in Los Angeles. Portia wore a Zac Posen halter bridal gown with a pink bodice and a full pale pink tulle skirt. Ellen sported a white sheer Zac Posen shirt, vest and pants.
Author and philosopher Wayne Dyer officiated the ceremony. Ellen and Portia posted a photo from their wedding and a passage from his speech.
"Ten years ago, Wayne Dyer officiated our wedding ceremony. These words were life-changing to us then, and they mean just as much now," Ellen said.
"10 years ago today, Ellen and I were married," Portia wrote. "We wanted to share Wayne Dyer's poignant and special words with you to remind us all how far we've come—that we are living in a country that supports #marriageequality #waynedyer."
Ellen had announced her and Portia's engagement on her show, three months before their wedding and just after the California Supreme Court overturned a state ban on same-sex marriage. That November, voters passed Proposition 8, a ballot measure that defines marriage under the California Constitution as only between a man and a woman.
In 2013, a federal appeals court ruled that gay marriages could resume in California, after a federal judge struck down Proposition 8 as unconstitutional and the U.S. Supreme Court ruled that supporters of it did not have the legal right to appeal. In 2015, a Supreme Court ruling made same-sex marriage legal nationwide.