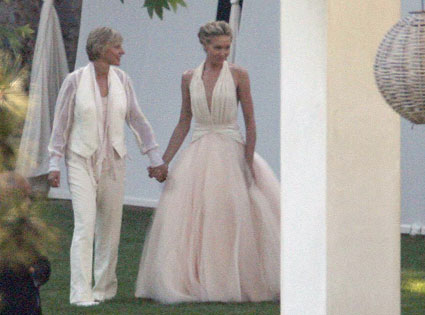 INFdaily.com
Ellen DeGeneres and Portia de Rossi have become lawfully wedded wives.
Capitalizing on the recent switcheroo in California law, the longtime loves swapped vows Saturday in front of family and friends at their Beverly Hills estate, according to People.
A small group of less than 30 wedding guests, all dressed in summer formal attire, started arriving at Ellen's posh $29 million abode Saturday evening at around 6:30 p.m.
"It was all close friends and family," said a source, adding that no celeb guests were spotted entering all day.
Both wore Zac Posen and exchanged rings by Neil Lane. Actress de Rossi has been sporting a Neil Lane-designed, marquise-cut pink diamond ring on her wedding finger since June.
DeGeneres, 50, and de Rossi, 35, have been an item (not to mention paparazzi magnets and an adorable red-carpet couple) since December 2004. On May 15, the day after the California Supreme Court struck down a ban on gay marriage by ruling it unconstitutional, DeGeneres announced on her talk show that she and de Rossi were planning to tie the knot.
The audience, which included her smiling Australian-born partner that day, responded with a standing ovation.
"I'll tell you who the lucky guy is soon," DeGeneres added, never missing a beat.
"Planning a wedding is very stressful," DeGeneres said on the red carpet at the 2008 Daytime Emmy Awards, where she took home her fourth statue in a row for Outstanding Talk Show Host. "It is crazy. My gardener is now invited."
And on a more serious note, she added: "I can't wait to be married. I feel like it is long overdue. And I think someday people will look back on this like women not having the right to vote and segregation and anything else that seems ridiculous like we all don't have the same rights."
Not knowing that a legally smiled-upon wedding was in their future, they purchased their 8,500-square-foot home last year. They now own three adjoining pieces of property in their canyon enclave, making for an ultaprivate abode.
City planning officials have told E! News that it's possible the couple might want to completely gate off their end of the street, but a public hearing would have to be held to approve such a request.
—Additional reporting by Ken Baker, Jeanifer Hwang, Matt Donnelly, Ashley Fultz and Claudia Rosenbaum