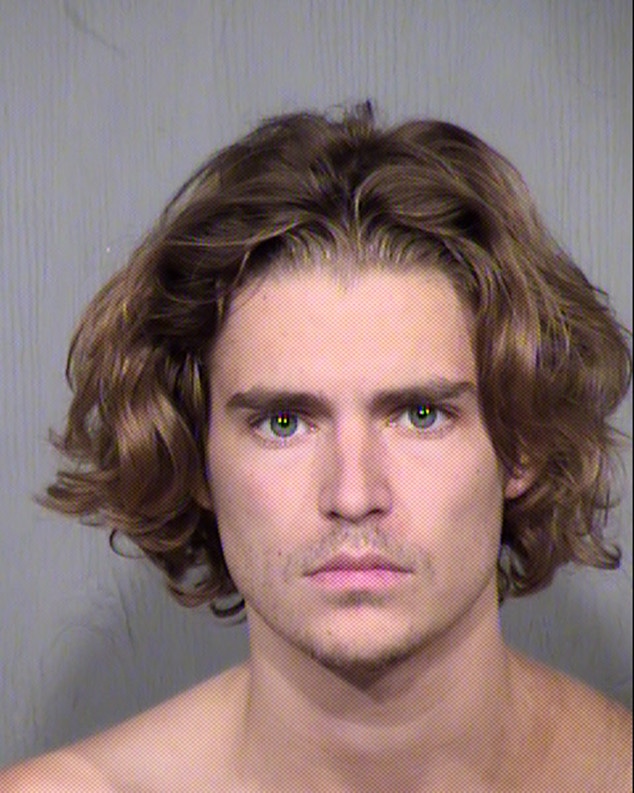 Maricopa County Sheriff's Office
Nicholas Van Varenberg, the youngest of Jean-Claude Van Damme's three children, pleaded guilty to a reduced charge of disorderly conduct after being accused of holding his roommate at knifepoint last year.
Van Varenberg, 22, entered his plea on Wednesday at an Arizona court, records show. He's is set to be sentenced on October 3.
In September 2017, a police officer visited Van Varenberg and his roommates apartment after following a trail of blood that led from an elevator to there. Van Varenberg was seen on a surveillance video camera punching the wall of the elevator, the Arizona Republic said. When police arrived, he declined medical attention and the cop left.
But he returned shortly after to investigated a complaint of banging and yelling coming from the home, the newspaper said. The Tempe Police Department said that Van Varenberg had threatened to kill his roommate with a kitchen knife if he opened the door to the cop. While the officer was outside, Van Damme's son also asked him, "Do you guys want some fame or something or what?" the report said.
Jason Merritt/Getty Images
After almost two hours, the cop and backup officers who had arrived lured Van Varenburg out of the apartment by having his roommate, who had himself exited the home, call him and challenge him to a fight, the Arizona Republic reported. Van Varenberg was then arrested on suspicion of aggravated assault with a deadly weapon, unlawful imprisonment, marijuana possession and possession of drug paraphernalia. The first charge was dismissed last year.
Authorities say Van Varenberg is expected to be sentenced to probation, according to reports.